Posted on
|
0 Comments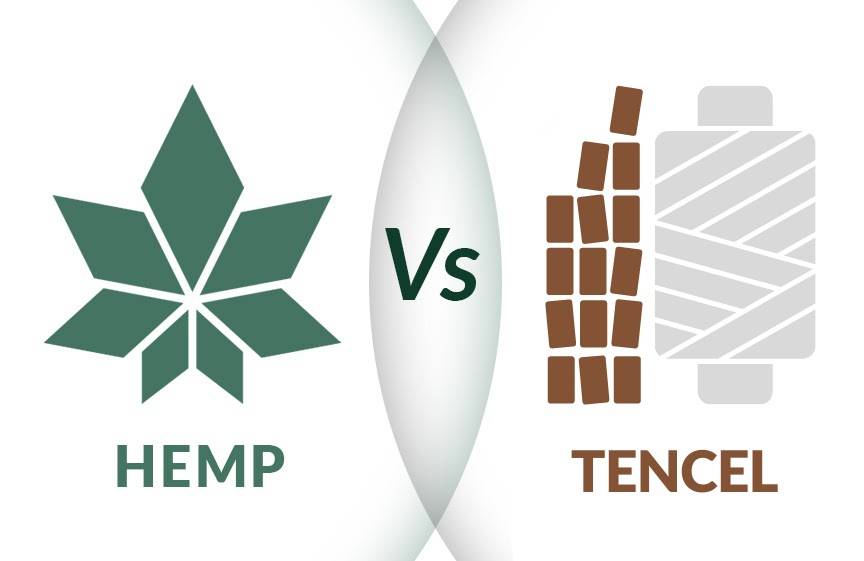 Have you heard of Tencel clothing? I wouldn't be surprised if you haven't, but if you're familiar with rayon, you're halfway there. Tencel is a specific brand of rayon made by the Austrian textile company Lenzing. Lenzing created a production system that greatly reduces waste output when turning eucalyptus tree fibers into fabric.
Tencel is regarded as one of the most sustainable fabrics on the market, but there are a few factors that go overlooked when people discuss its eco-friendliness. Read on to find out which fabric is truly more sustainable when it comes to hemp vs Tencel.
HEMP VS TENCEL: 5 REASONS HEMP IS THE MOST ECO-FRIENDLY FABRIC
1. GROWING EUCALYPTUS DEGRADES THE ENVIRONMENT WHILE GROWING HEMP IS BENEFICIAL FOR THE EARTH.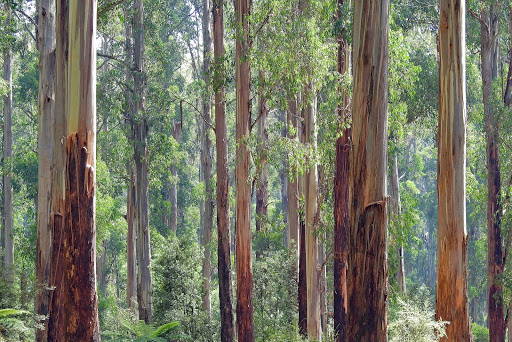 Tencel is made from eucalyptus trees, which take about ten years to grow. On the other hand, hemp reaches peak growth after just four months. Not to mention, hemp is outright beneficial for the environment it's grown in. It performs such wonders as restoring nutrients to the soil and reducing erosion.
As a plant, eucalyptus degrades its natural environment, destroys surrounding woodland, and hurts native ecosystems. This is problematic on its own, but the producers of Tencel may not even be as environmentally-friendly as they first appear to be.
For the most part, Lenzing does a great job of supporting sustainable forestry. However, Business Insider reports that often Lenzing's wood pulp is sourced from environmental organizations that don't actually hold cutters to high standards.
So simply put, the eucalyptus used to make Tencel clothing isn't great for the environment and depletes soil health rapidly. And while Lenzing may espouse just how sustainable their farming and sourcing is, eucalyptus doesn't come close to hemp when it comes to immediate environmental impact.
2. UNLIKE HEMP, TENCEL IS NOT A NATURAL FABRIC.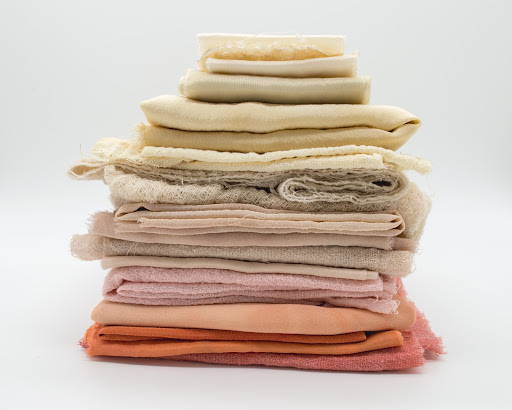 Tencel is a branded form of regenerated fiber called lyocell. Lyocell undergoes the same process as we discovered with hemp vs bamboo (the viscose process), turning cellulose fibers into fabric using harsh chemicals and producing lots of waste along the way.
Tencel is a little different than typical lyocell, though. While it's not a totally natural fabric, the material made by Lenzing utilizes an innovative closed-loop production system that is far better for the environment than conventional lyocell. This means that Lenzing reuses chemicals and nearly eliminates waste from the production system.
Which at first glance, is excellent for the environment! However, there are a few factors that count against the apparent sustainability of Tencel's closed-loop production, which I'll get into soon. But for now, just remember that when it comes to hemp vs Tencel, Tencel isn't completely natural and must be manufactured far more than hemp, which doesn't bode well for eco-friendliness.
3. TENCEL FIBERS ARE OFTEN TREATED WITH HARSH CHEMICALS WHEN MADE INTO CLOTHES, BUT HEMP ISN'T.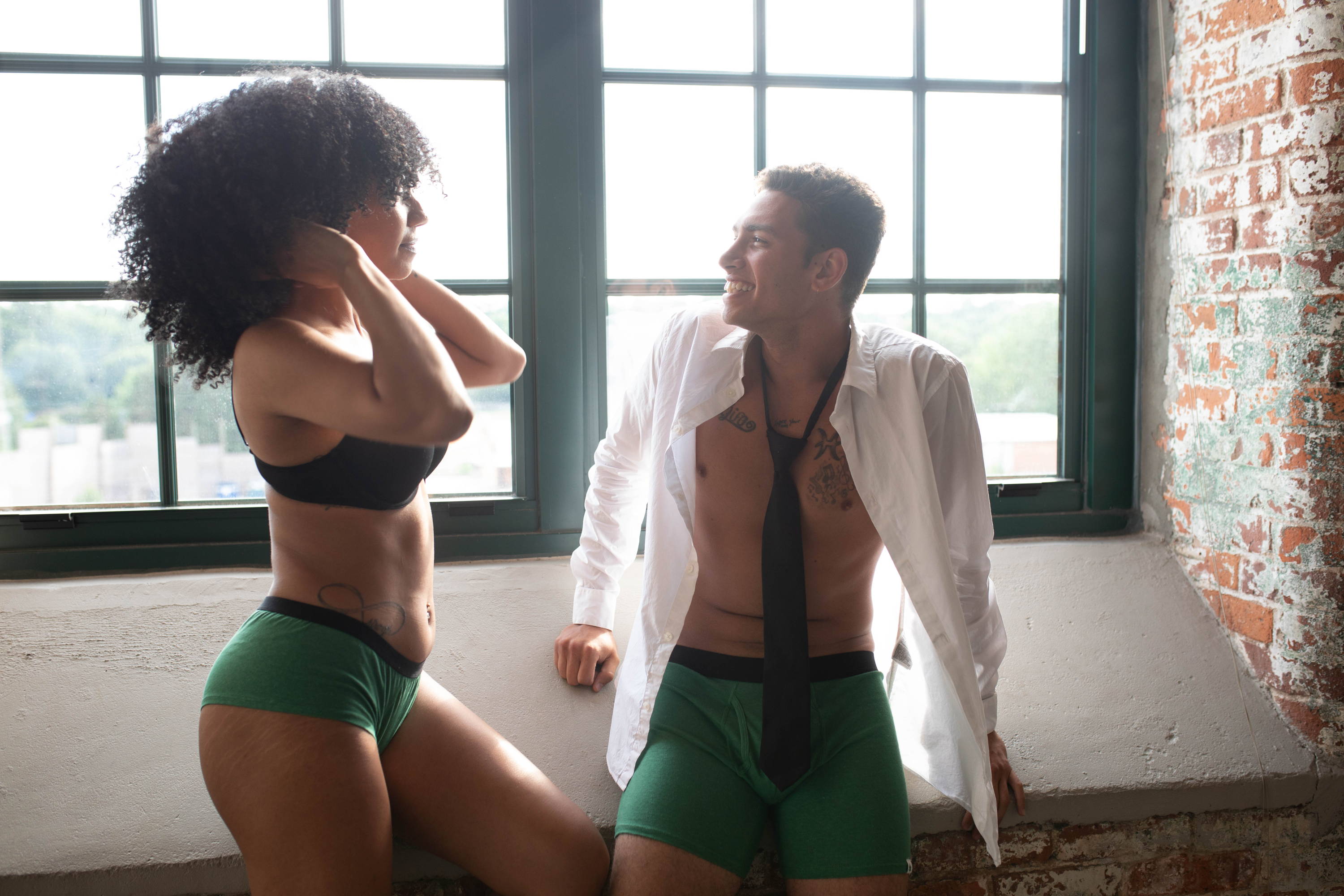 Tencel fiber is formed using amine oxide, which isn't toxic but can still irritate skin that's sensitive to chemicals. And even harsher chemicals are often used further down the manufacturing line.
This is for two reasons: Tencel, like any lyocell fiber, doesn't take dye well because of its low surface energy. It also has a natural tendency to pill. To combat this, companies often deploy the same dyes and chemicals used on non-sustainable fabrics to get the desired final product.
Hemp, however, can be manufactured entirely without chemicals. And while hemp also doesn't take dye very well, its eco-friendly fibers lend beautifully towards more natural shades. Just take a look at the color options for items like our hemp hipsters: from black, to natural hemp, to WAMA green, these subdued shades showcase the beauty of non-toxic dyes.
4. TENCEL'S CLOSED-LOOP PROCESS REQUIRES A LOT OF ENERGY, HEMP'S RETTING PROCESS DOESN'T.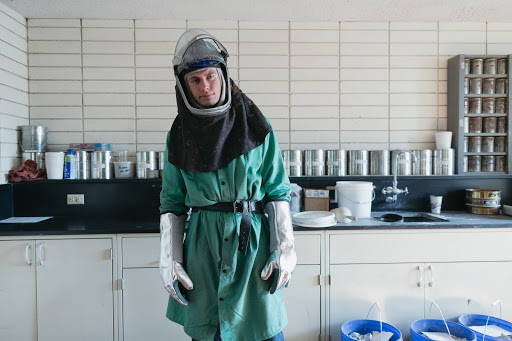 While Tencel's closed-loop process means that 99.5% of waste gets recycled, there's still a lot of energy used to make the branded lyocell fabric. Processing cellulose fibers is a high-energy task. All of the manufacturing tools necessary in turning eucalyptus wood pulp into lyocell fibers require massive amounts of heat and electricity.
Thankfully, Lenzing acknowledges this and is working to use more renewable energy in the future. There's hope yet that producing Tencel clothing will harness more eco-friendly energy as time goes on.
Comparatively, hemp can be made completely organically. Hemp undergoes a retting process instead of a viscose process in order to be made into fabric. While chemical retting and water retting can have adverse effects on the environment, dew retting doesn't require any extra energy, water, or chemical use.
Dew retting, also known as field retting, is pretty simple. Manufacturers simply spread stalks of hemp on the ground and let rain and dew naturally ret the fibers. This retting process has the added bonus of allowing nutrients from the retted hemp fibers to soak back into the soil. Even if manufacturers can't use dew retting, chemical retting and water retting can be adapted to be less wasteful.
5. HEMP IS MORE AFFORDABLE AND ACCESSIBLE THAN TENCEL.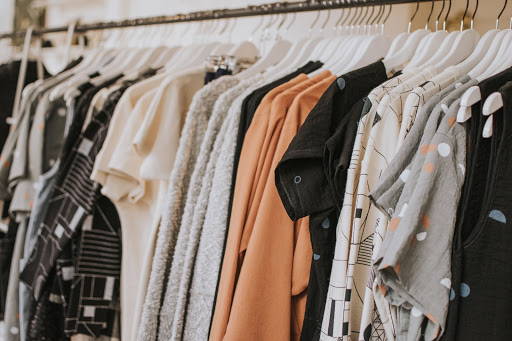 Compared to hemp, clothing made with Tencel is prohibitively expensive. This is in part because it's a trademarked material. Fabric can only be called Tencel if it contains at least 30 percent of the branded lyocell made by the Austrian company Lenzing.
And this is for good reason because Lenzing really does have high standards for its production process. The Austrian textile giant is a big player in the viscose process, and Tencel is only a small part of their business model.
The unique closed-loop process is mostly good for the environment, but it also requires expensive technology and increases the cost of fabric production overall. The hefty price tag of Tencel clothing makes it inaccessible to many consumers and therefore not as sustainable as it could be.
Hemp isn't immune to this either. Because of the former illegality of hemp plants and ensuing negative connotation of the material, hemp still has ways to go to become more accessible.
That being said, hemp isn't a trademarked fabric and is becoming a more popular sustainable alternative every day. While still an investment, hemp underwear is more affordable than many of its natural fabric counterparts.
CONCLUSION: HEMP VS TENCEL
While Tencel deserves to be lauded for its revolutionary closed-loop production process, there are so many sneaky elements at play that undercut its true sustainability. However, from start to finish hemp can be cultivated, processed, and manufactured organically and sustainably.
So while I'm excited to see companies become more mindful of their eco-friendliness, I can't wait to see how Lenzing continues to improve their fiber production process. But for now, all signs point to team hemp.
Did you know that Tencel was really just a trademarked form of rayon? Were you surprised to see how it stacks up against hemp? Let me know your thoughts below!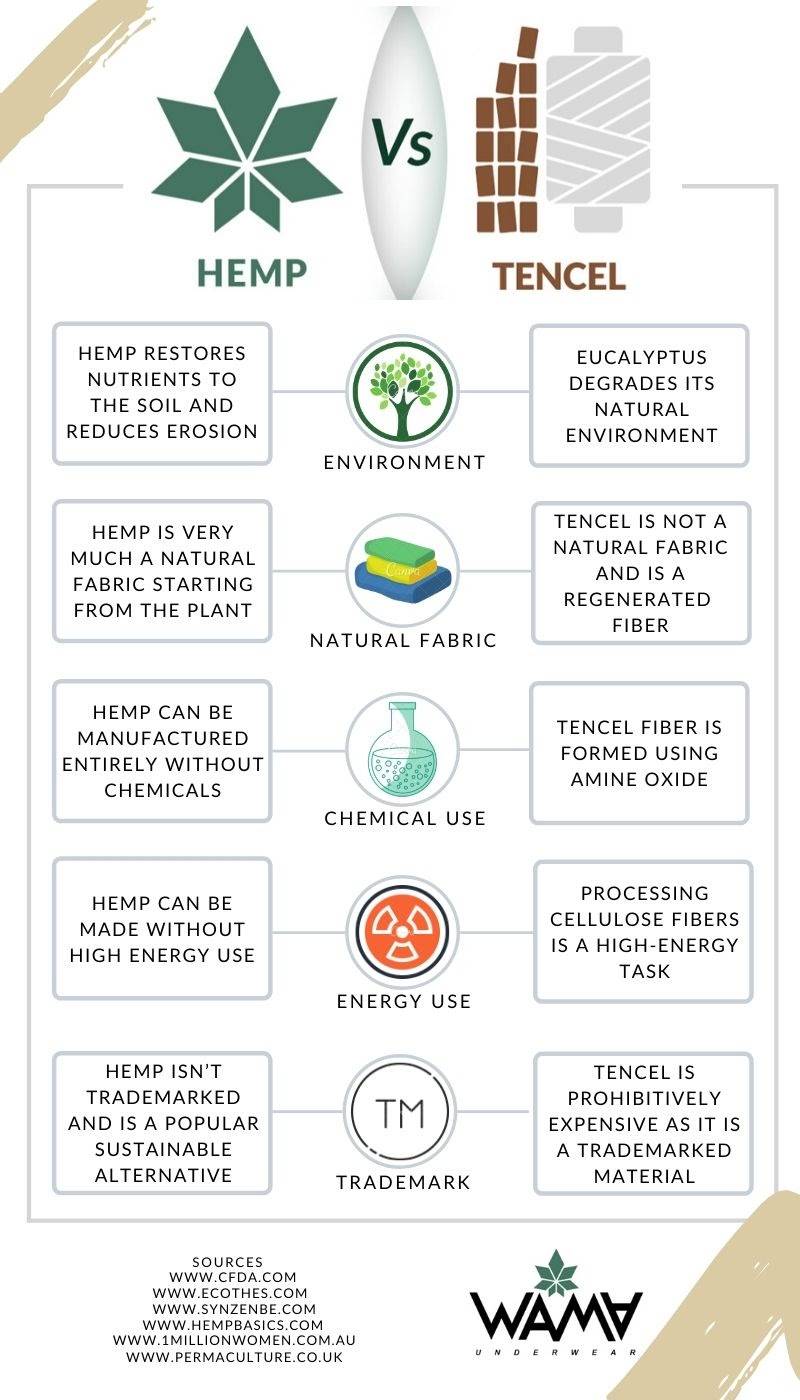 ---
---