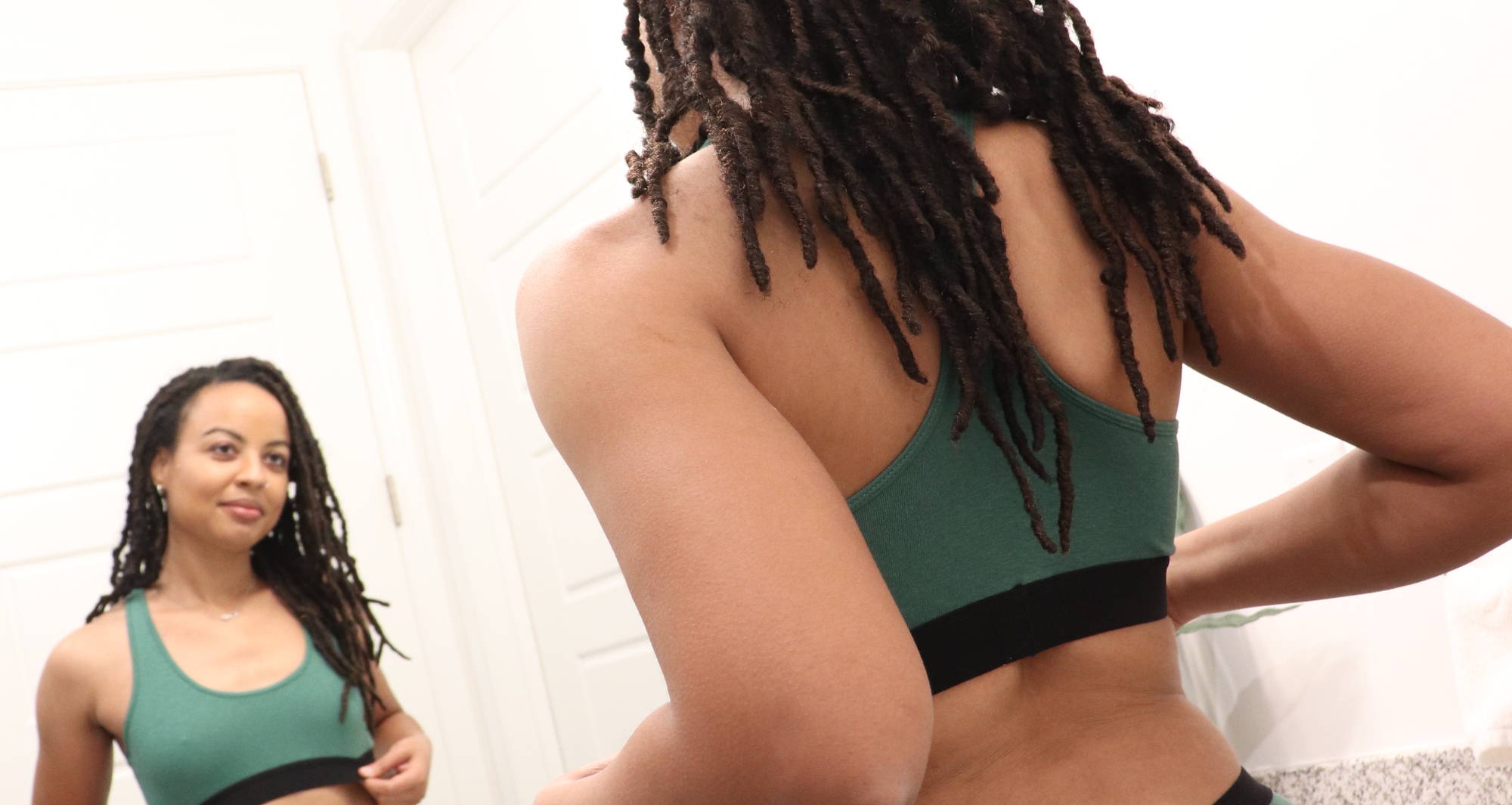 Oh, back fat. The search to find the best bra for back fat can seem like an exercise in futility. And it seems like it happens to every person who wears a bra, am I right? No matter the bust sizes or breast shapes, back fat can be a struggle.
Although I've spent many an hour on Google, searching for these elusive back fat bras (which will be good news for you in a sec, hang tight!) I've also been working on… not caring about back fat. Because we all deserve to embrace our curves, whatever form they take. Your body is beautiful and it works hard for ya.
Of course, body acceptance aside, there are other considerations for wanting to find the best bra for back fat. For one thing, when you do have bulges while wearing a bra, this can be a sign that your bra isn't fitting properly, or that your bra is too old!

So what's a girl to do, before having to resort to going braless? Even if you want to wear bras that hide back fat, that's cool too—it's your body, after all! So here are 10 solutions for back fat, whether you want to hide it with a comfy hemp bra or just make yourself more comfortable.
I'm sure you've heard this a billion times, but you guys… Find. A. Bra. That. Fits! Bra fit is integral for comfort and support, but a bra that actually fits you is also a game changer when it comes to back fat. Turns out those extra rolls may be caused by too tight bands, or straps that fit incorrectly, or the wrong size cups, or bras that are too tight in one area and too loose in another… or maybe just a bra that's plain incompatible with your body or your life.
TRY THE… WAMA UNDERWEAR RACERBACK BRALETTE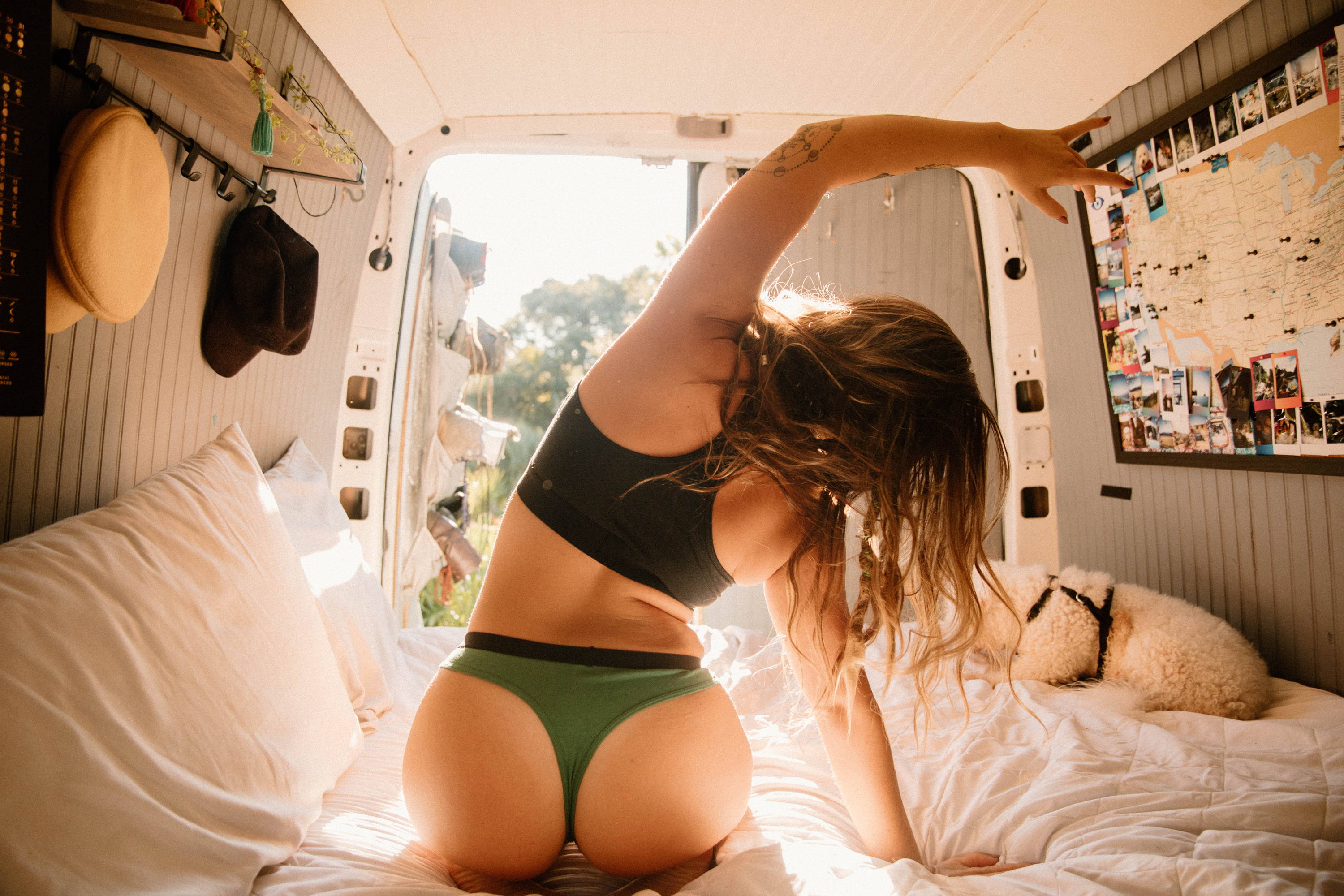 For a bra that'll give you that necessary comfort without any unnecessary compression or encapsulation, try the racerback bralette from WAMA. With their inclusive sizing, from XS-3XL, chances are, you'll find one that fits you perfectly. This hemp bra is stretchy and super soft (seriously—and it gets softer with each wash!), without skimping on support. Hemp also gives you a breathable and antibacterial material, which takes this bra to a whole new level.

2. LOOK FOR EXTRA SUPPORT
A bra that has extra structure and supportive design means that, when you do have a clasp, you don't need to rely extra hard on the adjustability. The rest of the bra is doing the work for ya! When everything is lifted and supported where it should be, there's less of a chance for extra skin and fat to be pushed out.
TRY THE… LARA INTIMATES ELENI SUPPORT BRA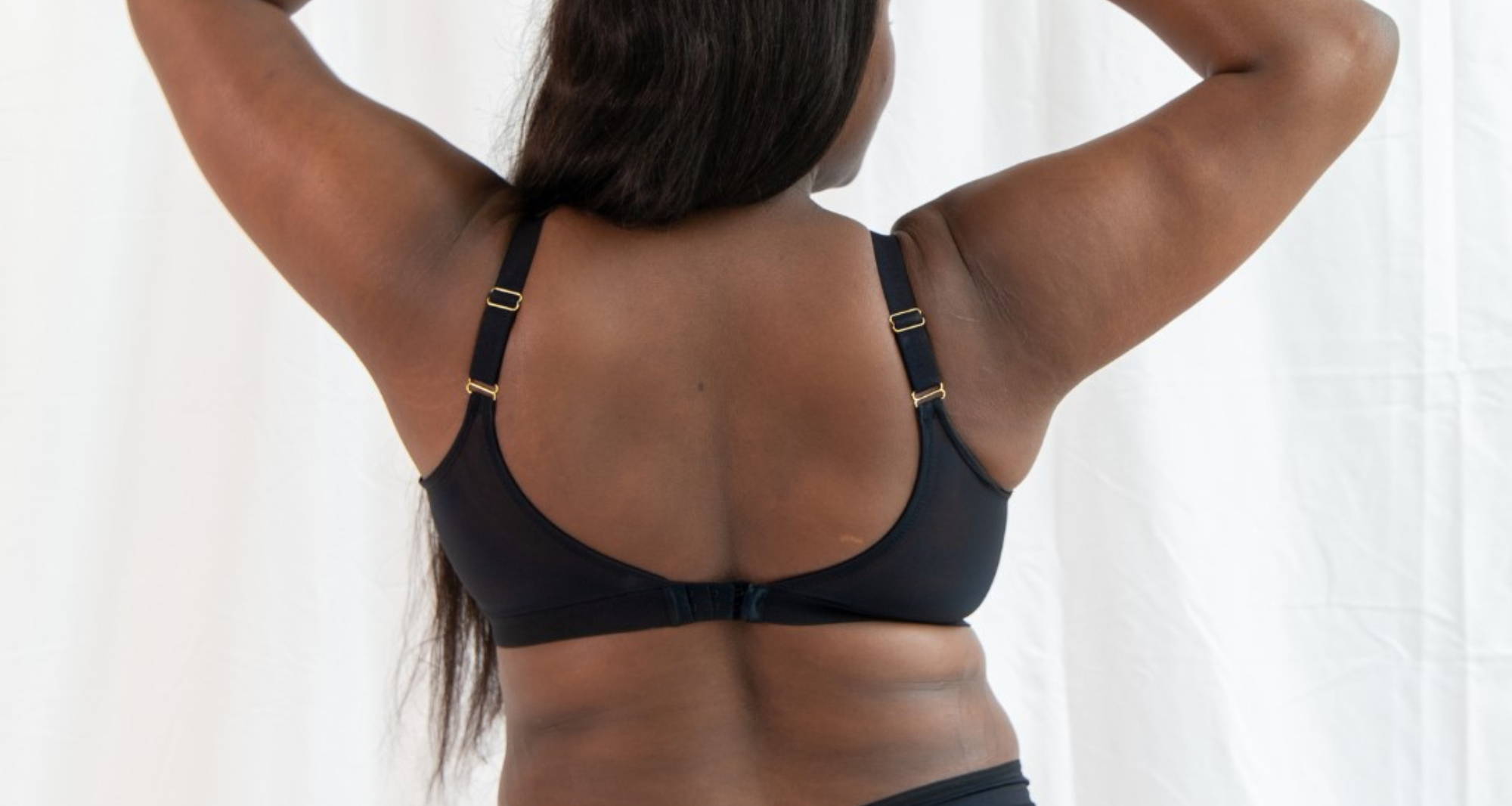 Lara Intimates claims that it offers the largest size selection of eco-friendly, non-wired bras in the world, and while I don't have the exact data to back that up (but I am working on researching every bra company on the planet, so stay tuned!) I can tell you, they offer a ton of sizes. Their Eleni Support Bra is well-designed, rigid in the cups and flexible elsewhere to provide lift, and made from recycled mesh for extra breathability.
Just like a supportive bra will do the extra work so areas more prone to back fat aren't, well, stressed out, wider straps can be uber important in a bra to help hide back fat. Not only do wide straps give you more lift and support, they can also help keep things contained, if you will. Wider straps also ease the pressure on your back in general, which is always a v v good thing.
TRY THE… D+K ACTIVE SPEED RACER CROP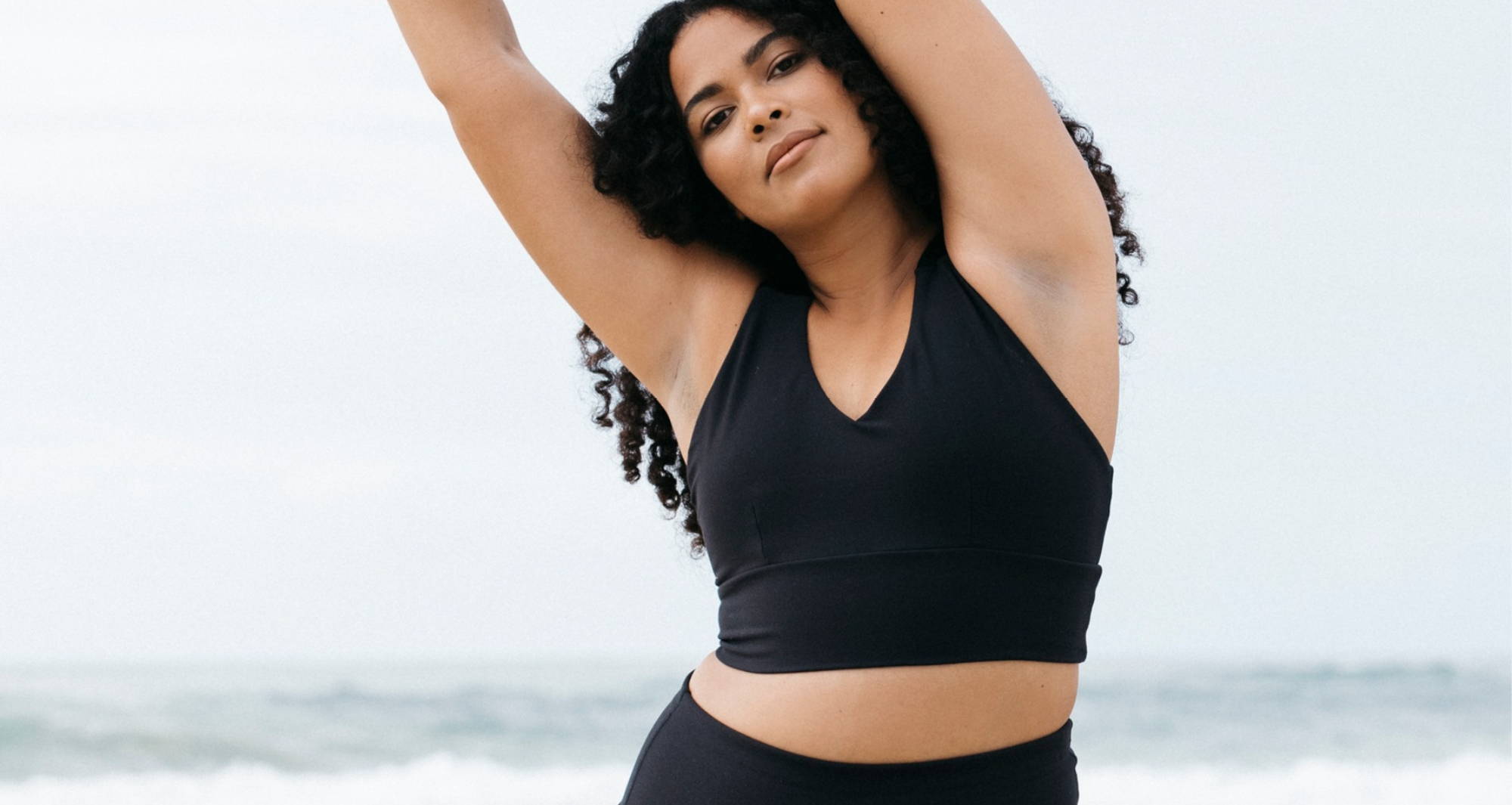 This Speed Racer Crop by D+K Active is a contender for the best bra for back fat, thanks in part to it's thick, supportive straps. The straps on the bra help distribute your boob weight across your shoulders, while staying put, and without cutting in! Shoulder straps that cut in may not necessarily cause rolls of back fat, they're still no fun and should be avoided.
I definitely hope you're already wearing soft fabrics because you deserve to be comfortable! But, as a human woman, I've worn an alarmingly high amount of bras that are itchy, stiff, and just generally uncomfortable. And while soft fabrics may not seem like they would make the best bras for back fat, they're actually better than stiffer fabrics, which tend to squeeze and push, rather than move with you.
TRY THE… EVERLANE INVISIBLE BRA
The seamless Invisible Bra from Everlane most certainly fits the "soft fabric" qualification, but also uses some kind of magic (I assume it's of the witchy variety) to smooth everything and keep it all in. In the best way possible. This bra, made of regenerated nylon—aka recycled plastic bottles—is also made from low impact dyes. All around better for you and the planet.

5. TRY A POSTURE CORRECTING BRA
Does "posture correcting" make you think of that one teacher who was always poking you and hissing at you to sit/stand up straighter? Well, don't be afraid, because when it comes to bras, posture correcting is a good thing! It simply means that the bra design helps prevent rounded shoulders—likely caused from those weights dangling on your chest and bringing ya down—by adding extra support to the back and in the shoulders, and often under the bust as well.
TRY THE… KINFLYTE FREEDOM BRA ECO JERSEY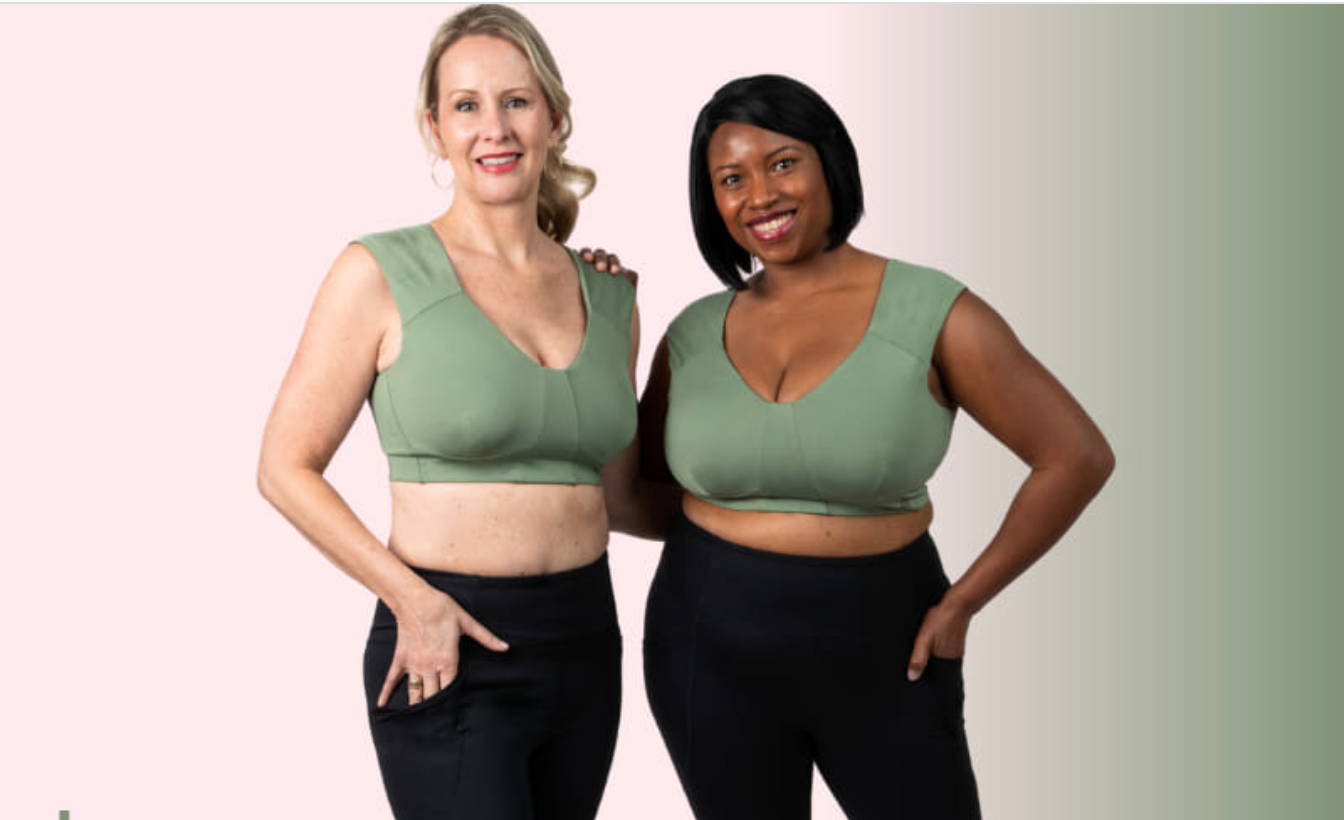 Straightening your posture never looked as good as this Freedom Bra from Kinflyte. Made with their eco jersey, which is upcycled polyester, as well as PU-bonded shoulders to help align your posture, this is one of the best bras if you're concerned about back fat. The extra-wide straps, the back coverage, and the thick band all provide that oh-so-essential lift and support.
I know a compression bra doesn't exactly scream comfort and breathability—two things you should look for in every bra, if I haven't hammered that point home yet—but if you find the right fit, a compression bra can be a great back fat bra. And if the compression bra fits properly, it can give your front and back equal support.
TRY THE… GIRLFRIEND COLLECTIVE DEVON COMPRESSIVE CAMI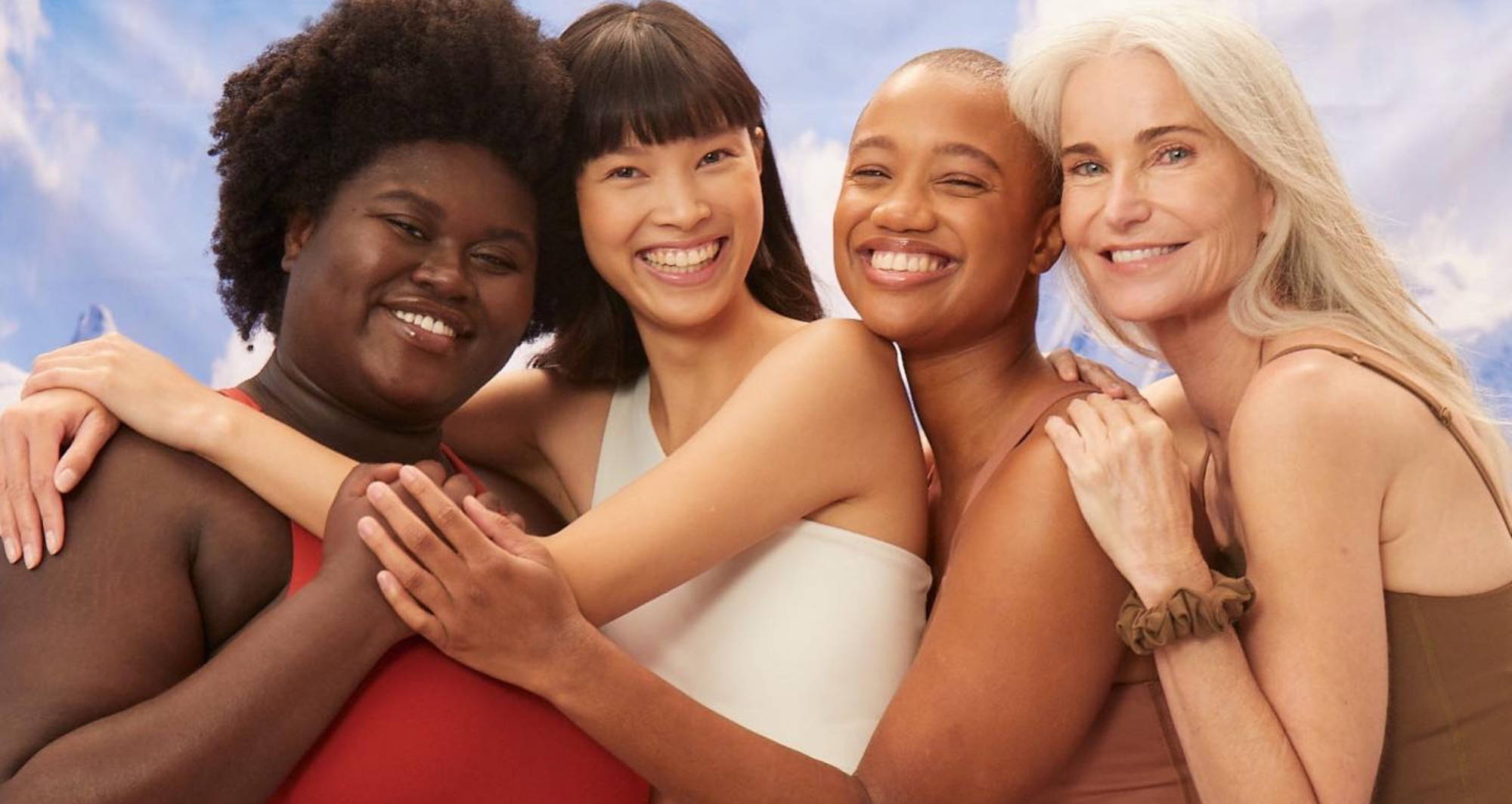 The Devon Compressive Cami Bra by the Girlfriend Collective is made of their signature fabric, which comes from recycled plastic bottles (sustainability FTW!). With adjustable straps, a long band that is designed to come to the top of high-rise leggings, and a built in bra for extra support, this bra is so much more than just a bra. The compression fabric also helps hold everything up, and hold it all in, whatever the activity.
A low back bra, you ask? To, um, help hide back fat? I know, it sounds sus, but hear me out—a bra with a very low back is so minimal, it may not hide much, but it also doesn't cause any unnecessary bulges. Make sure the rest of the bra isn't letting you down when it comes to support, but a low back bra can be a great back fat bra, or a bra to wear if you could care less about all this back fat talk.
TRY THE… WORON SOFT-BRA FLIRT BASE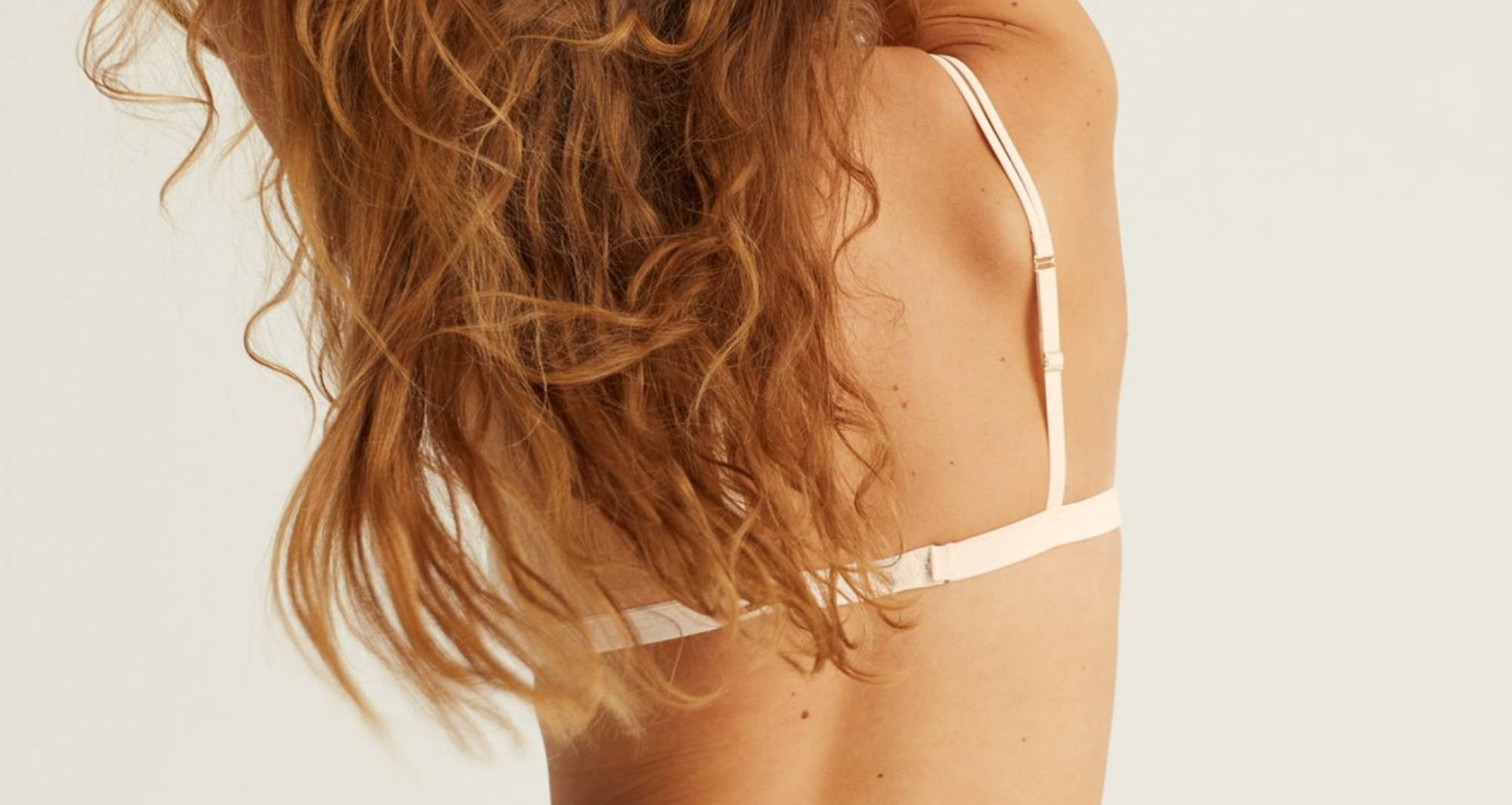 The Flirt Base Soft-Bra from Woron takes a low-cut back to a whole new minimalistic level. Just three skinny, adjustable straps may seem to be too minimalist, but appearances can be deceiving! This bra is comfy enough to sleep in, but supportive enough to wear out and about. Woron uses a modal fabric made from beechwood pulp, as well as toxic-free dyes, to make an earth and body friendly bra.
I'm not sure if longline bras were specifically invented to help with back fat, but they're definitely stars in this arena! Longline bras, called this thanks to their, you guessed, long lines, can often be worn as a crop top or tank top. The longline provides more support and encapsulation, for comfort and versatility. Just make sure you choose a bra in a breathable material, as all that extra material can cause more sweat.
TRY THE… FREE LABEL ANDIE BRA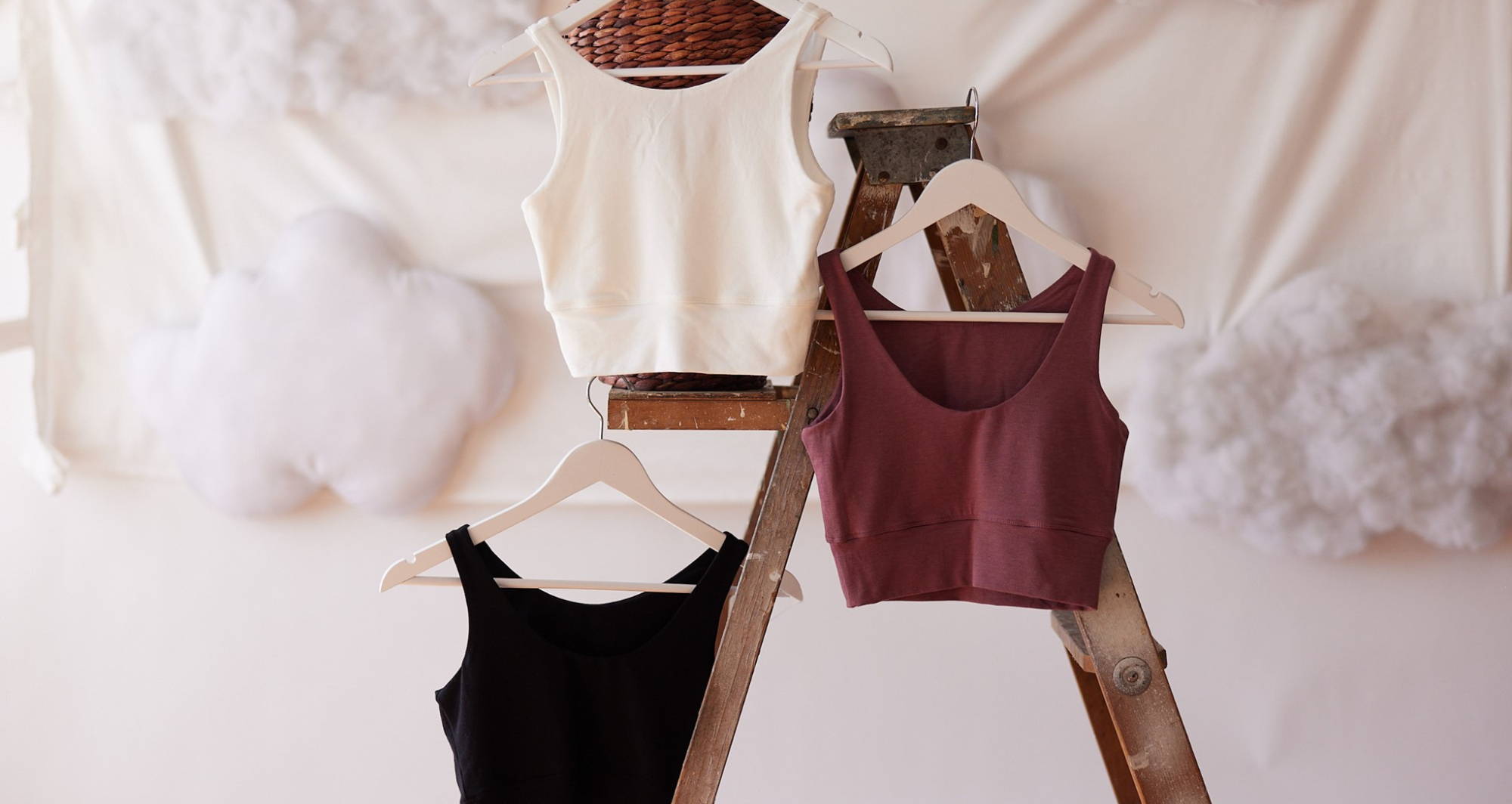 The Andie Bra from Free Label is definitely up there as the best bra for back fat. It's supportive enough to act as a sports bra, but cute enough to be a crop top all on it's own. The ultra-long band is a workhorse, and the compression of the back panel helps smooth without suffocating. And oh yeah, it's reversible! Not to mention ethically and sustainably made in Canada.

9. WEAR A CAMISOLE/TANK TOP
While not a bra, per se, a good camisole or tank top will often have a built in bra, or more, to offer support without needing a bunch of extra bulky layers. Often, these don't provide the most amount of support, so you may not be running much in these, but they give you just enough lift and support for comfort! They're also great for covering up that back fat, if that's what you're looking for.
TRY THE… KNIX LUXELIFT TANK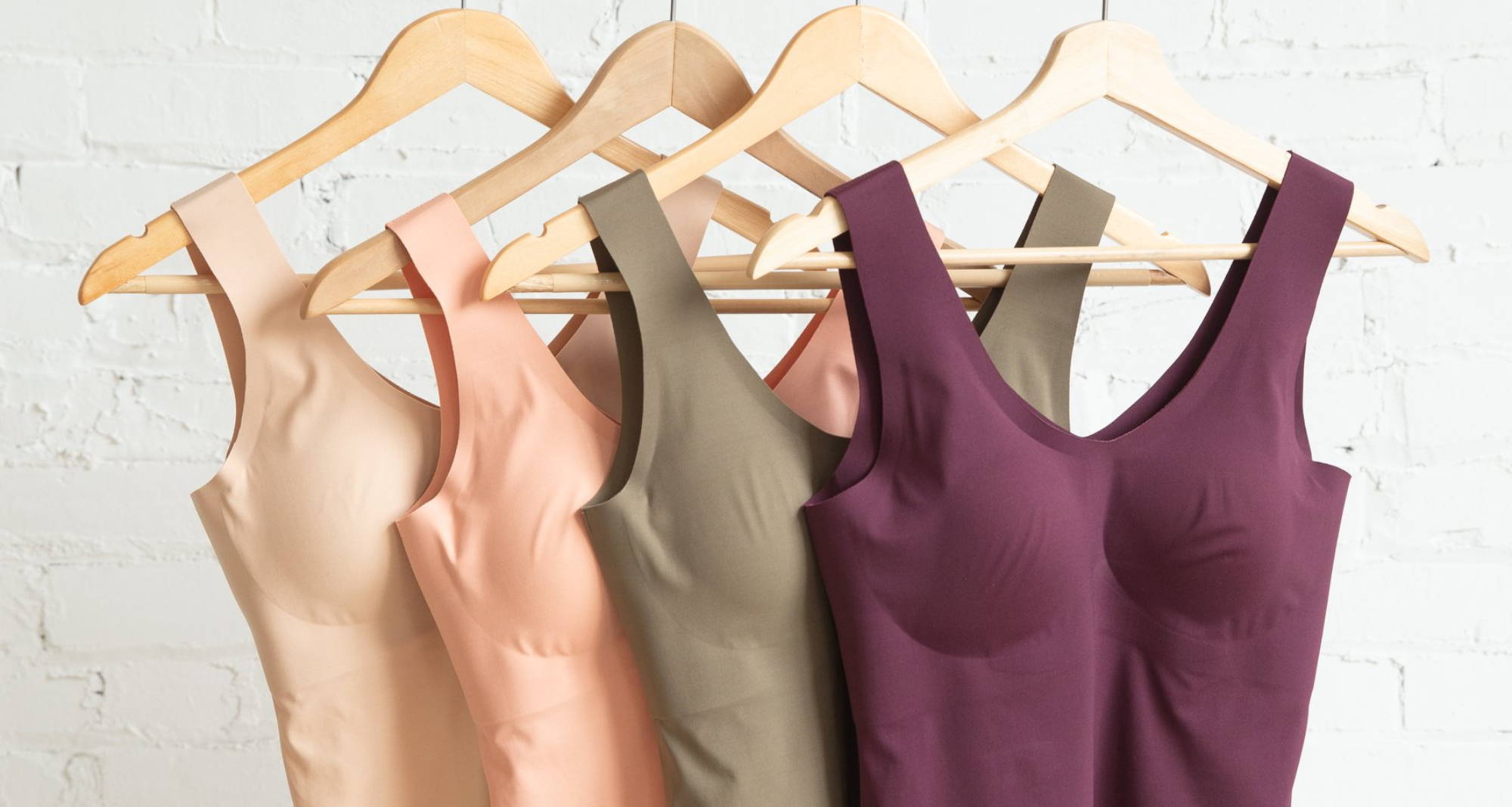 Well, even though I was just saying that camisoles and tanks may not always give you the most support, the people at Knix are lil geniuses who've invented the Luxelift Tank. This tank top is one of the best bras for back fat, as it's built-in support—for cup sizes A to G (!!)—is designed to give you all the support of a bra, but in a tank top. That plus the back coverage makes this bra a winner.
Bodysuits are definitely having a moment and I admit, I was skeptical at first. Although the bathroom sitch still gives me some moments, the second I put on a bodysuit for the first time, I immediately understood the appeal. Flattering on everyone but most importantly, comfortable for everyone, a bodysuit can give you the sleek look you might be looking for.
TRY THE… PARADE RE:PLAY SCOOP NECK BODYSUIT
The Scoop Neck Bodysuit from Parade ticks all the boxes of a bodysuit, while also acting as one of the best bras for back fat. Depending on your needs, you may want to wear some extra support underneath, but this bodysuit is designed to be worn as a second skin, so feel free to throw it on and go! The Re:Play fabric invented by Parade is cooling, comfy, and sustainably made, and will give your boobs support without causing extra strain on your back (or your back fat).
IN CONCLUSION: THE BEST BRA FOR BACK FAT
Never fear those tight shirts again with these tips for finding the best bras for back fat! Or, you know, never fear because you're beautiful just the way you are. Of course, when you have a bra that fits you correctly, back fat bulges over your bra straps might be a distant memory of the past, anyway.
Which of these bras would work best for you—whether you're trying to hide back fat, or not? Share in the comments below!
---
---