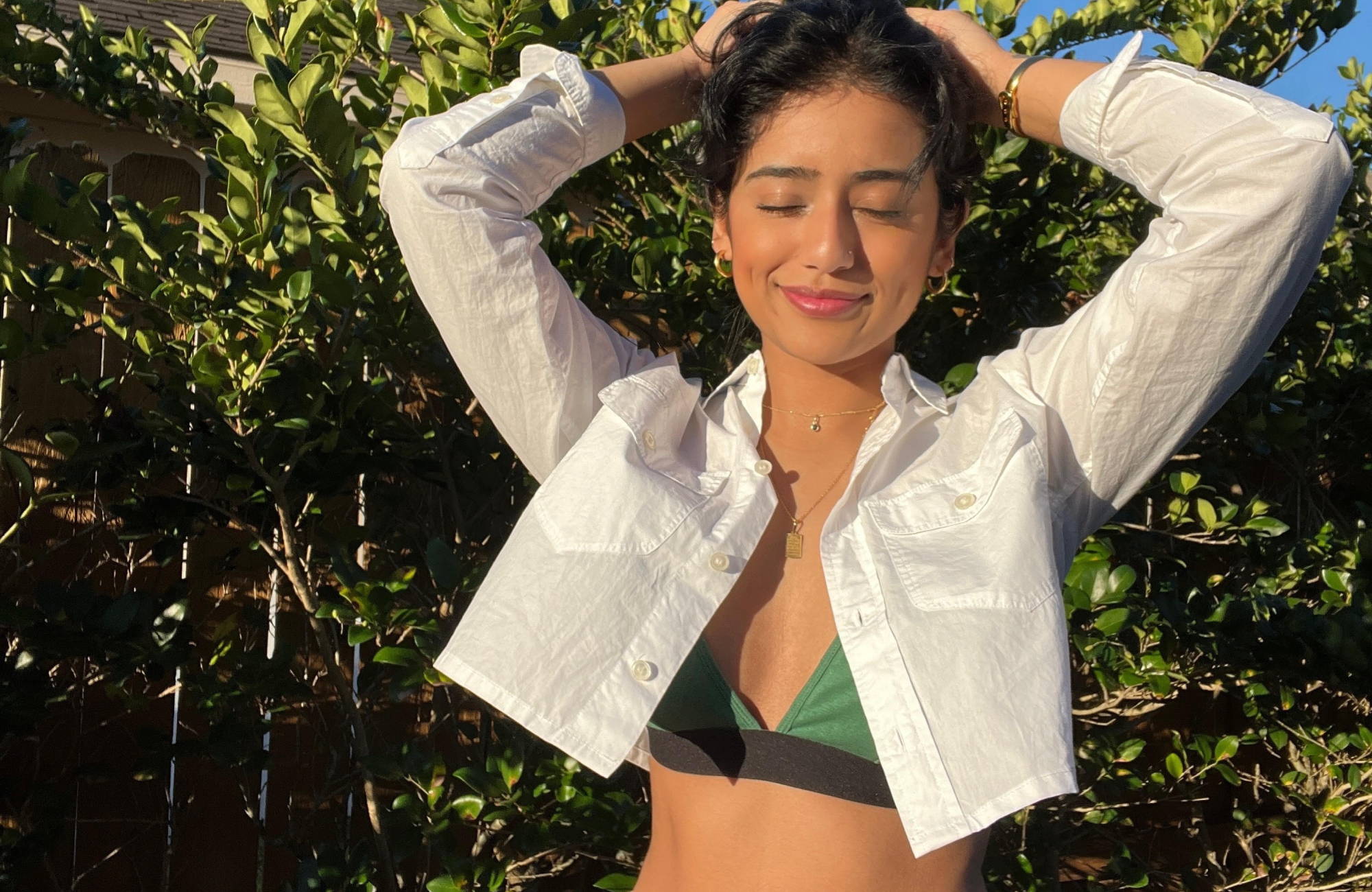 I love bralettes! They're comfortable and super cute no matter how you style them. I just recently took the leap and learned how to wear a bralette as a top, so I can rock my fave ones without any shirt hiding it.
Whether you love a sporty racerback bralette or sexy triangle bralette, there are so many adorable bralette outfits where your bra becomes the star of the show! And honestly, after all the hard work they put in, they deserve to be the center of attention every once in a while.
WEARING A BRALETTE AS A TOP: HOW TO
However, if you've never worn a bralette as a top, it might be a little intimidating. When should you wear it? How should you style it? How can you find the perfect bralette to act as a top? I'm here to answer all of your questions and give you a few starting paces to styling the cutest outfit ever! Let's get into it!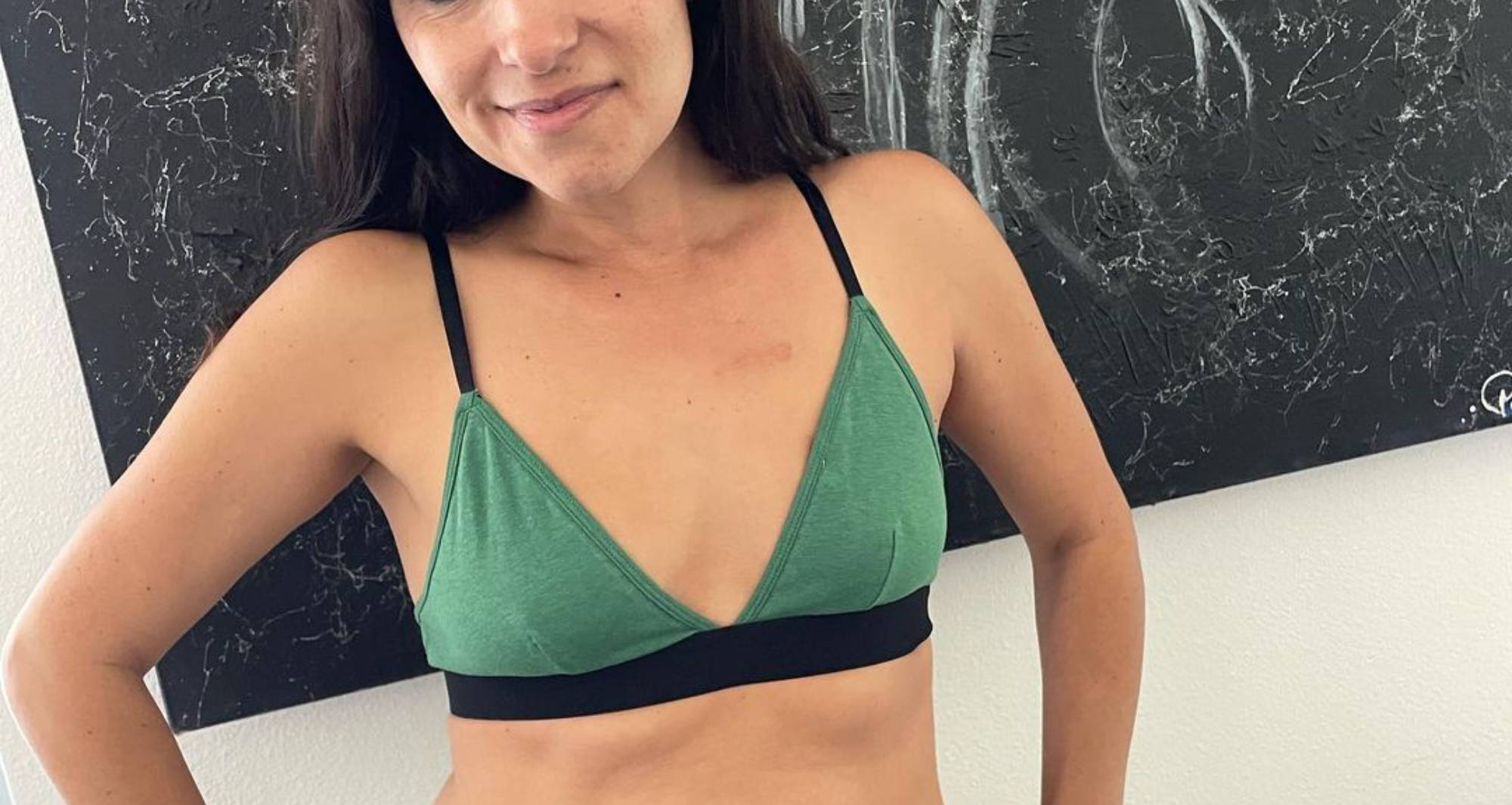 Before we jump right into how to wear a bralette as a top, let's first discuss what is a bralette. It's a type of unlined bra that can be worn as a regular bra, or as a top on its own. That's because while you wouldn't normally wear a bra as a top, bralettes tend to already resemble crop tops. There's no super defined, padded, and wired cups that make them look like a bra. Instead, most of the time, they're like cropped, tight tops.
They should be stretchy and move with your body. They provide slightly less support than a wired bra, but are much, MUCH more comfortable! And they come in a wide range of styles, from super sexy lacy ones to ones that look like sports bras (and everything in between).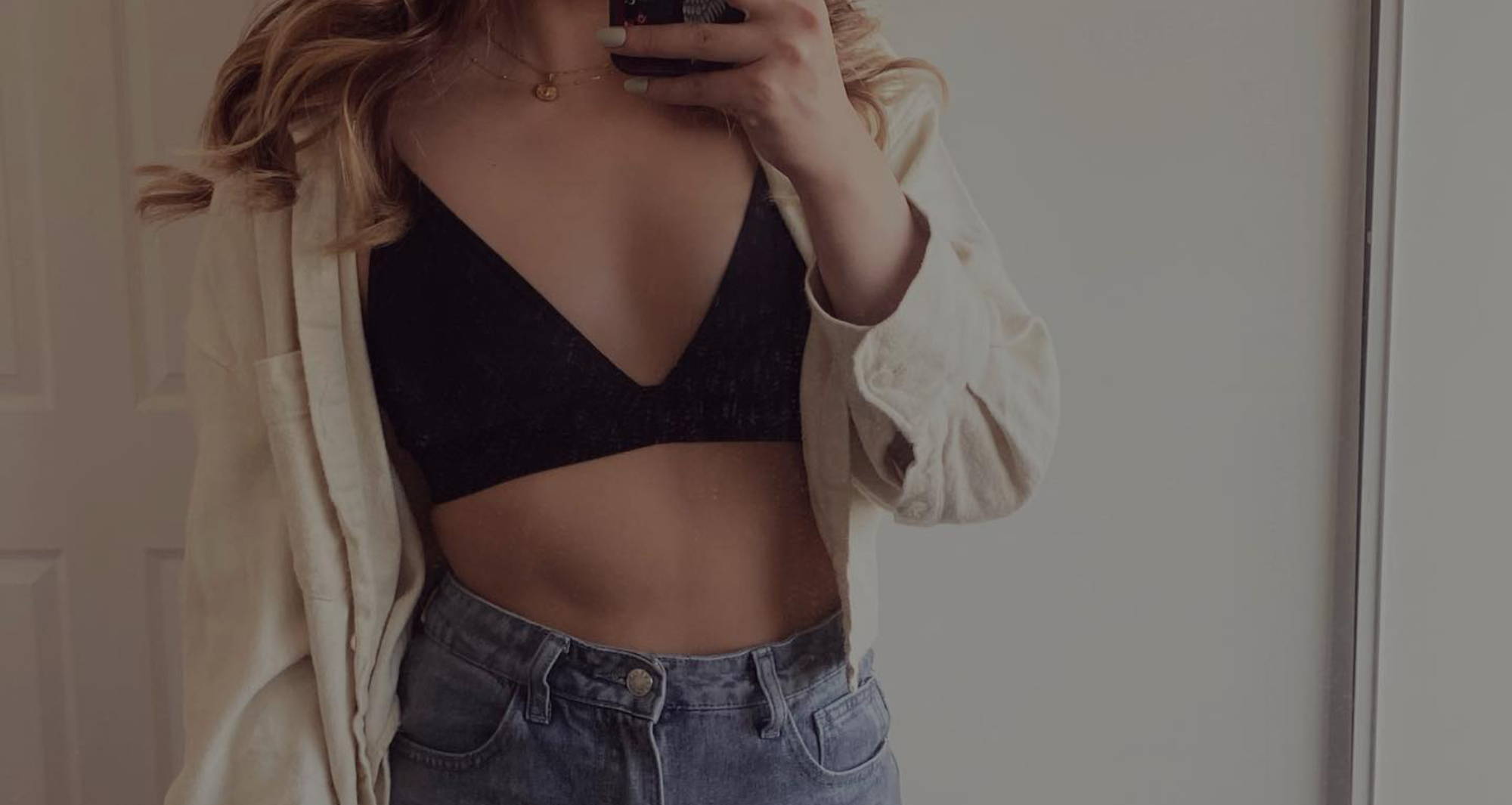 Just put the bralette on and don't put a shirt on top, duh! Juuuuust kidding, I know how daunting a new style can be for the first time. So, let's discuss who, when, where, and what to consider for how to wear a bralette as a top!
WHO SHOULD WEAR A BRALETTE AS TOP?
Literally everyone should rock a bralette as a top! No matter your age, body shape, boob size, or gender, you have the perfect body for a bralette top.
If there's certain parts of you that you're not quite ready to show off to the world, not a problem. There's tons of different styles of bralettes that offer more or less coverage depending on what you're going for. And if you're worried about support (or lack thereof) in a bralette, finding ones made of strong and sustainable fabrics like hemp can help keep your tatas in one place comfortably.
WHEN SHOULD YOU WEAR A BRALETTE AS A TOP?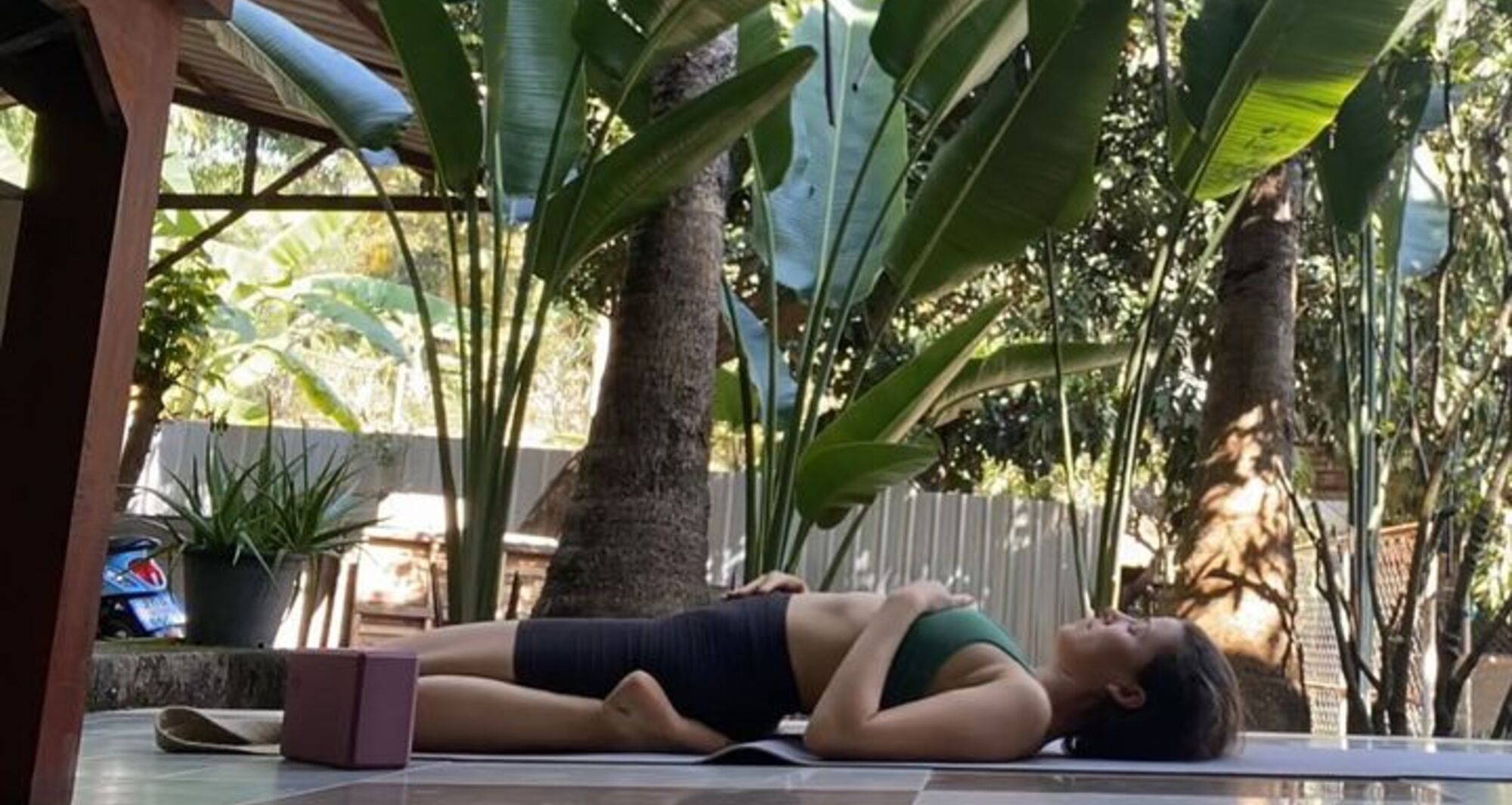 I'm strictly anti-dress code because I think we're all allowed to decide what we feel comfortable wearing and when. So I say you can wear a bralette as a top whenever you want!
However, some people have other ideas. So you may not want to wear one to the office. Aside from situations where it would be unprofessional or unsafe (like a working kitchen or construction zone), you get to choose when you want to style a bralette as a top!
Personally, I love doing low impact exercises in bralettes, like hiking or yoga, because it allows for more airflow and unrestricted movement. They're also fun to wear as tops to festivals, concerts, or a night out.
Remember, anyone that wants to make you feel bad for showing off your body in your free time is not a person you should worry about! Forget them and continue to dress your gorgeous body how you want to!
WHAT TO LOOK FOR IN A BRALETTE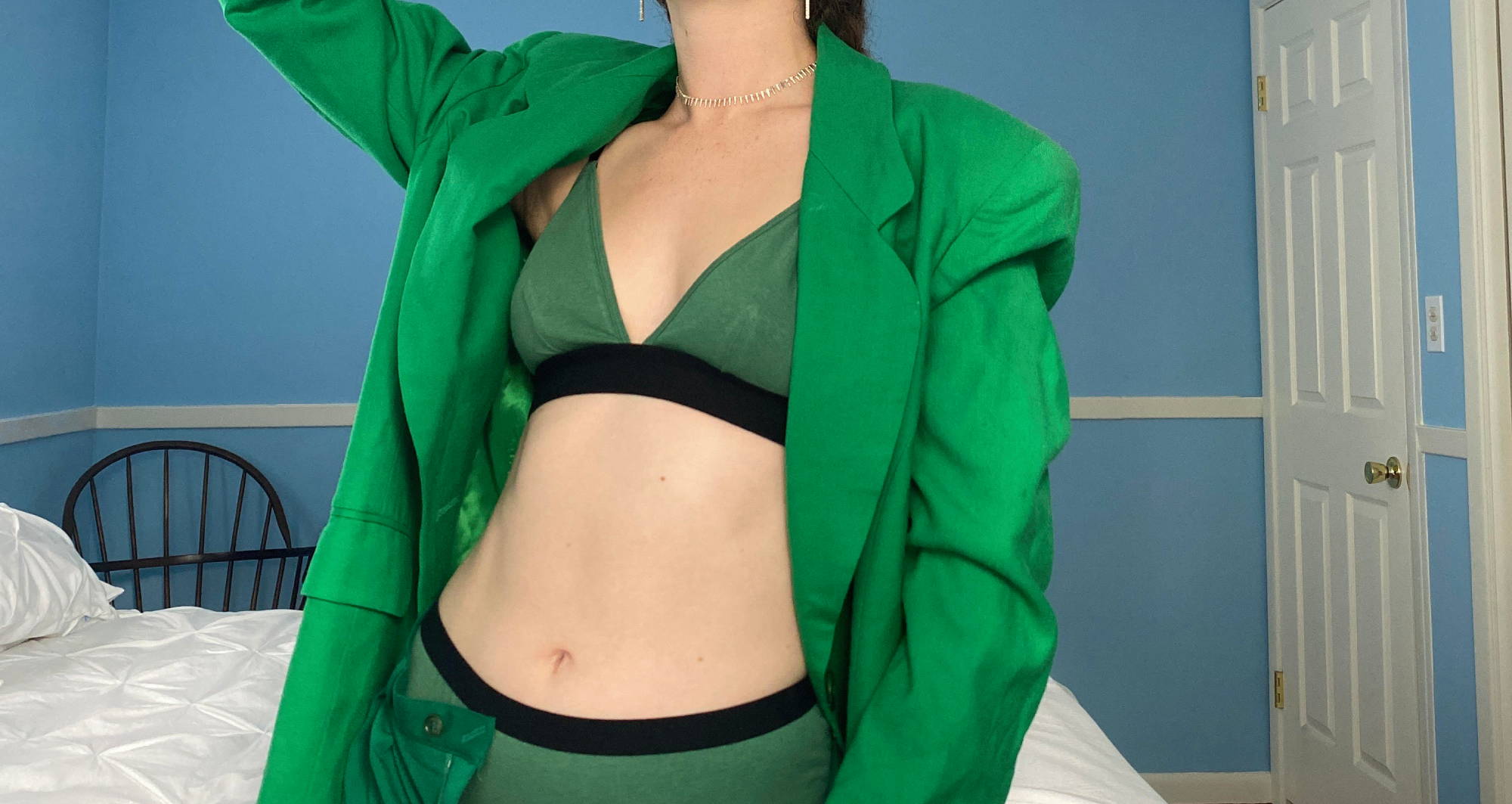 Not all bralettes are created equal. Some have amazing support, while others leave you feeling a little floppy. Some are made with soft materials that hug your curves beautifully, and others are made with sweat-inducing fabrics. Here's a quick run-down on what exactly to look for in a bralette when you're learning how to wear a bralette as a top:
Fabric:

What a bralette is made of is one of the most underrated parts of finding a comfy and cute bralette. You should look for natural materials, like hemp or organic cotton, for a breathable and soft feel.

Avoid the spandex or polyester ones

, especially if you care about the environment.
Style:

If you're trying to figure out the best style of bralettes to wear as a top, you really can't go wrong. Racerback back styles may provide a bit more coverage and support and look

amazing

with leggings and sneakers for a little Sporty Spice moment. Meanwhile, a plunging triangle bralette can turn heads in all the right ways.
Fit:

It should be tight enough to provide the support you're looking for, while still being loose enough to feel comfy and not squeeze you. If you have a hard time finding the right size bralette, look for ones with adjustable straps and band for a customizable fit every time. And if you're always dealing with a little bit of extra boob hanging out of your bralette, learn

how to solve bra overflow

once and for all!
HOW TO STYLE BRALETTE AS A TOP
Now for the fun part: learning how to wear a bralette as a top to any occasion! Read below for five different ways to style a bralette as a top.
HOW TO STYLE A BRALETTE AS A TOP ON A HIKE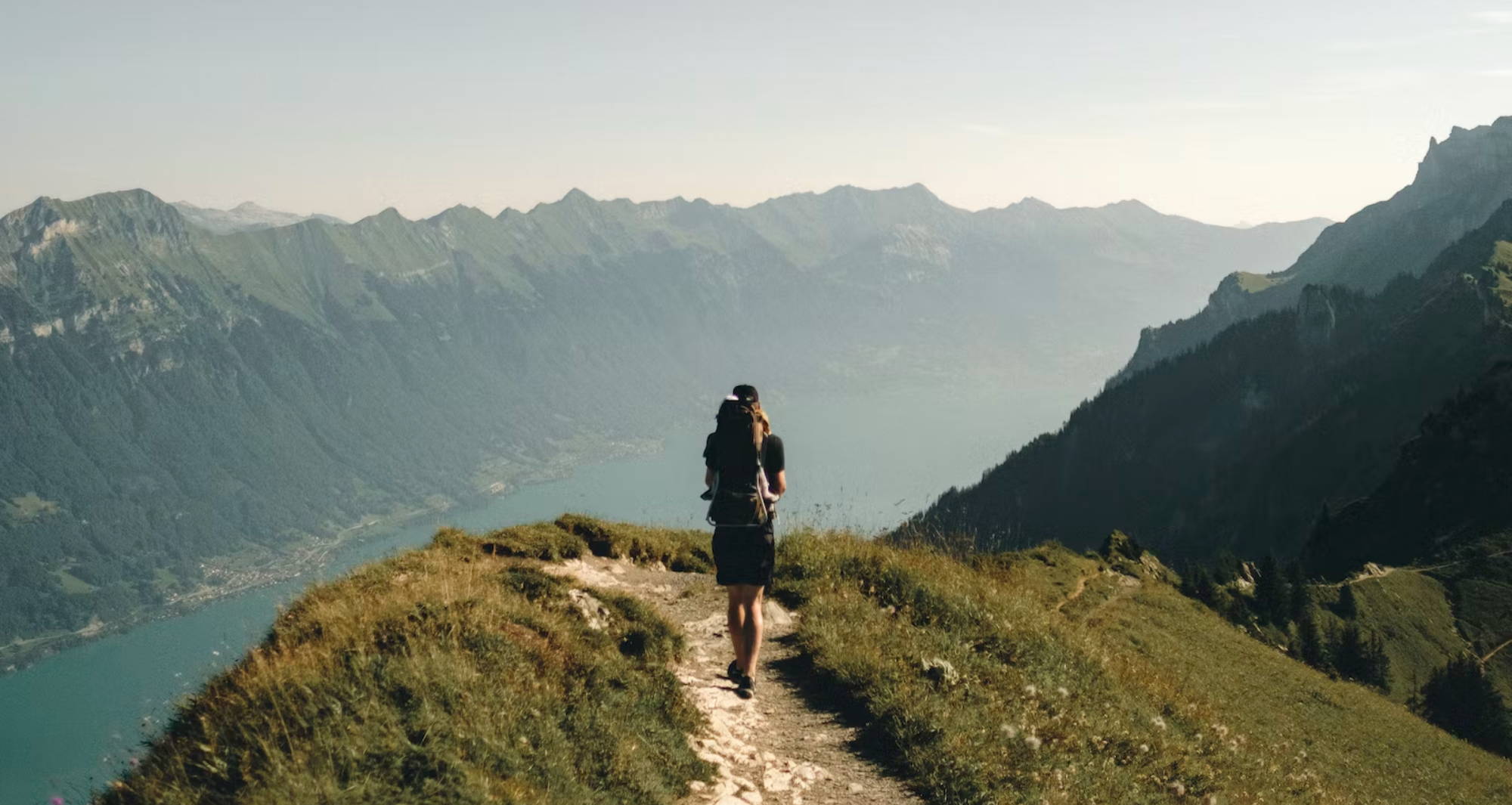 BRALETTE + HIG WAISTED LEGGINGS + HIKING BOOTS/SNEAKERS
This is my favorite way to hike because you get to feel the breeze and sun (with lots of SPF of course) on your skin.. It's comfortable, practical, and cute—and don't we all deserve cute hiking pics?! Sports bras are probably your best bet here, so you can still run away from a bear if you need to.
You can customize it by swapping out running shorts or a hiking skirt for the leggings. Or add an unbuttoned flannel shirt for cooler hikes!
HOW TO STYLE A BRALETTE AS A TOP ON DATE NIGHT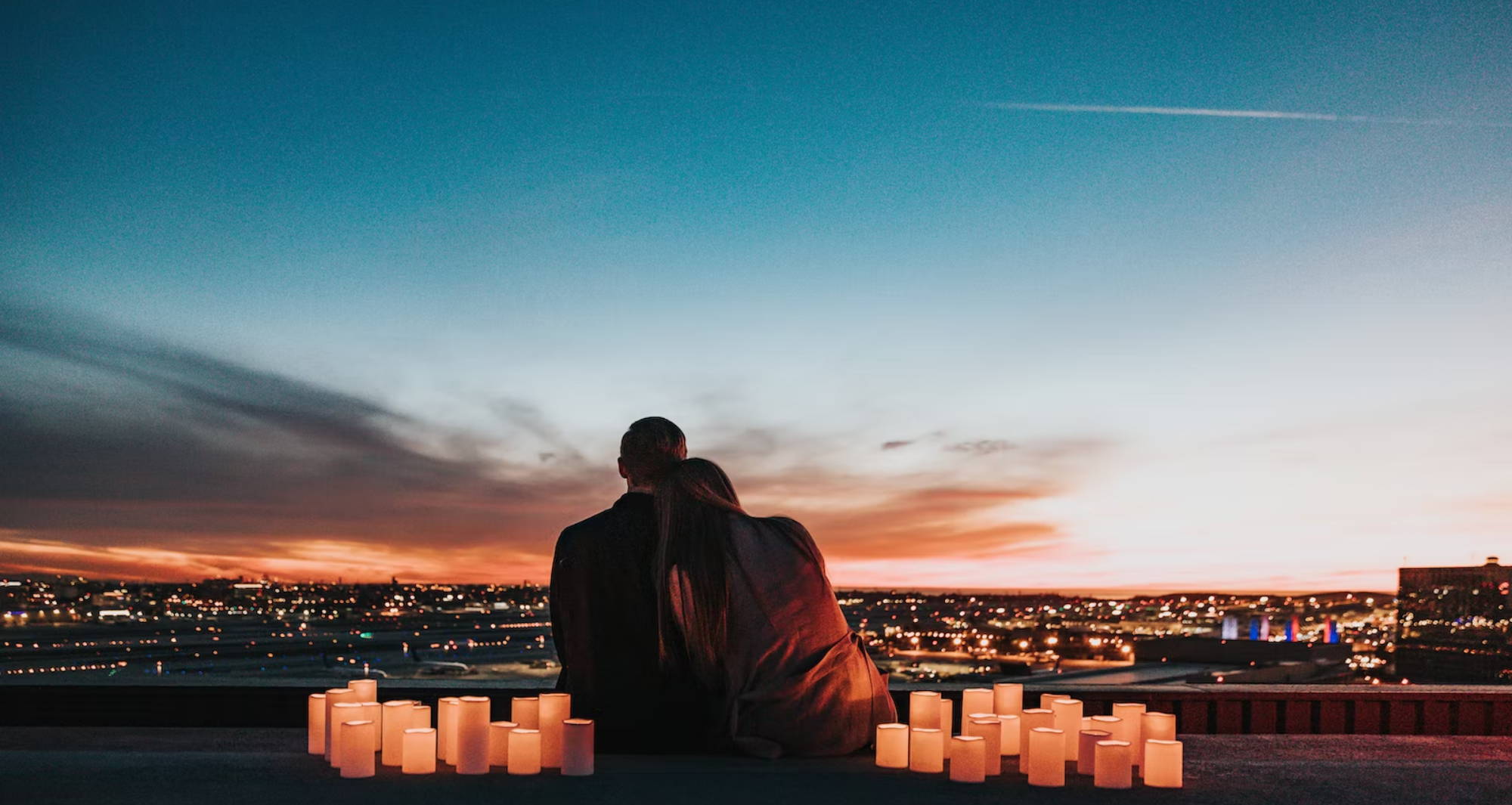 BRALETTE + BLAZER + HIGH WAISTED JEANS
Keep things fresh and flirty by showing off your beautiful body in a bralette and structured jacket. It'll give you shape and confidence, whether it's your first date or 1000th! For the most jaw-dropping outfit, wear your plungiest bralette to display your goods. Or choose a bandeau style for a no-fuss fit!
If you're a fan of heels, slip on your tallest ones. Or wear your favorite pair of boots for a more casual take.
HOW TO STYLE A BRALETTE AS A TOP ON ERRANDS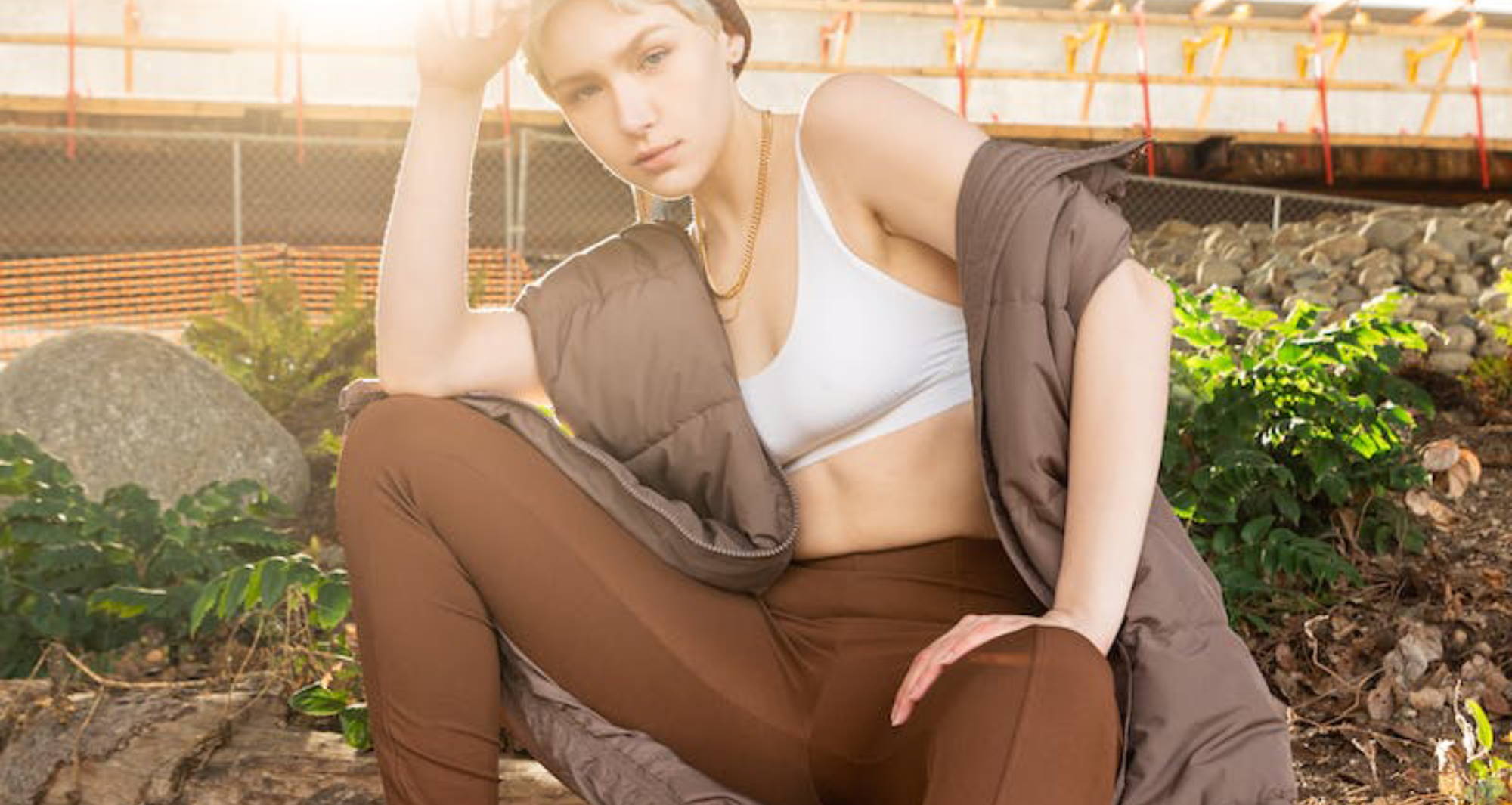 BRALETTE + TRACK PANTS + BASEBALL HAT
Feel good and look good the next time you run to the store in this supermodel off duty look (baseball hat to avoid paps, of course)! You can go for a monochromatic look by matching your bralette to your track pants, or go for a pop of fun with a brightly colored bralette. I always wear a racerback bralette for errands because it's a bit fuller coverage for all of those aisle 10 Karens.
Switch out the trackpants for a cozy pair of sweats on cooler days. Or throw on a pair of biker shorts on hot days to look like you just came from pilates (even if you really just came from the couch)!
HOW TO STYLE A BRALETTE AS A TOP TO A FESTIVAL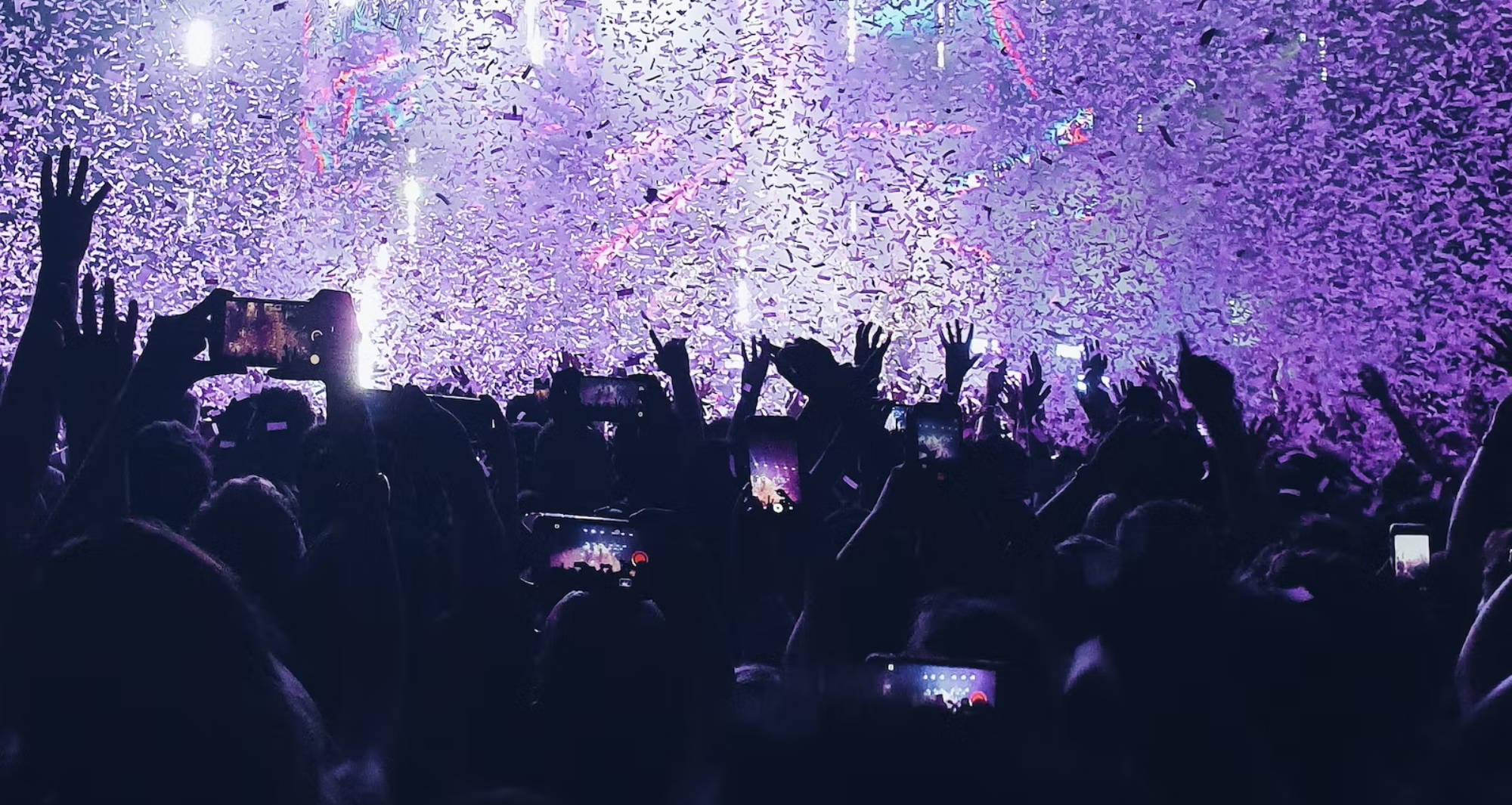 BRALETTE + DENIM SHORTS + YOUR FAVORITE PAIR OF SUNNIES
Rock out in this adorable outfit to stay cool and feel great! You'll be able to dance the night (and day) away without any trouble. For a nighttime or EDM festival look, throw a pair of fishnet tights underneath and your best shuffling shoes. Find a bralette with a fun design or color to show off your personality!
Make it your own with a fun pair of flowy shorts, maxi skirt, or even hot pants. Just don't forget to drink plenty of water!
HOW TO STYLE A BRALETTE AS A TOP TO GRANDMA'S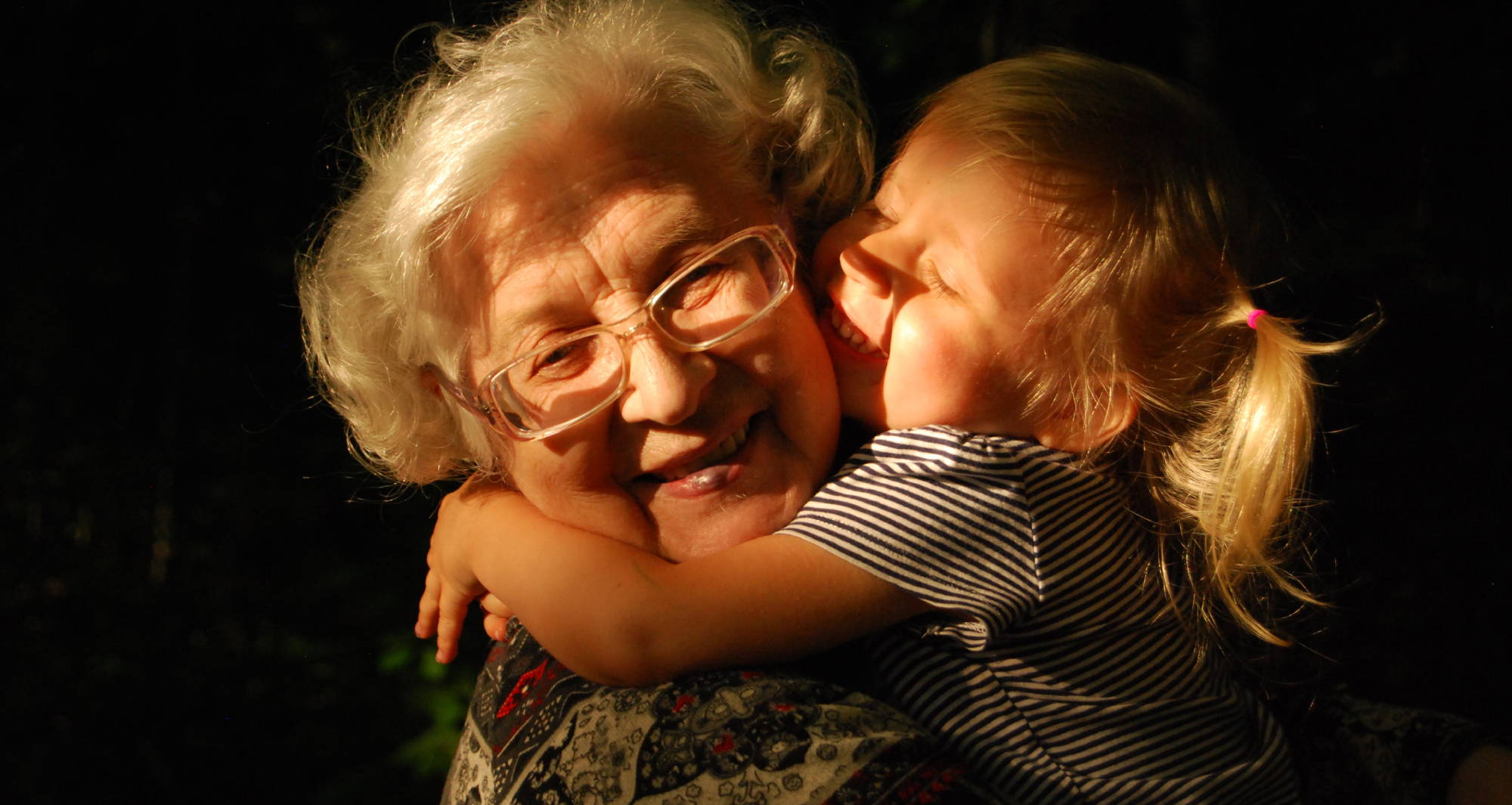 BRALETTE + HIGH WAISTED SKIRT + CARDIGAN
While your first thought for an occasion to wear a bralette as a top probably isn't grandma's house, this is just proof you can find a more covered up way to style it! Find a skirt and bralette combo that won't show any midriff (aka a fuller length bralette and wide waistband skirt). Then just pop a cardigan on top for shoulder coverage and presto! Nonna, here we come!
If your grandma is more fashion forward, you can always wear a tailored pair of high waisted pants and your best loafers!
CONCLUSION: HOW TO WEAR A BRALETTE AS A TOP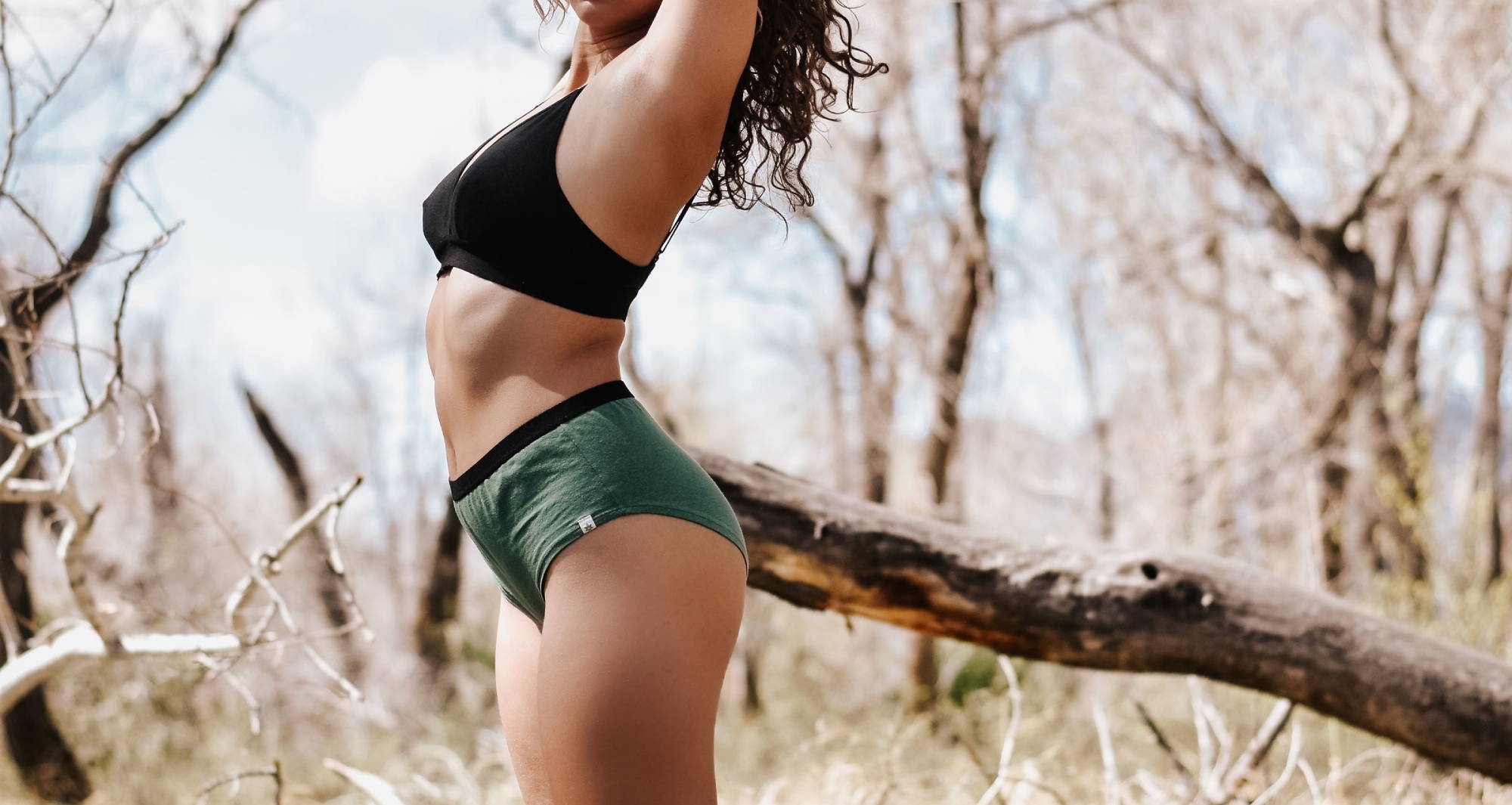 There you have it: the best ways to style a bralette as a top! Whether you want a sexy date night look, comfy errands 'fit, or grandma-approved style, you can wear a bralette as a top to any occasion. But to look good and feel good, make sure you're looking for bralettes made of cozy, eco-friendly materials that fit and move with your body (hint: like our hemp bras)!
What's your favorite way to wear a bralette as a top? Let me know in the comments below!
---