Posted on
|
0 Comments
---
Who else loves soaking up sun rays and feeling the sun's kisses on their cheeks? The fun we have in the sun is a glorious thing but, as we all know, exposure to the sun's harmful UV rays quickly accumulates over our lifetimes. According to the Skin Cancer Foundation, the cumulative effects of sun exposure can increase your risk of premature aging and skin cancer.
That can definitely make you think twice before you skip out to the shore or hit the trail!
While sunscreen is fantastic and absolutely necessary, there's something even better you can do to protect your skin: cover up with clothing!
---
Choose the Right Clothes for Sun Protection
Don't get it twisted. When it comes to sun protection, all clothing is not made equal.
In fact, certain fabrics offer substantial UV protection while others offer little to none. Some important things to look for when choosing the right fabrics are: the type of fiber used, the blend, the elasticity, the color, the GSM (weight), and the knit or weave.
Let's take a closer look.
Clothing and UPF
First off, UPF stands for "ultraviolet protection factor" and it comes into play when considering which types of fabric hold up best against UV rays.
The American Cancer Society suggests covering up entirely with long sleeve shirts and pants or long skirts when you can in order to protect the majority of your skin from harmful UV rays. Additionally, they recommend wearing dry and dark-colored clothing over wet or light-colored as that, too, offers a bit more protection.
Generally, if you can see light through the fabric that means UV can definitely get through!
The Skin Cancer Foundation suggests wearing clothing with a UPF of 50+ outdoors, and outlines which fabrics offer some good protection (note: I didn't say "great").
---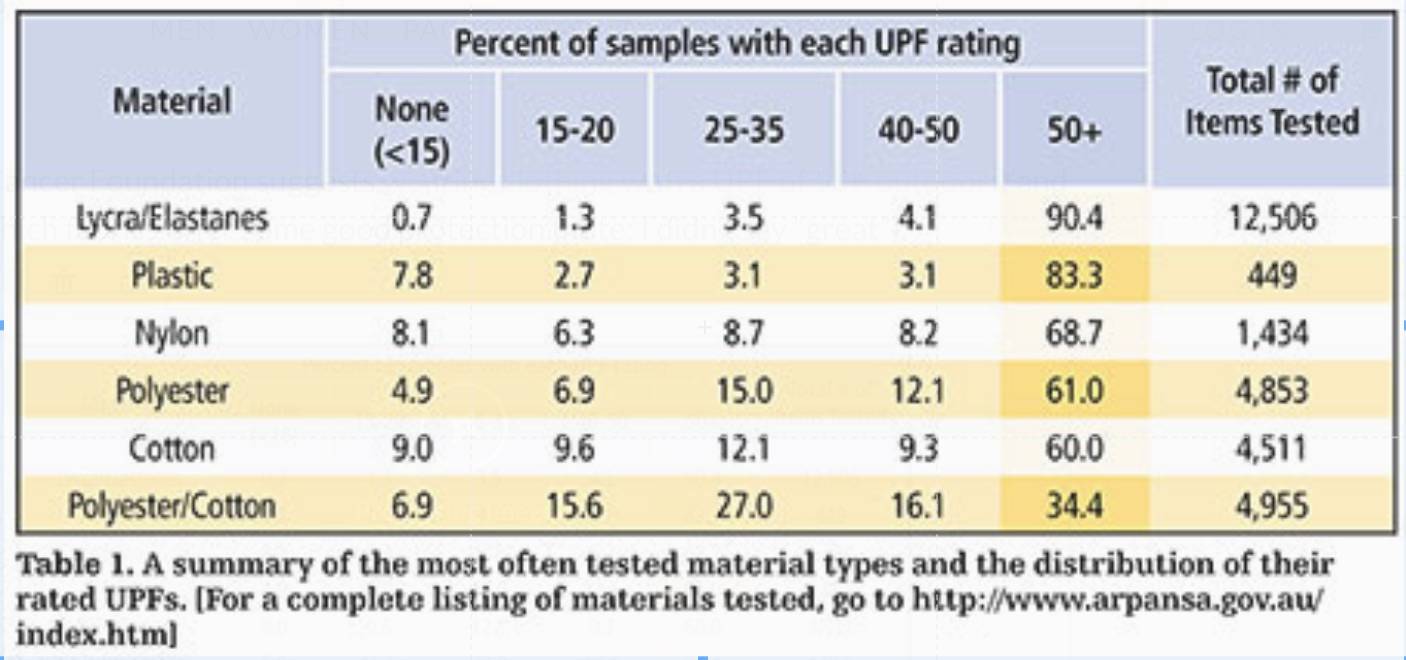 ---
Ready to learn about the best fabric to wear to protect yourself from UV rays?
---
Hemp Clothing: The Best Sun Protection Out There!
Here at WAMA, we wanted to see how hemp clothing held up against other fabrics in regards to UPF. So, naturally, we tested it! We used SGS Testing to work on a hunch we had, and we weren't disappointed.
If you haven't heard of SGS, they're the every-industry go-to when someone wants a product tested. From cars to machines, undies to houses. Basically, if you can test it, SGS is on it.
Turns out, based on our SGS testing, hemp clothing is truly the best fabric, wet or dry, you can wear to protect yourself from the negative effects of sun exposure.
Hemp clothing held up 99.9% effective in blocking UV-A and UV-B rays! This means that hemp clothing is rated "Excellent" and is in the top tier percentiles for UPF 50+. In primary school, that would earn hemp clothing an "A+" and a gold star.
You can take a peek at our results in the chart below, or download the full report here.
---
---
---
All this to say, hemp clothing is truly one-of-a-kind, and is revolutionizing the fashion industry. Not only is hemp more sustainable than other fabric options, hemp clothing is also far more durable and offers more sun protection than other fabric options as well.
Whether it's poolside or mountain-side, when you wear your hemp clothing out in the sun you can be totally confident in your level of sun protection. How great does that feel? If it makes you wanna dance in the sun in your WAMA skivvies, so be it. But remember to lather up on your sunscreen!
Haven't tried WAMA yet? What are you waiting for? Check out our hemp underwear here.
Photo credit: Cotton and Travel