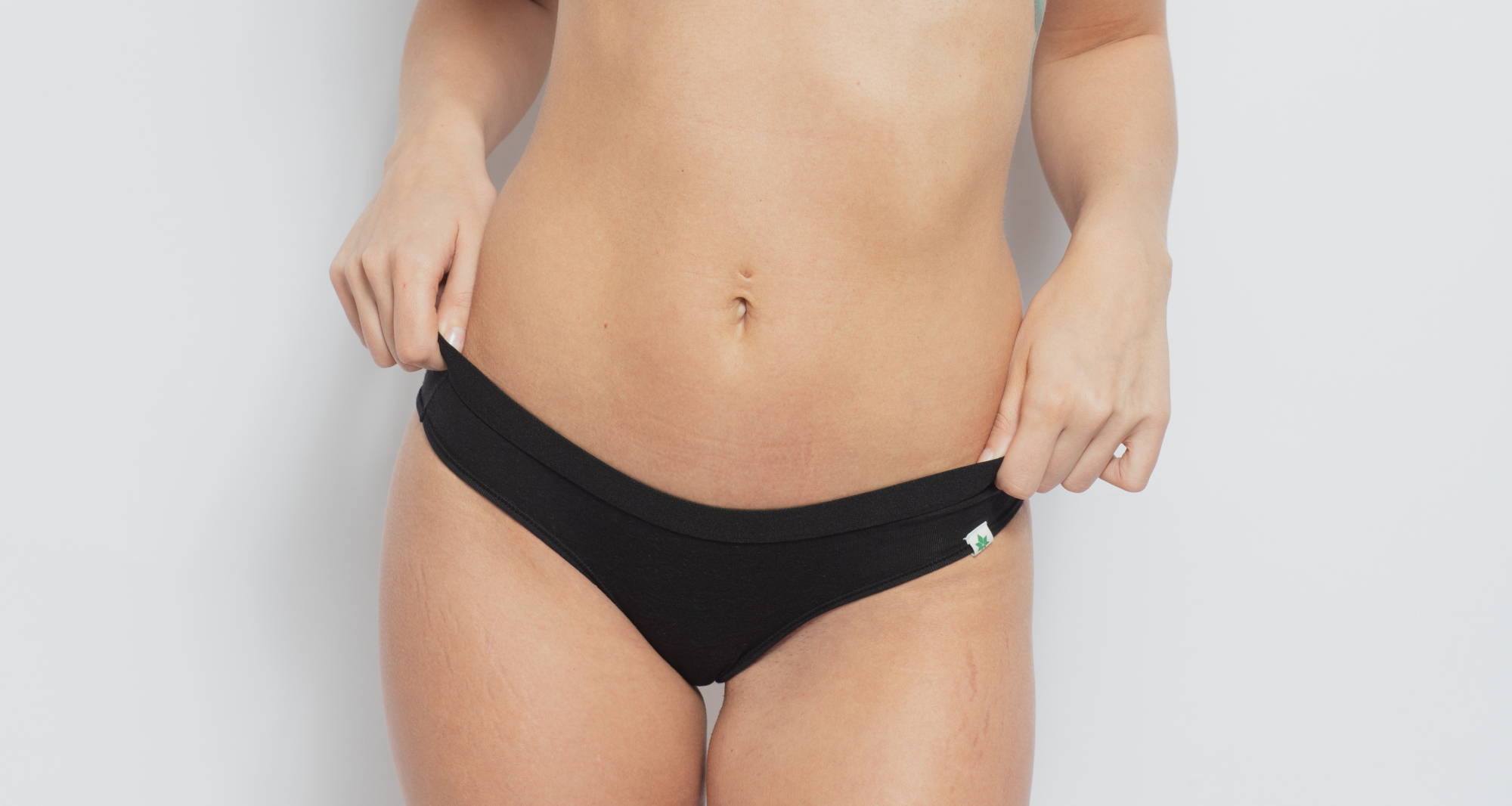 If you've ever wondered, "how should underwear fit?" you may be surprised by my answer. It doesn't matter if you have on thong underwear or boy shorts underwear, when your underwear fits well, you shouldn't feel it. I call this the two-second see-if-your-panties-don't-fit test!
We're lucky to now live in the age of sustainable underwear. It's a time when no one should have to put up with panties that don't fit. While your underwear may be the smallest item of clothing in your wardrobe, it still deserves your attention. After all, it's up close and personal with your privates all day long! Your favorite sweatshirt can't say that.
So today, I'm going to answer the question of how should underwear fit. Plus I'll give you easy ways to find out if your panties don't fit, and the 411 on how to tell if your underwear is too small, too big, or just too dang tired to fit you correctly. After today you'll never have to suffer from uncomfortable undies ever again!
HOW SHOULD WOMEN'S UNDERWEAR FIT?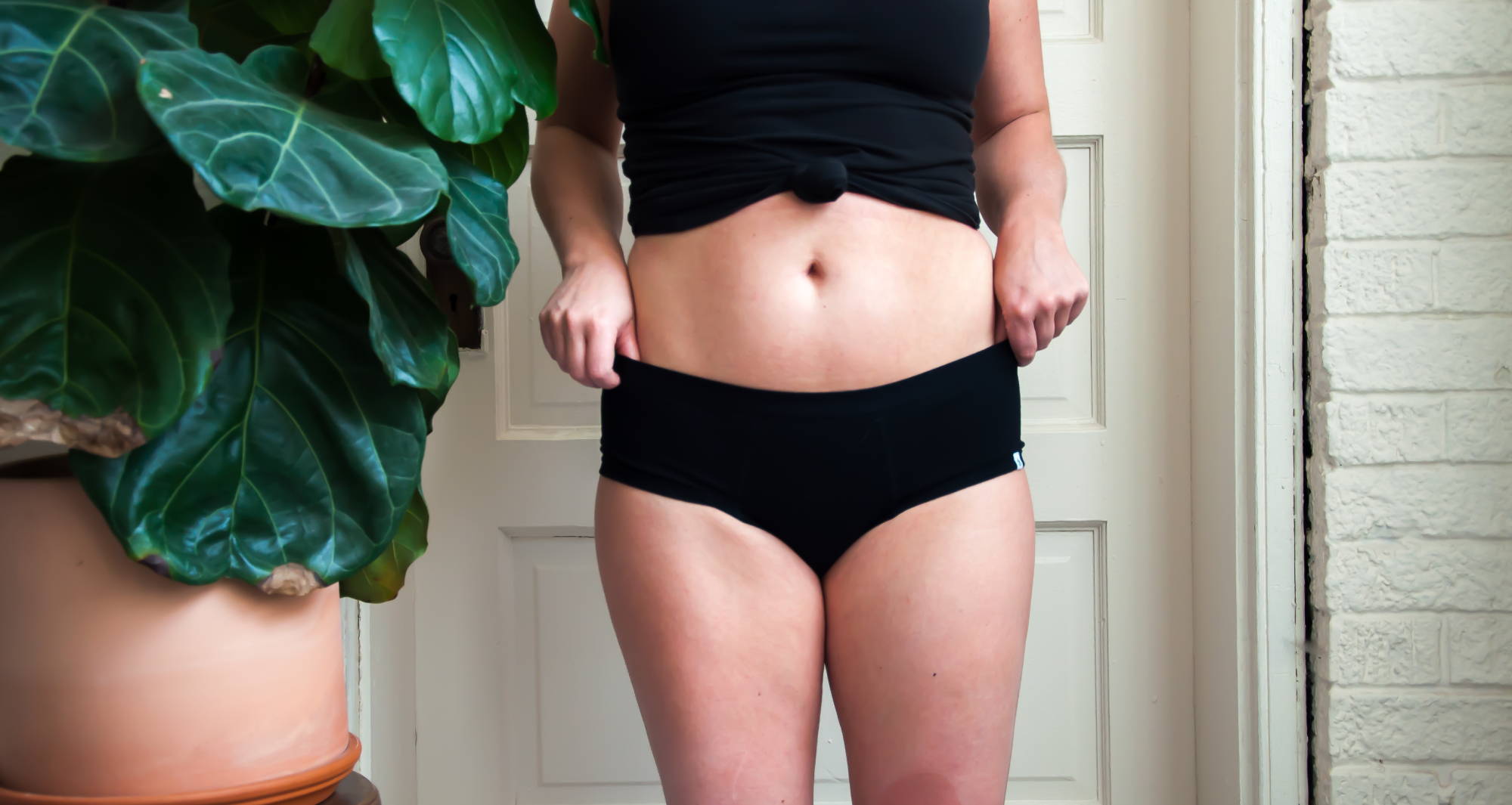 Underwear that fits well provides the right balance of support and freedom of movement.
The waistband fits securely but doesn't feel tight.

The backside covers your butt to the degree you want – and stays in place.

The crotch area fits snuggly but allows for air movement.

The leg openings across your legs and hips lay smooth and don't dig into your skin or restrict your movement.
If you've had trouble finding underwear that's comfortable and truly fits well, don't despair. It's not your fault and it doesn't mean there's anything wrong with your body. There are actually a few good reasons it hasn't been easy (until now)! And if your underwear experience has just been meh, I'm going to tell you why it can be so much more!
The first step to understanding how women's underwear should fit is knowing the signs that your current underwear doesn't fit.
7 SIGNS YOUR UNDERWEAR DOESN'T FIT FOR WOMEN
For the past 100 years or more cotton has been the major crop for clothing manufacturers in the US, but when looking at hemp vs cotton it's clear that choosing hemp has some big advantages!
Hemp's higher tensile strength makes it more durable than cotton, which means your yarn project will last longer and you'll be able to enjoy it more.

Hemp is a

upf fabric

that offers higher sun protection than cotton, making it easier to naturally protect your skin from harmful sun damage while outside.

Hemp is more breathable, so it will keep you more comfortable.

Hemp absorbs moisture better than cotton so if you sweat while shoveling the snow, your scarf won't feel wet and cold.

Hemp is antibacterial, and cotton is not! This means those cute knit socks will be cute, but won't get stinky!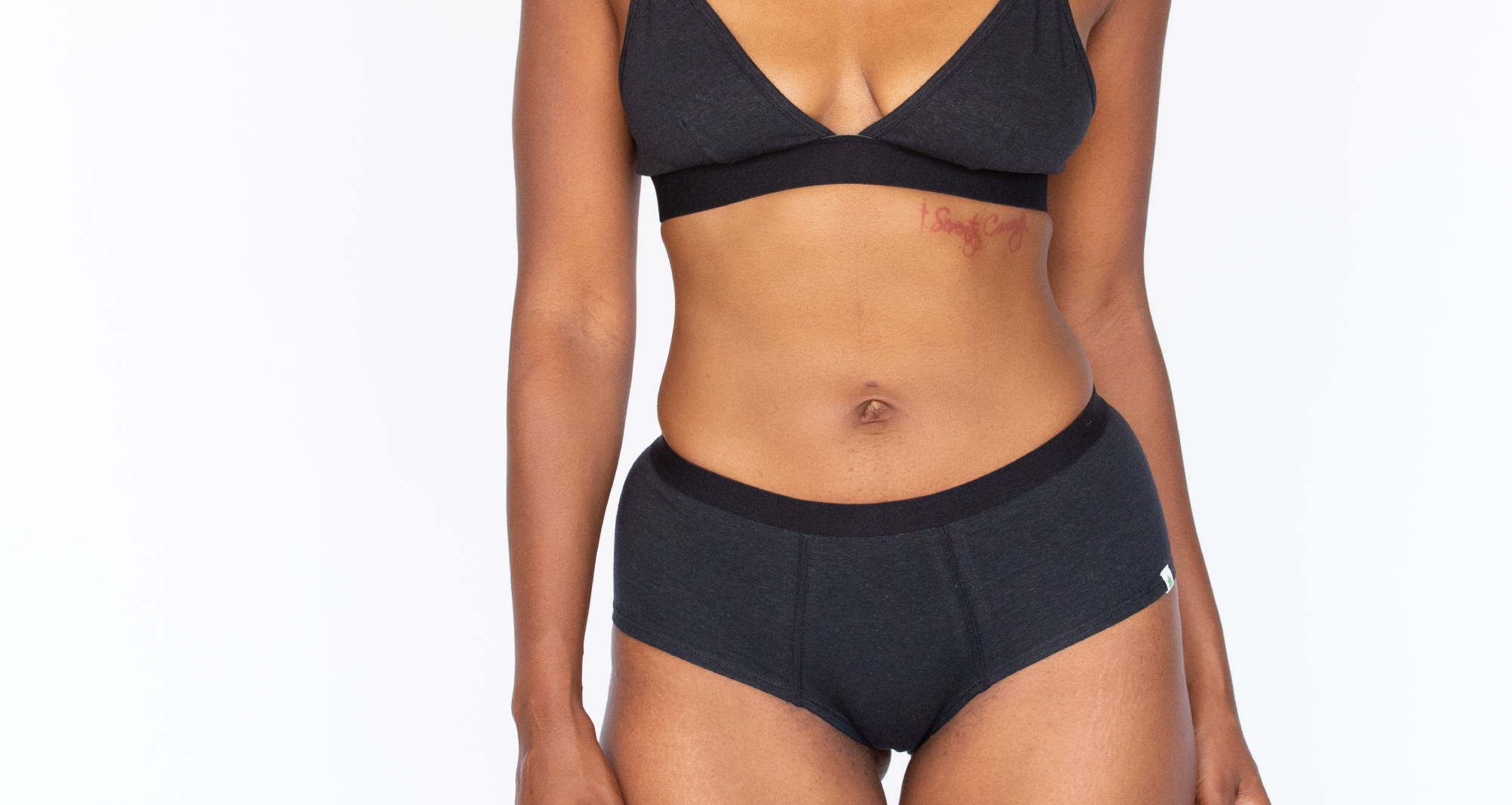 Sometimes you notice right away when a new pair of underwear doesn't fit correctly. Other times a pair you loved slowly stops being so lovely. When underwear stops fitting, it can result from changes in your body, like weight gain or loss, pregnancy, surgery, menopause, or even just aging. Or it can be because those panties are just plain worn out. Either way, here are 7 clear signs your panties don't fit (even if they once did). Read on to find out how to tell if your underwear is too small, too big, or just the wrong style for you…
1. YOUR WAISTBAND SLIPS DOWN
Accidentally dropping your drawers? I hope not! But if your waistband is loose, there's no way those panties fit ya. A loose waistband is a sign you either bought underwear a size (or two) too big or the elastic has given up the ghost. RIP waistband, but it's time for that pair to go. Either way, whether too big or too worn out, this is a clear sign your underwear doesn't fit. It's time to replace!
2. VISIBLE GAPS IN THE CROTCH AREA
You may be wondering, is it breezy in here, or is it just that my underwear doesn't fit? Well, it might be breezy, but gaps in the fabric at the crotch are another clear sign that those panties aren't doing their job. The elastic may be worn out at the waist or around the legs so things are hanging low. Or the fabric has gotten stretched out and doesn't have the will to pull itself back together again. Either way, you want underwear, not a loincloth. That pair has got to go.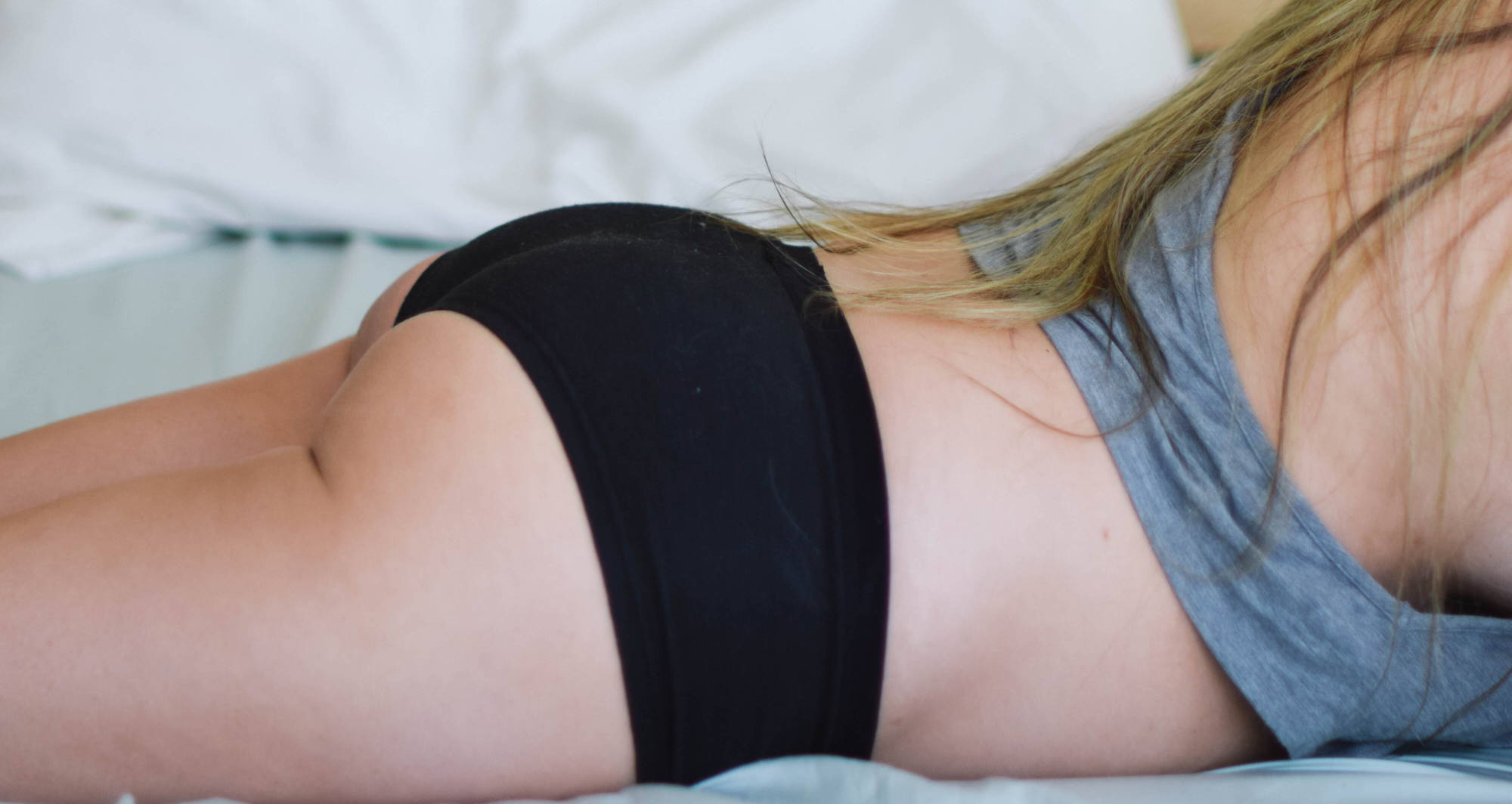 3. YOU GET WEDGIES 24/7
Let's be clear, your underwear shouldn't slip into your crack all the time (or just any old time it wants). If you find yourself constantly readjusting your panties something's not right with the fit. No matter what style you wear or how cheeky they are, your underwear should fit securely across your buns and gently hold them. Even if you're wearing a thong, it shouldn't feel like you have fabric wedged up between your cheeks all day long. You've got better things to do than pick at your panties. Buh-bye!
4. YOUR PANTIES LEAVE MARKS ON YOUR SKIN 
How to tell if your underwear is too small? The most obvious way is that it leaves marks on your skin. Your underwear shouldn't leave outlines on your body long after you've taken them off. That's a clear sign they're too tight. If you see deep grooves on your waist or thighs from the elastic or marks on your hips from the seams after you take your panties off, do yourself a favor and never put them back on again! If your skin is bulging out above or below, a larger size will feel much better. It's time for an upgrade, girlfriend!
5. YOUR MOVEMENT IS RESTRICTED
Some days you may run low on energy or be mired by self-doubt, but the last thing you need is for your undies to hold you back. They're supposed to have your back(side) – literally! Maybe you don't need to do a cartwheel at the office, but you should be able to sit, stand, walk, run, and, yes, even do a cartwheel if you want. Underwear that feels restrictive signals that they're too small or just the wrong style for you. Replace them with panties that silently tell you you can do it all day long. You'll be glad you did.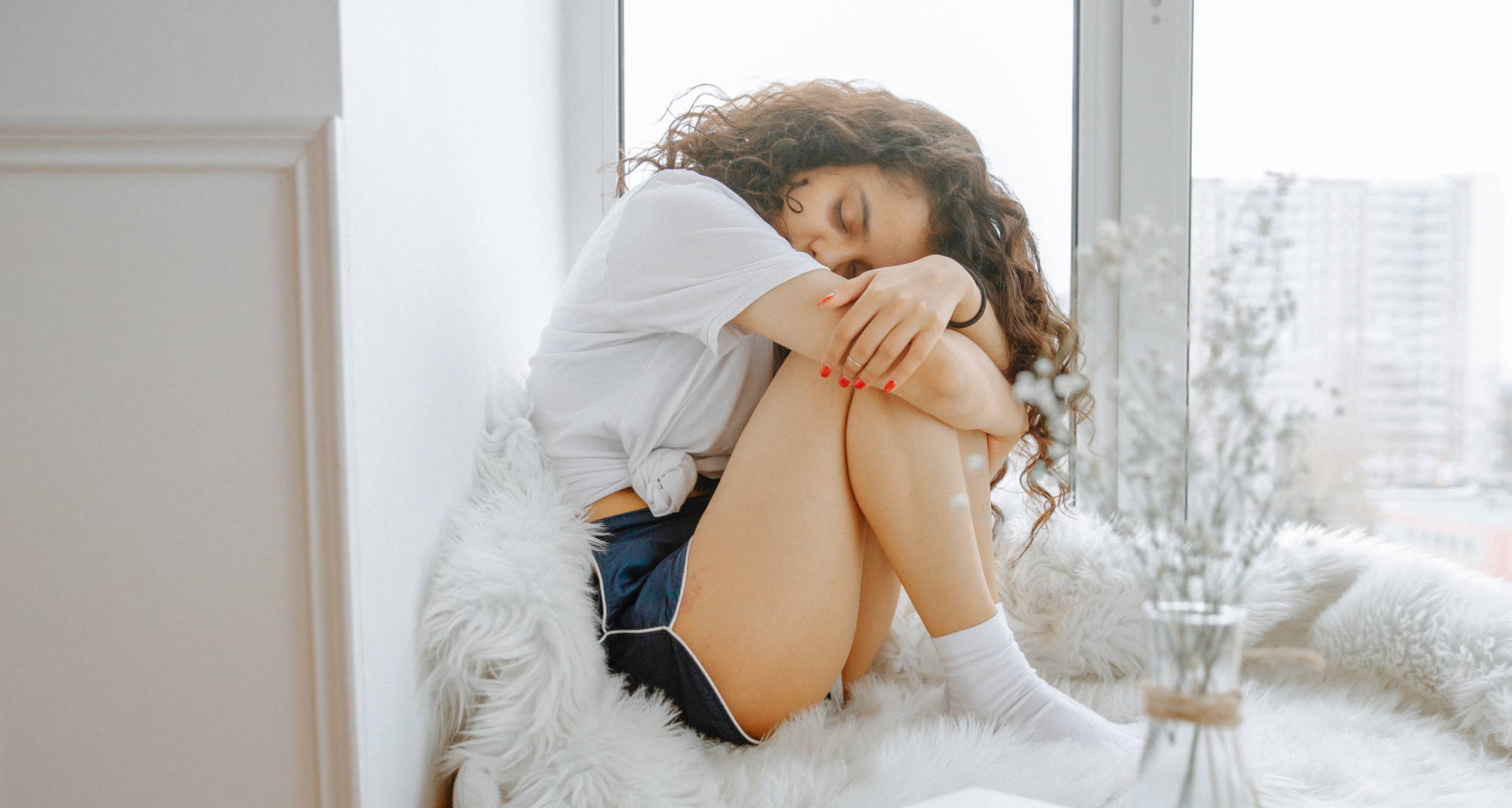 6. INFECTIONS "DOWN THERE"
Guess what? If you get a lot of vaginal yeast or bacterial infections, you might be wearing the wrong underwear! Especially if the underwear is too tight or made from a fabric like nylon, which traps heat and moisture. Wearing nylon underwear or tight pants that block air movement provides the ideal environment for infections to grow. (Which is a big NO in my book!) Enough said.
7. THEY JUST AREN'T COMFY
Sometimes even if none of the above is true, your underwear just isn't comfortable. Maybe it's itchy, or something just doesn't feel right. You know, those pairs that always go unworn at the back of your drawer unless you get *really* behind on the laundry? That's probably because they don't fit. It doesn't matter how cute they look in the drawer or how much you spent on them, they aren't working for ya so ditch them ASAP. You deserve to feel cute too, and you can't feel cute if you don't feel comfortable!
HOW SHOULD MEN'S UNDERWEAR FIT?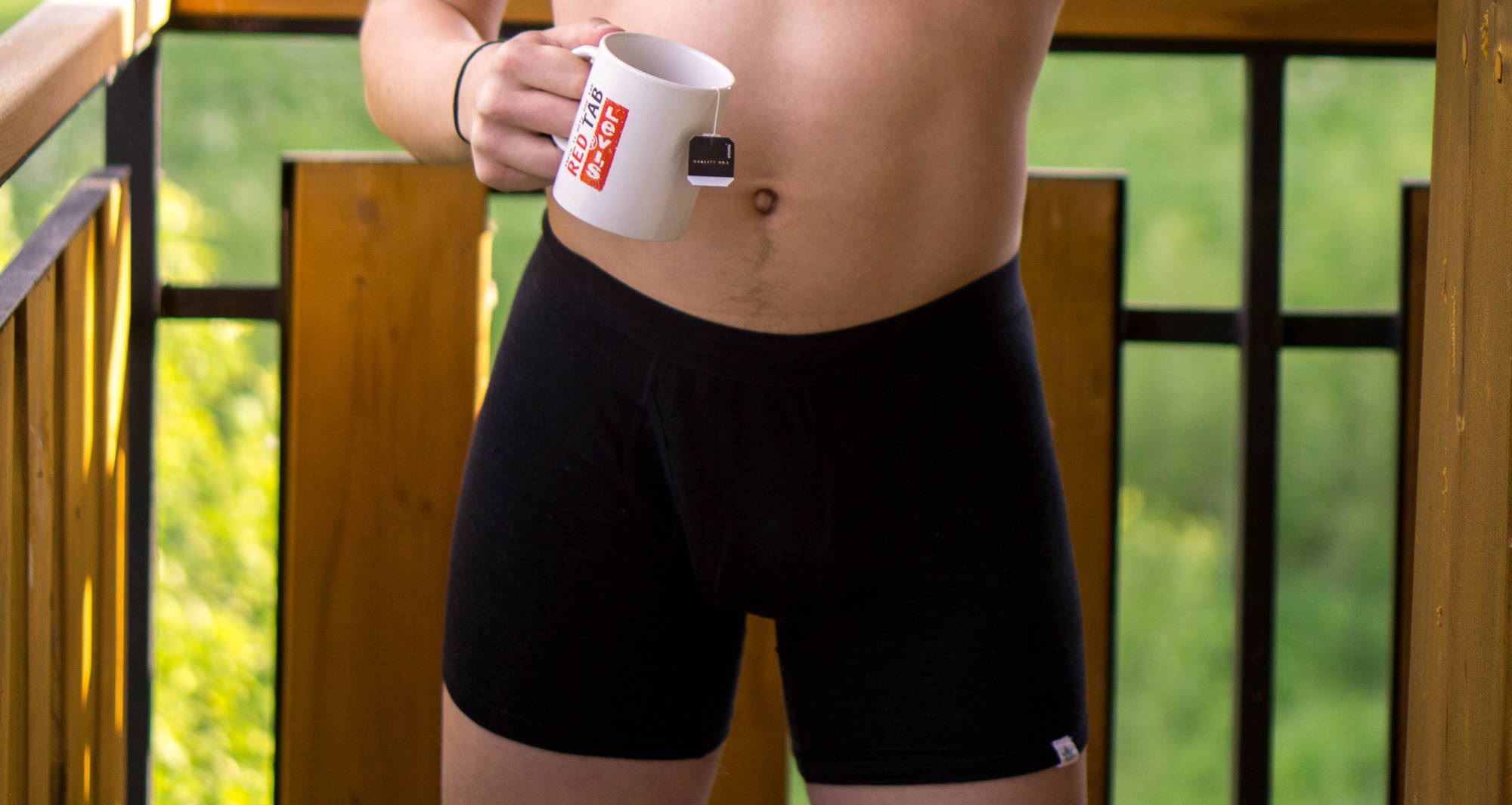 Just like women's underwear, men's underwear should also provide the right balance of freedom and support.
The waistband lays flat – and stays at the waist!

The front pouch provides support for the family jewels but allows room for readjustments.

The hip and backside areas fit smoothly but allow for air movement.

The leg openings stay put and don't dig into your skin.

The overall fit is secure but not tight.
The expression "fits like a glove" comes to mind – but more like a glove that is so comfortable that you'd prefer to sleep with it on to sleeping with it off! That's a great sign of well-fitting underwear: it's your first choice for bedtime attire.
7 SIGNS YOUR UNDERWEAR DOESN'T FIT FOR MEN
Once you know what to look for, and what to avoid, it doesn't have to be difficult to find underwear that fits well. This is especially true after you learn how to avoid underwear that doesn't fit by recognizing the signs—and refusing to settle! Here are 7 signs your underwear doesn't fit and why you want to ditch the pairs that fit this way pronto!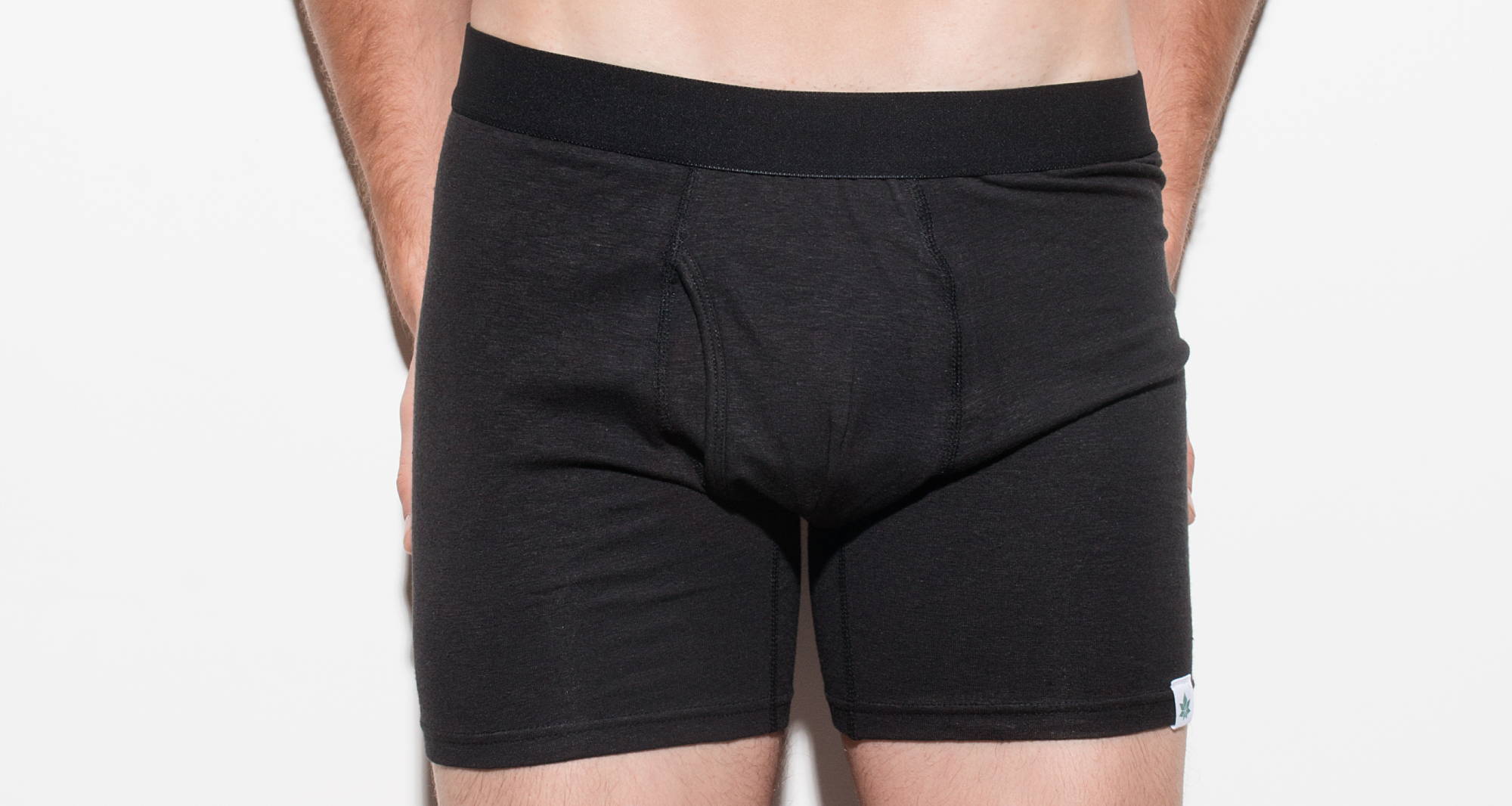 1. SAGGING WAISTBAND HAS YOU MISTAKEN FOR A PLUMBER
Perhaps it should be obvious, but the waistband of your underwear is supposed to fit at your waist. When it doesn't, you get a case of the droopy drawers, which, let's just make clear, isn't a good look! Besides, who wants to be pulling up your underwear all day? Or having it bunch up under your pants? Nobody, that's who. If it keeps sliding down, it doesn't fit. Maybe the elastic is shot or are they just too darn big. Either way, it's time to say buh-bye.
2. WAISTBAND RIDES TOO HIGH
But what if the waistband is even a tad too tight? Then, the opposite problem can also happen. When underwear is too small, to constrict to its intended diameter, your waistband may rise up your torso in search of a narrower location. And it doesn't take much imagination to understand what happens to the rest of your underwear when this happens. When the waist goes high, so does everything else! Um, that's awkward.
3. THE ELASTIC OR SEAMS LEAVE AN IMPRINT
Just like for women's underwear, underwear that fits well should not leave marks (or have "marks," if you know what I mean). If indents from seams or elastic are still evident on your waist, hips, or legs after disrobing, your underwear is probably too tight. That's not the fit you should be going after! Plus, do you want to put a cloth tourniquet around this part of your body? I didn't think so. Remember that fitted is not the same as tight. A gentle hug is a sign that underwear fits well. Tight is a sign it doesn't.
4. AN IMPORTANT MEMBER IS FEELING UNSUPPORTED
This can happen when the pouch gets stretched out or loses its shape. Or it can happen if the elastic goes in the legs. Either way, this may result in everything not staying where you want them to be. That could be uncomfortable, or even embarrassing if you're wearing shorts! Protect your family jewels by giving them the support they deserve (and keep them properly contained).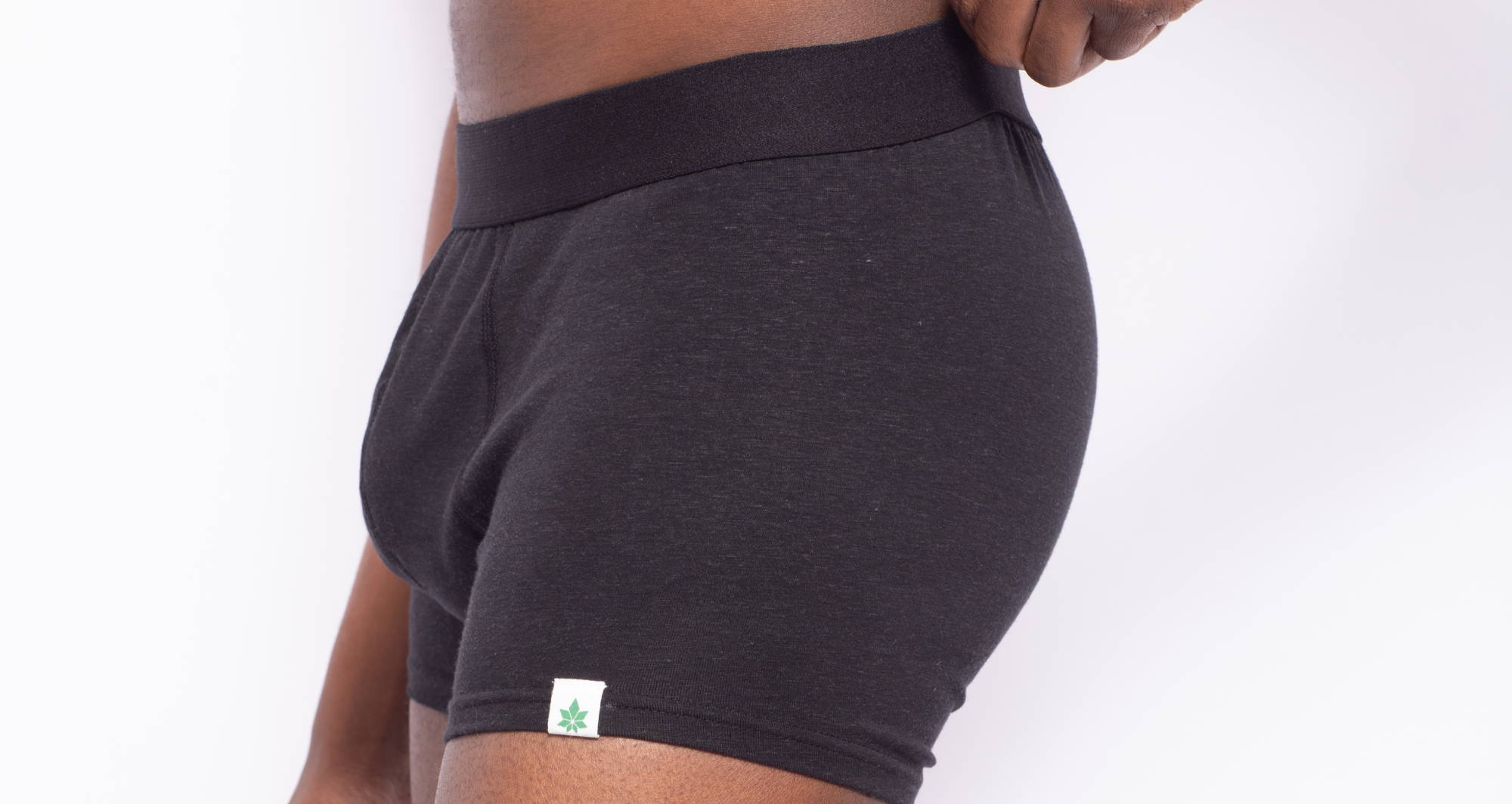 5. YOUR JUNK GETS STUCK
Your underwear shouldn't feel like someone overpacked your suitcase. You don't want to feel wedged in and unable to reposition things for comfort when needed. To do this, you need some room to move! If your junk is getting stuck and especially if you're being pinched or squeezed, your underwear clearly doesn't fit. (Also: Ouch!) This one is obvious, but in the words of my husband, a man needs room for readjustments and growth. Don't settle for less.
6. TOO MUCH FABRIC BUNCHES UP
Sometimes you can buy underwear in exactly the right size, but you still end up feeling like it doesn't fit right. And it might be because you have too much fabric to deal with down there. This is a sign that you haven't chosen the right style for the outfit you have on. For instance, if you're wearing tight jeans, boxers aren't going to be the best choice. You'd be better off with briefs or boxer briefs. This is why when asking how many pairs of underwear should I have, the answer should include a few different styles! In this case, your underwear doesn't fit with the outfit you have on.
7. YOU GET OVERHEATED DOWN THERE
Visiting a sauna now and then can be relaxing and enjoyable. But if your privates feel like they're in a sauna 24/7 you aren't going to be happy and you may experience a decreased sperm count and motility. Particularly when you exercise and sweat, it's important to have breathable underwear so things don't get overheated down there. If this happens to you, it's a sign your underwear doesn't fit because it may be made from the wrong kind of fabric. It's time to get some new underwear that can handle the heat!
HOW TO FIND UNDERWEAR THAT FITS YOU WELL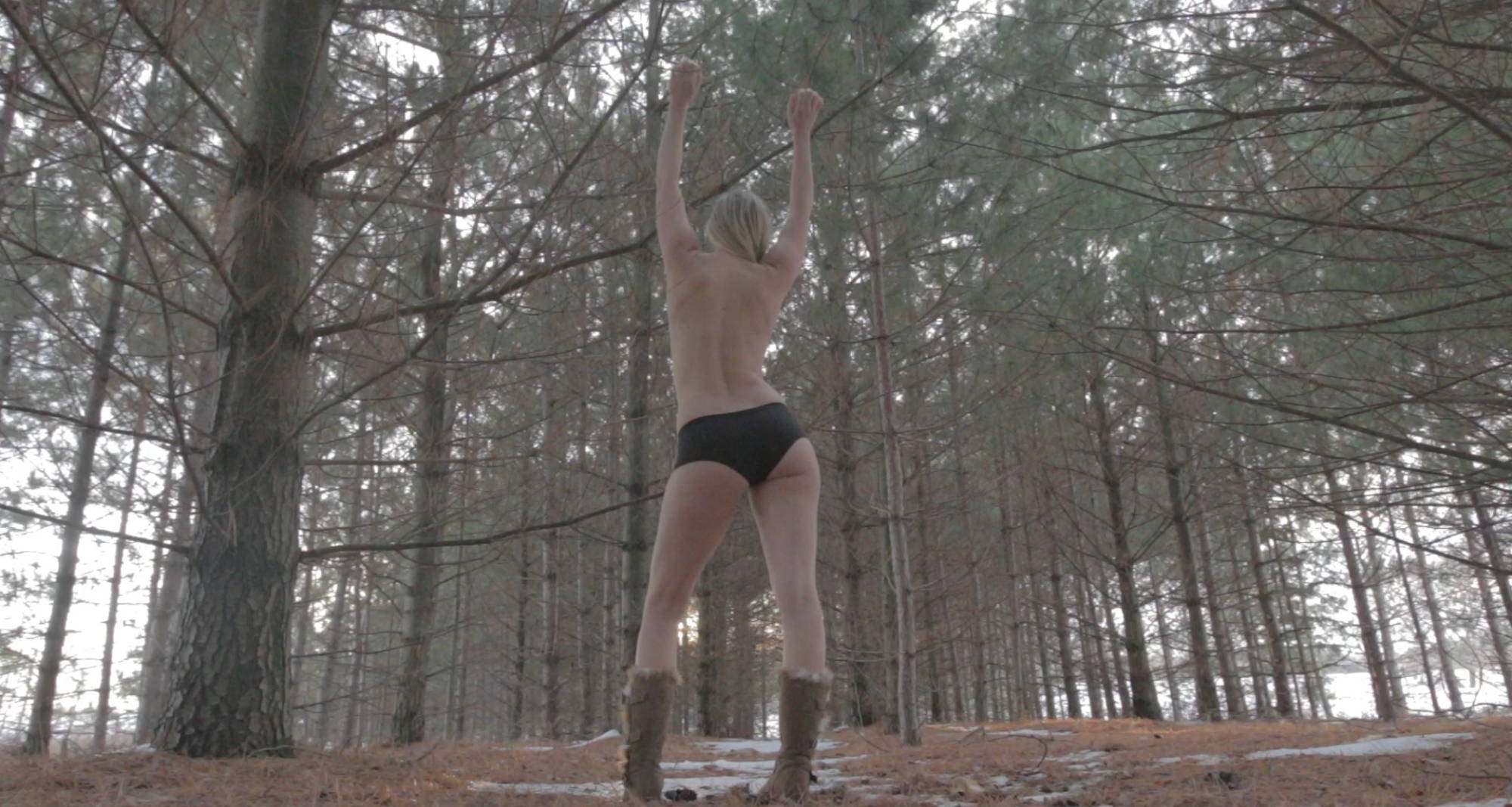 Now that you know what kind of fits you shouldn't put up with, it's time to get the lowdown on how to find underwear that does fit well. Like anything else in life, you shouldn't settle! But there are a few essential things to know that will make good-fitting underwear easier to find. These key factors apply to women's and men's underwear, with some minor variations.
How should underwear fit? Like a glove. One that allows you to do anything you want to do. Here are four key things you must know to select new underwear that will fit you right!
FIVE KEYS TO FINDING UNDERWEAR WITH A GOOD FIT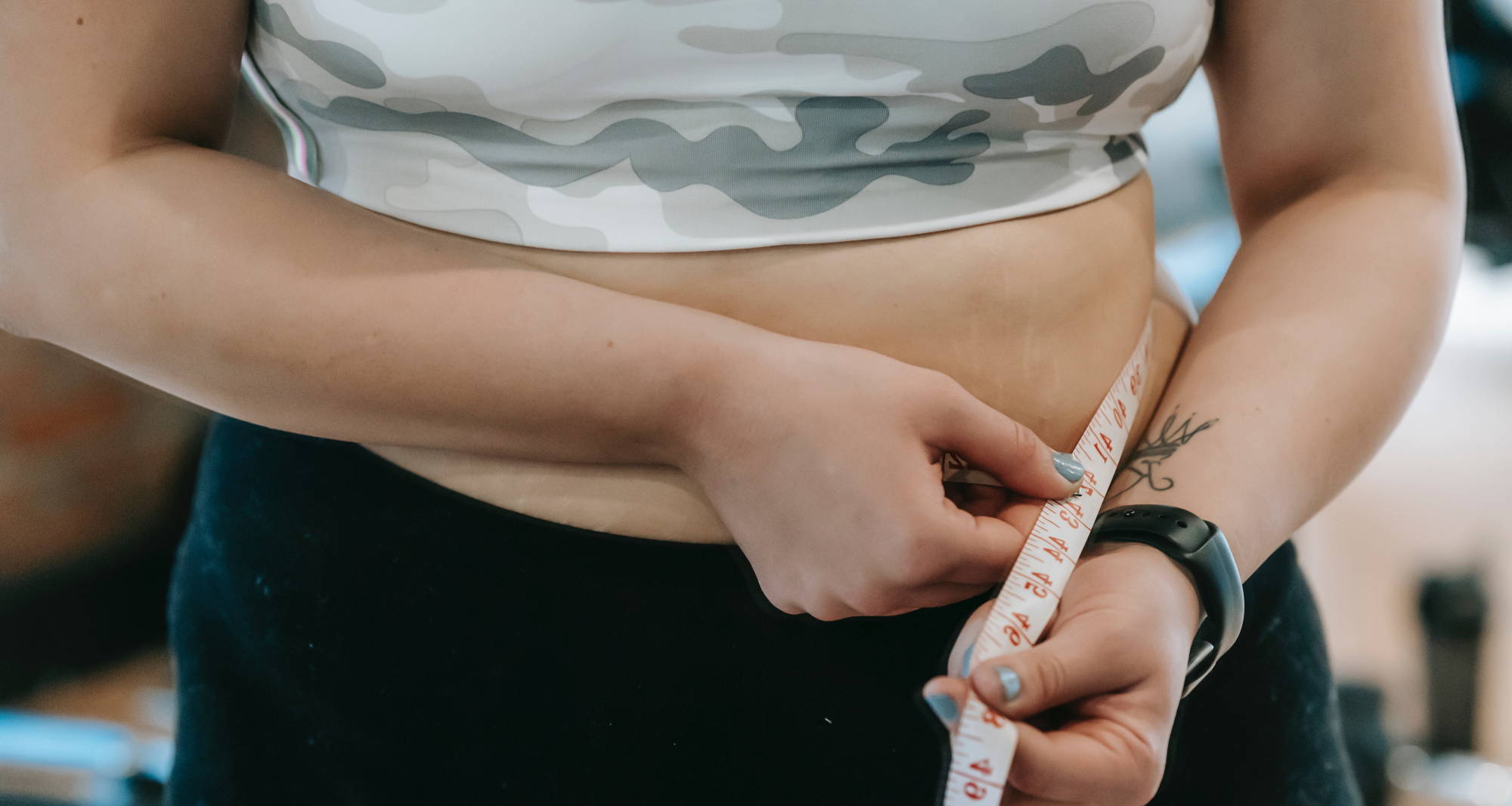 1. KNOW YOUR MEASUREMENTS
Finding a pair of underwear that fits you properly—or, hey, even makes you feel like a million bucks—begins with making sure you're seeking out a pair with the right size waistband. To find what size waistband you should be shopping for, you need to measure yourself.
So grab a measuring tape and measure around your torso about two fingers width below your belly button. Hold the measuring tape securely, but don't make it tight! If the tape measure isn't comfortable around you, your new panties likely won't be either.
Since men's pants sizes go by waistband measurement, men often know this number already, but it still doesn't hurt to double-check. Especially if it's been years since you've measured. Our bodies change!
For women, this is a number we often don't know. (I had no idea!) But we should. Women should also measure their hips in the same way, since we tend to have more curves than the fellas, and our underwear is cut to accommodate our littler middle and a larger caboose.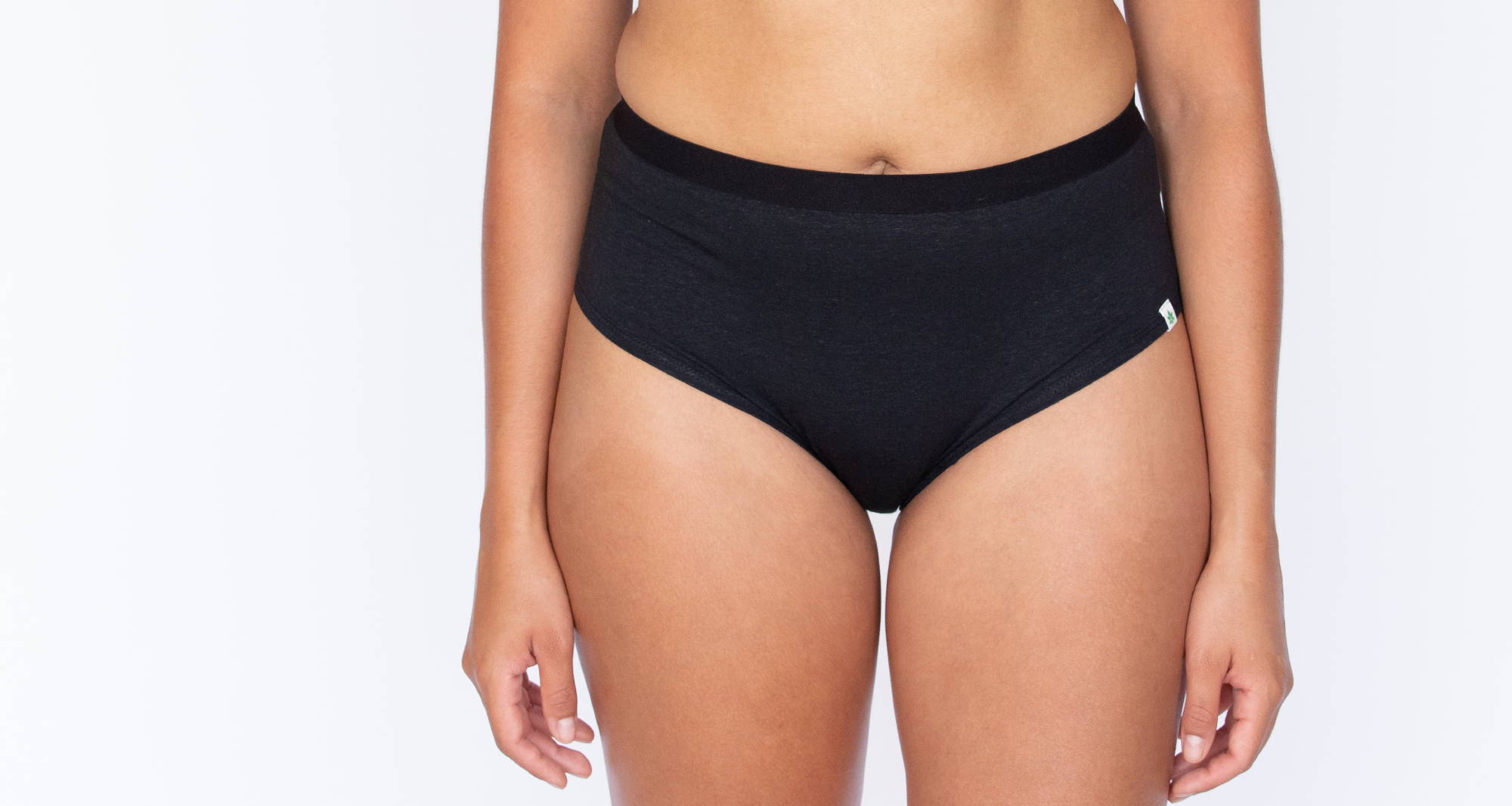 2. UTILIZE THE BRAND'S SIZE CHART
Now that you know your waistband measurement (and hips if you're a woman), you need to check what size this corresponds to at the underwear company you want to buy from. WAMA makes this easy with their underwear size chart for both men and women.
WOMEN'S SIZE CHART


In addition to checking your waist and hip measurement for sizing they also tell women the corresponding dress size, which I find is a great way to do a little double-check that I'm ordering the right size. Once you know the size to order, you're almost ready to shop!
3. CONSIDER YOUR STYLE PREFERENCE AND THE REST OF YOUR WARDROBE
This is where personal preference comes in. Do you like the coverage of high waisted underwear? Or do you prefer a 100% cheeky thong underwear style? There's no wrong answer. It's up to you!

Body type can come into play here too. Wider or more narrow hips and thicker or thinner thighs may be more comfortable in different styles – even in the same size. So it helps to know your body and explore what feels the best on you. Women's bodies comes in all shapes and sizes, and luckily WAMA underwear does too, with five styles to choose from!

Men will want to choose whether they want a tighter cut, like trunks underwear, or the loose fit of mens boxers. These choices are all based on what you like, but also sometimes on what clothing you will be wearing. You may like to wear different styles with different types of outfits. And hey, no one ever said you have to choose just one style! I know I like to have a variety to choose from.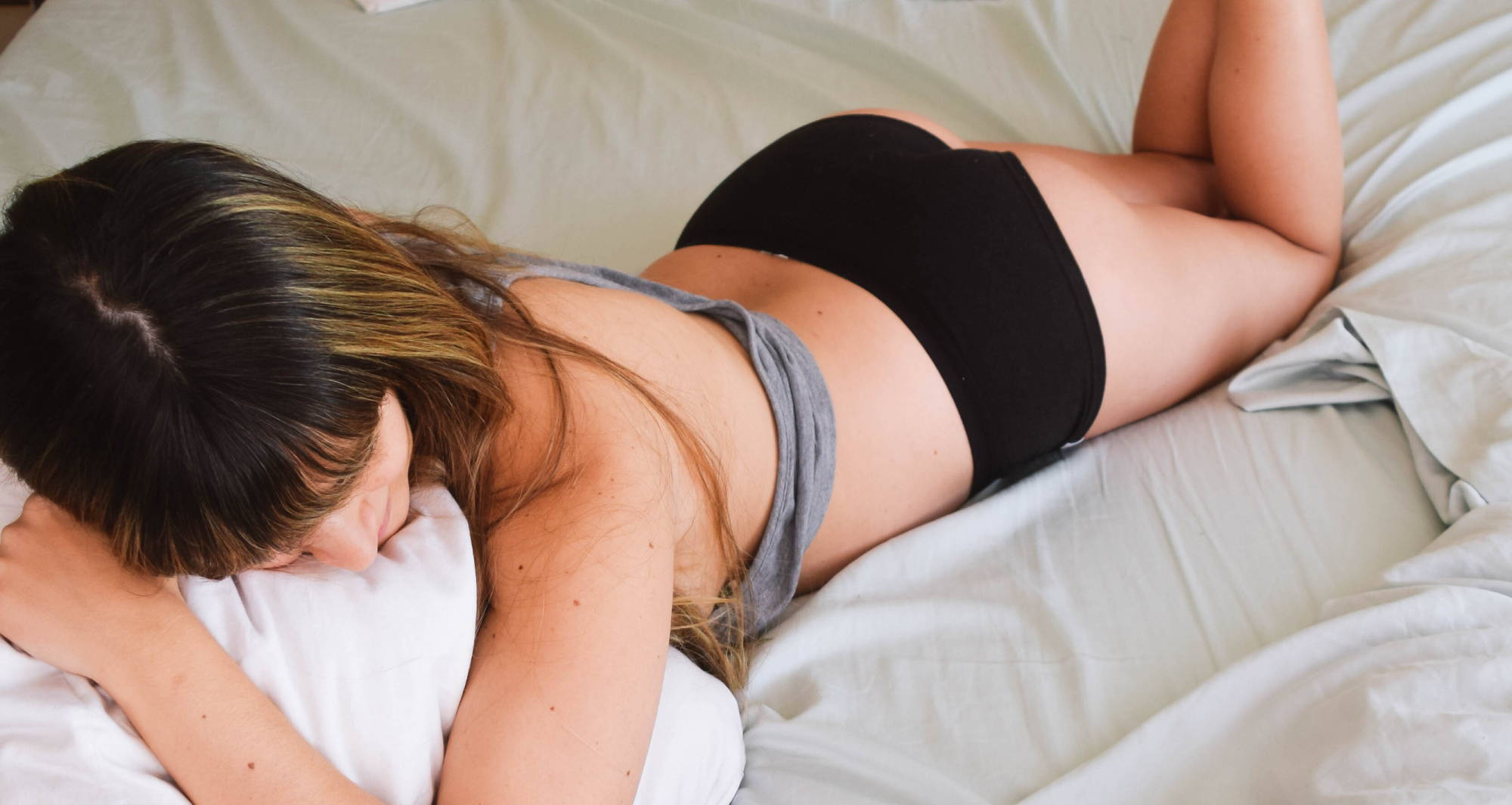 4. KNOW WHAT MATERIALS ARE THE BEST AND WHICH SHOULD BE AVOIDED
The materials used to make your underwear will also definitely impact your comfort level and, as I mentioned, sometimes even your health! No surprise, I'm personally a big fan of antibacterial underwear made from hemp! I like that it's breathable underwear that's also moisture-wicking, so I stay comfortable no matter the temperature, or what I'm doing. I recommend always choosing underwear made from breathable fabric for the health and well-being of your hoo-ha.

Personally, anytime I can also find clothing that uses low-impact dyes it makes me feel fantastic – on the inside and out! I love that they are free of toxic substances and don't contribute to waterway pollution. Lucky me, WAMA meets all these requirements perfectly!
5. PAY ATTENTION TO THE TYPE OF WAISTBAND
Finally, don't forget to consider the waistband style. Personally, I find a medium-width waistband is more comfortable than either a narrow one or a super-wide one. They lie nice and flat and never dig into my skin (especially when I know I've ordered the right size)! Men's underwear usually has a wider waistband, which creates a smoother and more straight silhouette.

CONCLUSION: HOW SHOULD UNDERWEAR FIT?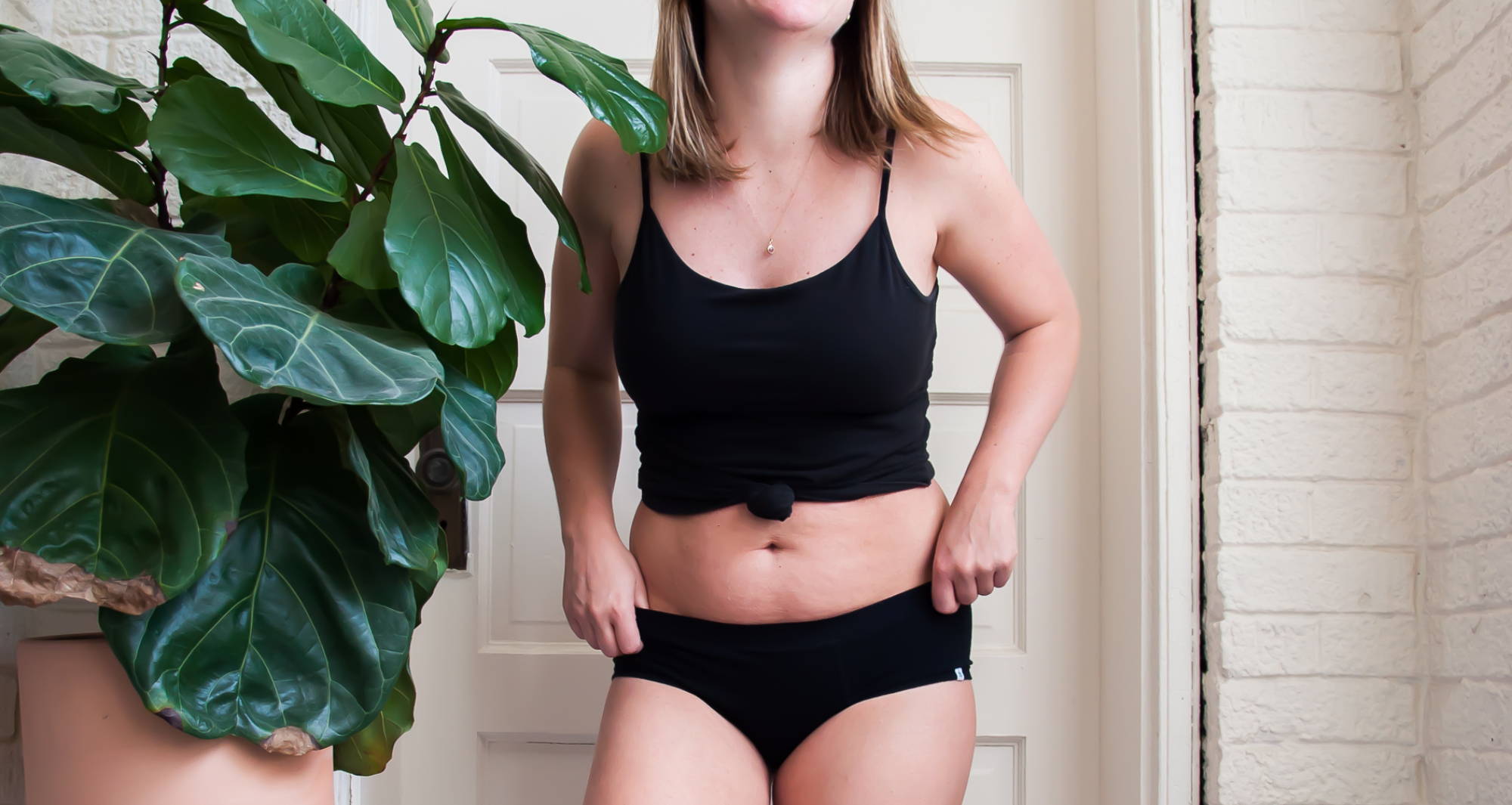 How should underwear fit? Well, now you know there's underwear and then there's underwear that fits well! Don't settle for less. Your buns are worth it. When you're wearing a piece of clothing up against the bare skin of your most private parts all day long, doesn't it deserve some thought? I think so!
If your current panties don't fit, I hope this little guide helps you find your next pair of underwear so that they can become your favorite pair – ever! Are you a woman or man who prefers the classic styles of bikini underwear or mens briefs? Or will you go for the cozy coverage of boy shorts underwear or trunks underwear?
But before you measure yourself, check your size and decide on a style, I'm curious to know… By reading this did you discover that some of your underwear really doesn't fit? Do you feel more prepared to buy new underwear that will? Let me know in the comments. I'd love to hear!


---