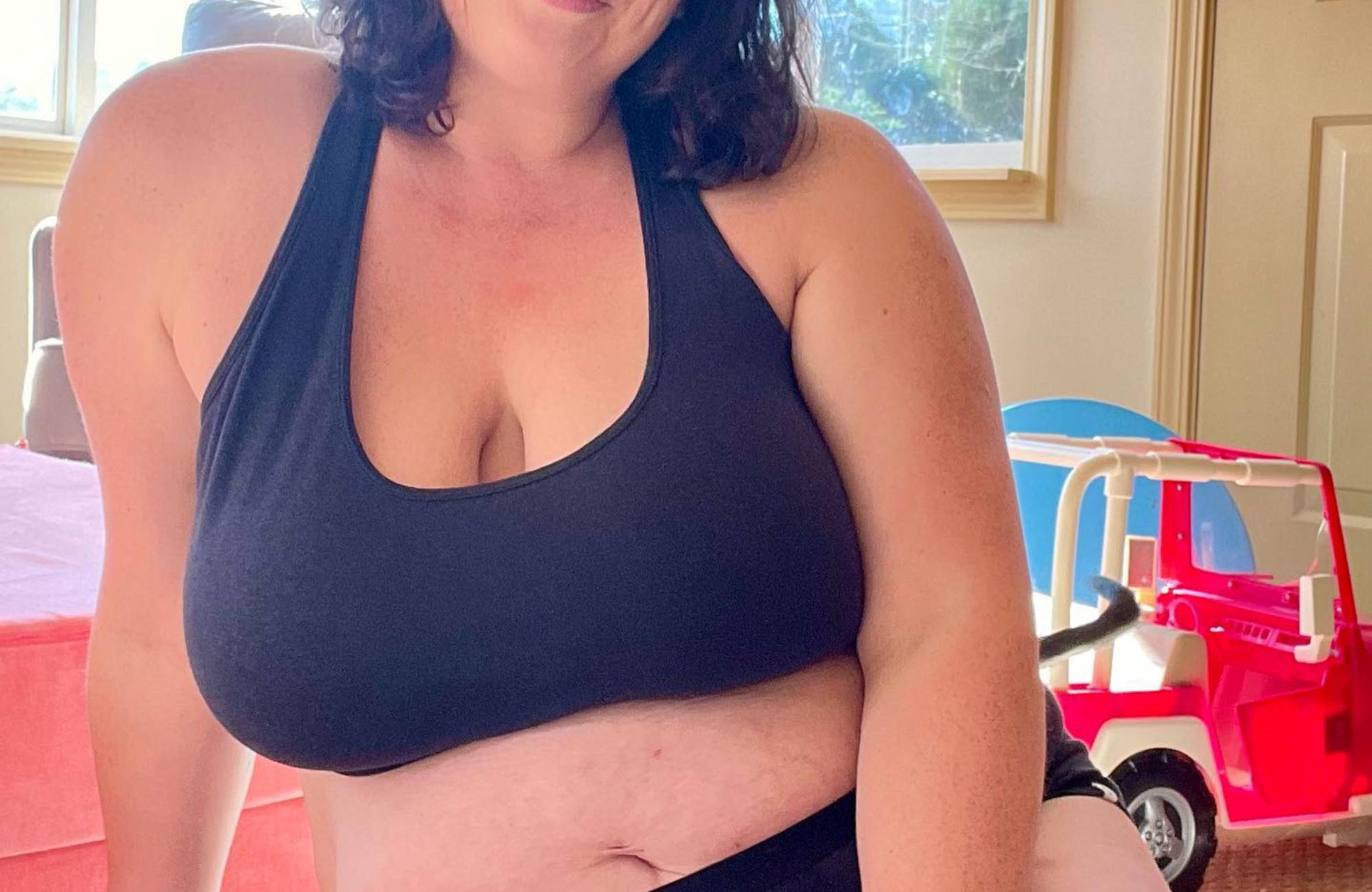 Bralettes are a breast's best friend. Comfy, just the right amount of support, and no painful underwire. But if you're working with larger boobs or a wider torso, it can be difficult to find a plus size bralette with form and function. A lot of plus size baddies get left with ugly, uncomfortable underwire bras—yikes! That's why I've written up the ultimate guide for finding bra alternatives that work with your gorgeous bod!
We'll cover the basics: what is a plus size bralette? What styles work best for plus size bodies? How should a bra fit if you're plus size? Plus, you'll learn how to find your perfect bralette size!
Psst…if you're looking for specific recommendations, head over to our post about the best plus size bras.

WHAT IS A PLUS SIZE BRALETTE?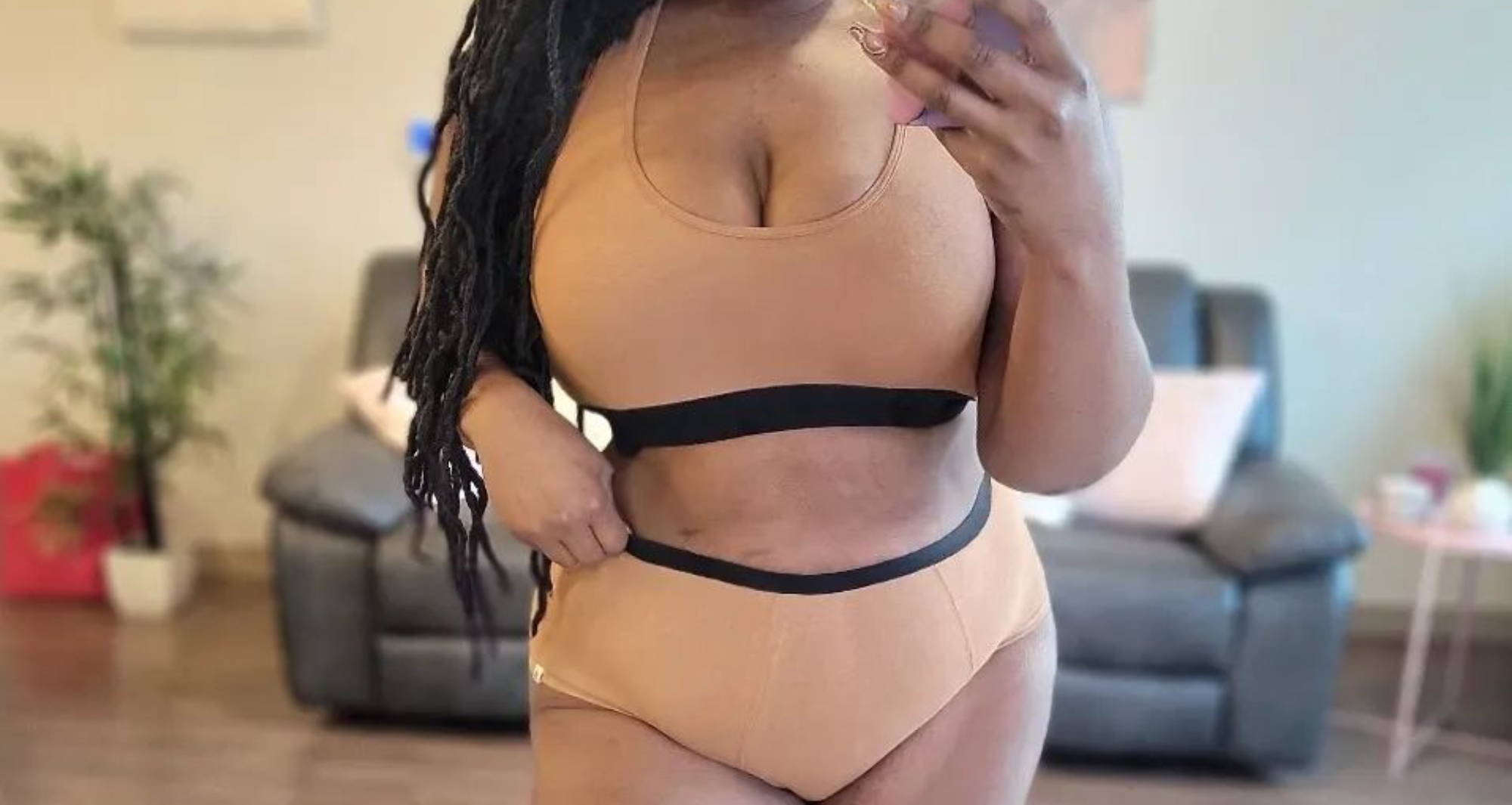 A plus size bralette is a bralette that fits and supports larger bodies. Pretty simple, right? Well, there are a few misconceptions about what is considered plus size, especially when it comes to bras.
It's hard to give an exact definition for plus size because there's no industry standard. But most people consider sizes above 14-16 plus size. However, when it comes to bras, things start to change a bit.
A common misconception is that all plus size people with breasts have large busts. But that's just not true. Everyone's body holds weight in different places, so you can be a plus size member of the itty bitty titty committee, or you can have tatas the size of Texas and wear a 00 in pants. Either way, you deserve a comfy bra!
That's why a plus size bralette isn't the same thing as a bralette for large bust. It comes down to whether you are full busted vs full figured. If you're full figured (AKA plus size), then keep reading below for tips for finding the best plus size bralette!

THE BEST PLUS SIZE BRALETTE: WHAT TO LOOK FOR
Without further ado, let's get into how you can find the comfiest, most supportive bralette possible.

THE BEST STYLES FOR A PLUS SIZE BRALETTE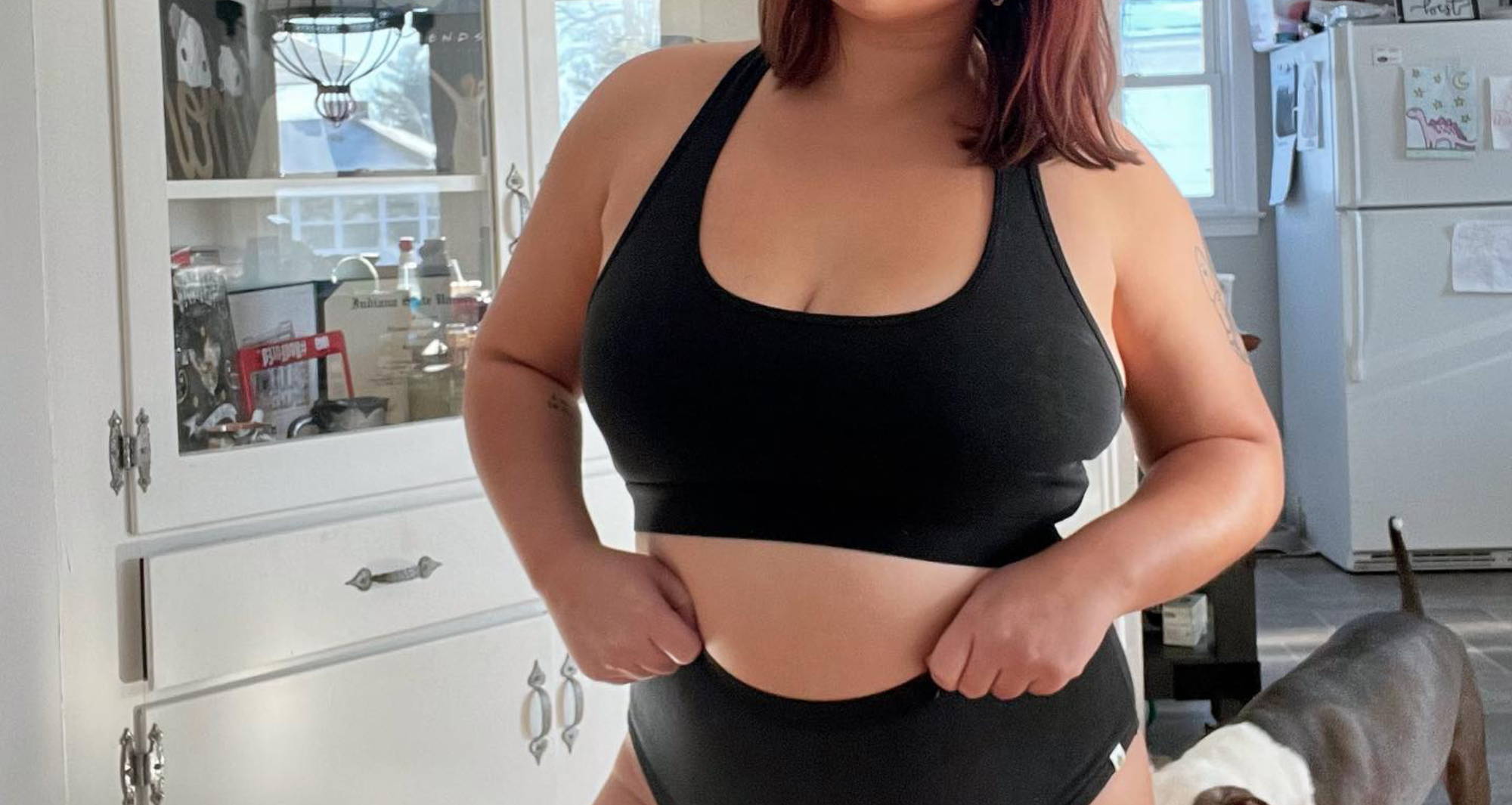 Because of how popular bralettes are now, there's a million different styles you can choose from. But some work better for plus size beauties:
Racerback bralette

: the shape of the strap in the back takes pressure off of your shoulders. Plus, because it's one piece of fabric across your entire chest, there's no chance of boob spillage.

Triangle bralette

: for a sexier look, try a triangle bralette. Just make sure to look for one with adjustable straps and different clasp settings, so you can fit it perfectly to you! This is an especially great option for smaller busted plus size folx.

Tank top bralettes

: these bralettes closely resemble tank tops with an extended length on your torso. They're great for smoothing out silhouettes and providing more support. They also shine in

bralette outfits

when you wanna show off more of that bodacious body!
These styles offer support, comfort, and a cute look. What more could you want from a bralette?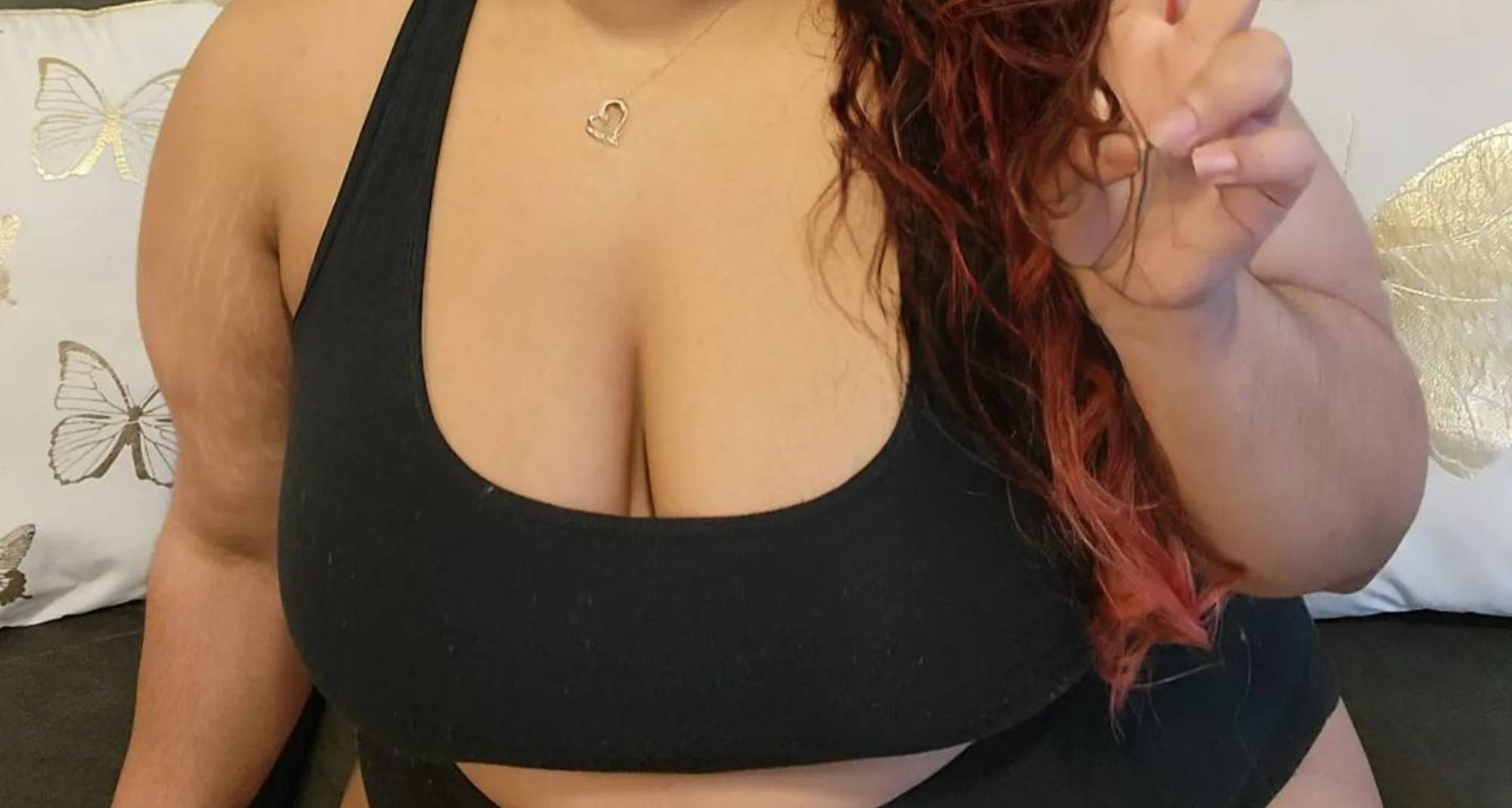 After you find your ideal style of bralette, it's time to hone in on what it's made of. A lot of bras are made from synthetic materials like nylon or spandex. While it makes them stretchy and lightweight, those types of materials are also not very breathable and pretty terrible for the environment.
Instead, look for bralettes made of natural, sustainable fabrics like organic cotton and hemp. Hemp especially is great for plus size bralettes because it's ultra-breathable and stretchy. That means no more boob sweat or angry redlines across your abdomen!

HOW SHOULD A PLUS SIZE BRALETTE FIT?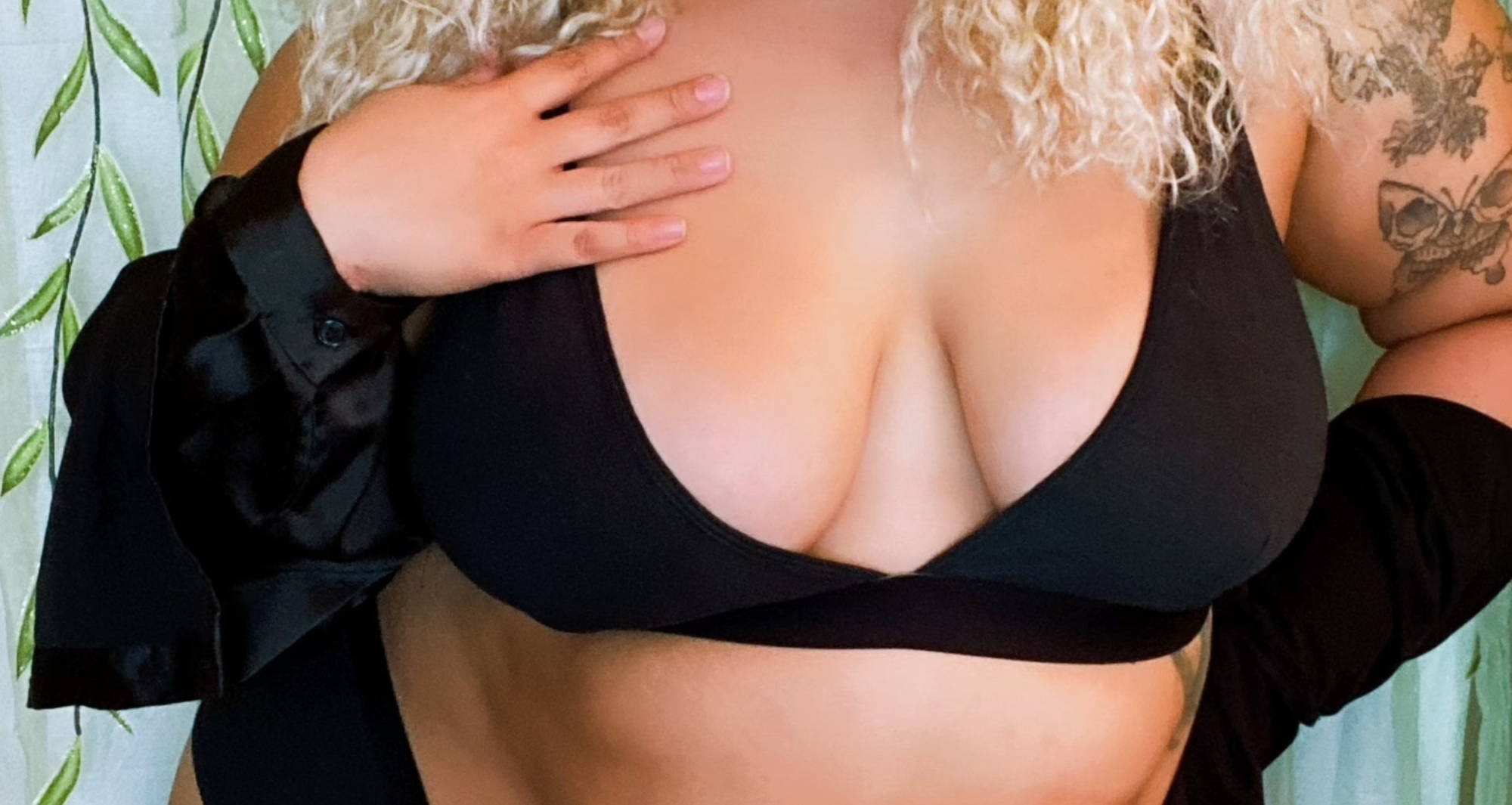 Once you have your style and material of bra, finding the perfect plus size bralette really comes down to fit. Unfortunately, with plus size clothing of any kind, it can be difficult to find the right fit. To save yourself time and energy, it's best to only shop at size inclusive brands that will for sure carry your size.
So how do you know if a bra fits well?
Your bra band shouldn't squeeze you and leave red marks

Your cups shouldn't have overflow

You won't have uniboob

Your straps should stay put all day

You shouldn't have back or shoulder pain from your bra

The piece that connects the cups in the front shouldn't lift off of your body

HOW DO YOU WASH YOUR BRA?
A well-fitting bra feels supportive, but not claustrophobic. And it definitely shouldn't feel painful. I know I've found a great bra when I don't think about it at all throughout the day.
If you need help finding your size, read below for a plus size bralette size chart!

ADDITIONAL TIPS FOR PLUS SIZE BRALETTE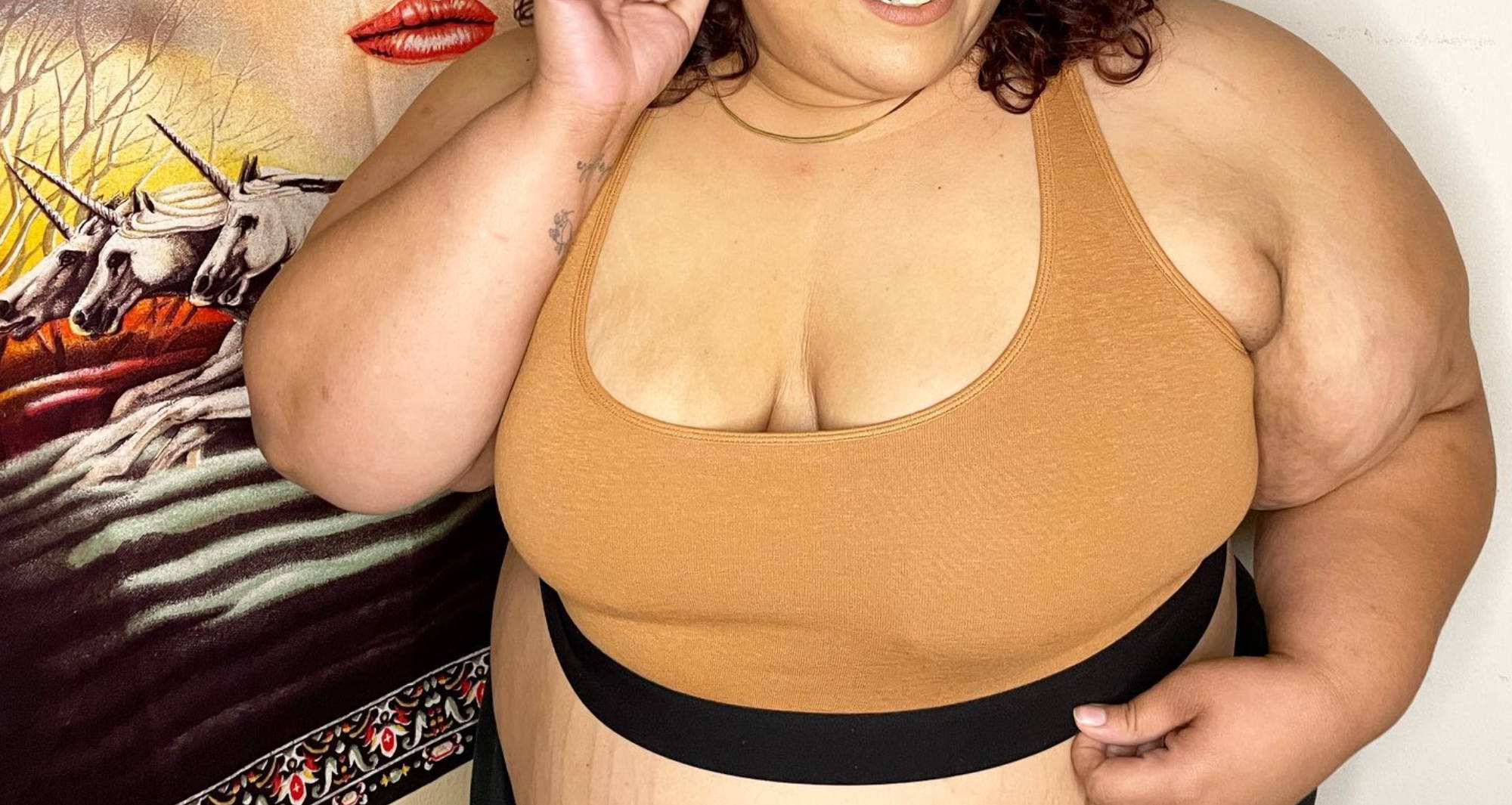 There's a few other things to keep in mind when searching for a plus size bralette:
Look for bralettes with a wide band and wide straps

. Thin bands and straps dig in and can be more painful, while wide ones provide more support and comfort.

Your bra should enhance your shape

, not change it.

Adjustable straps and bands

are your best friend!

Get professionally measured

for the best results.

Figure out your breast shapes

and which bras work best for them.
I know it seems like a lot to think about for just your bralette. But trust me—a comfy, supportive bra is worth it!

WHAT TO AVOID IN A PLUS SIZE BRALETTE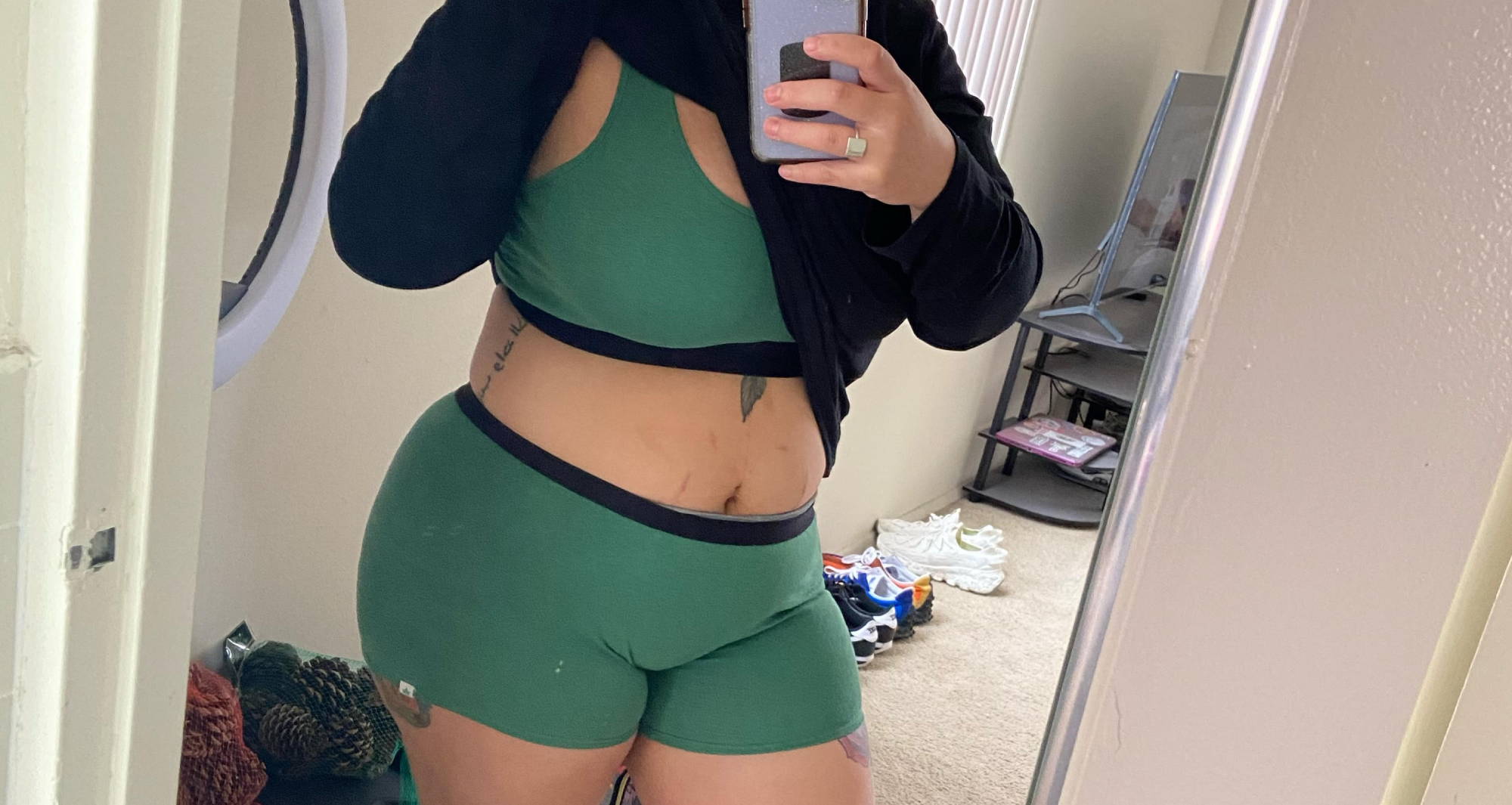 Now that we know what to look for in a plus size bralette, it's time to discuss what you should avoid.

HOW LONG DO BRALETTES LAST?
Strapless bras.

Unless absolutely necessary. Most strapless bras use compression or sticky gel to stay up, which is extremely uncomfortable, especially on plus size bodies. Plus, we all know that strapless bras never actually stay up. If you want to rock a strapless look, try pasties or something along those lines!

Old bralettes that used to fit.

I get that giving away clothes can be difficult especially if you struggle with your body image. But ill-fitting clothes don't serve anybody. Your clothing, especially bras, is supposed to support and comfort you, where you are right now!

Bralettes that don't make you feel good

! The right bralette is whichever one makes you feel the best. If you can, take some time to try on a bunch of different styles. Once you find one you love, grab a few colors and go wild! If a bralette feels uncomfortable or makes you feel bad, ditch it!

THE ULTIMATE PLUS SIZE BRALETTE SIZE CHART

HOW TO MEASURE FOR A PLUS SIZE BRALETTE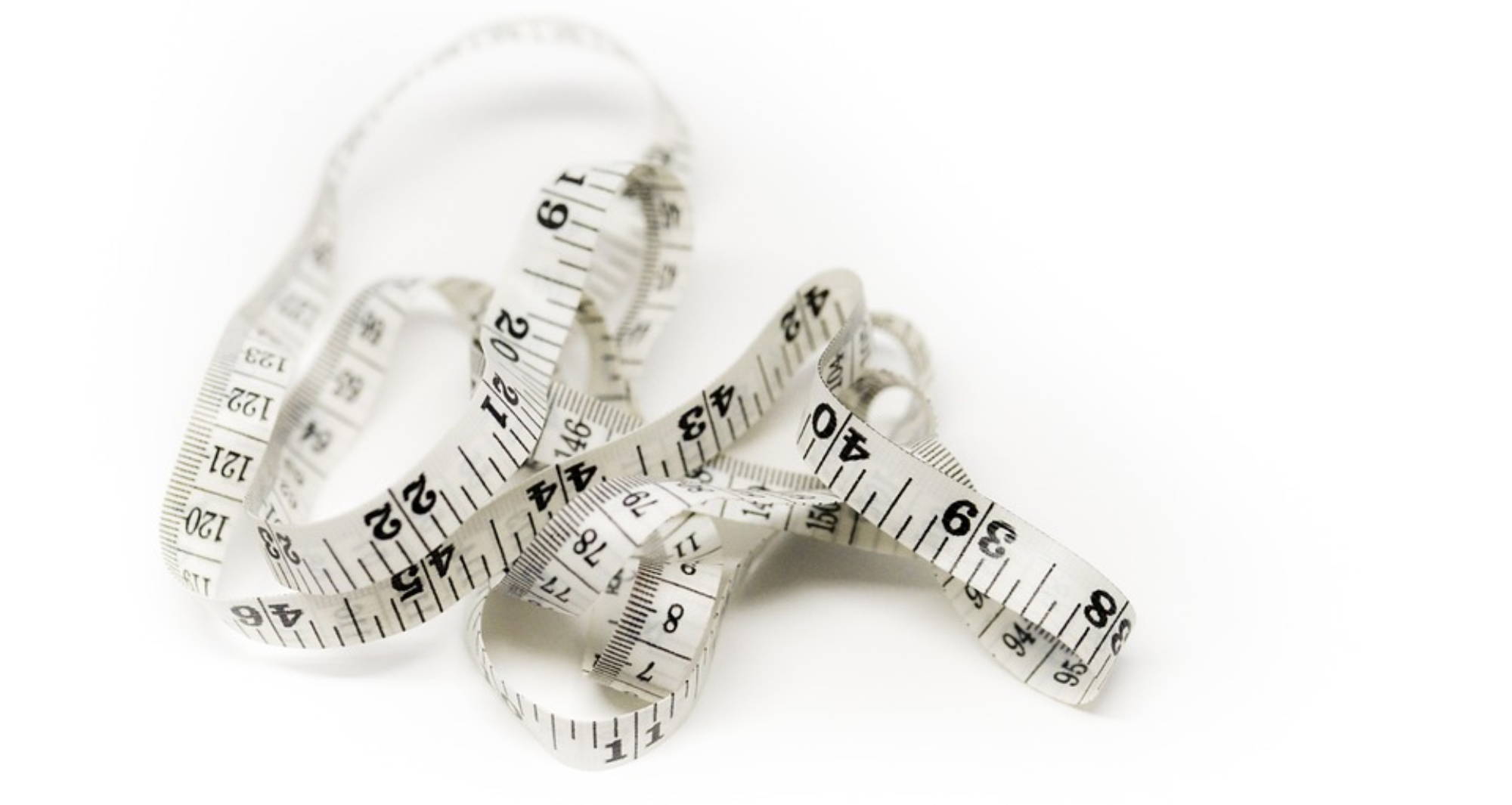 Let's go step-by-step to measure ourselves.
 

Measure your band size.

Place the start of your measuring tape under your boobs where your band should sit. Going all the way around, your measuring tape should be kept level and snug. Rounding the nearest whole number, you'll add 5 if it's odd and 4 if it's even. Viola—-you have your band size!

Measure your bust.

Now take your measuring tape to the fullest part of your chest. For some people, this is where their nipples sit, but not everyone. Again, take the measuring tape all the way around, snug and level. Round to the nearest whole number.
Now, keep these numbers in mind to calculate your cup size with a size chart.

PLUS SIZE BRALETTE SIZE CHART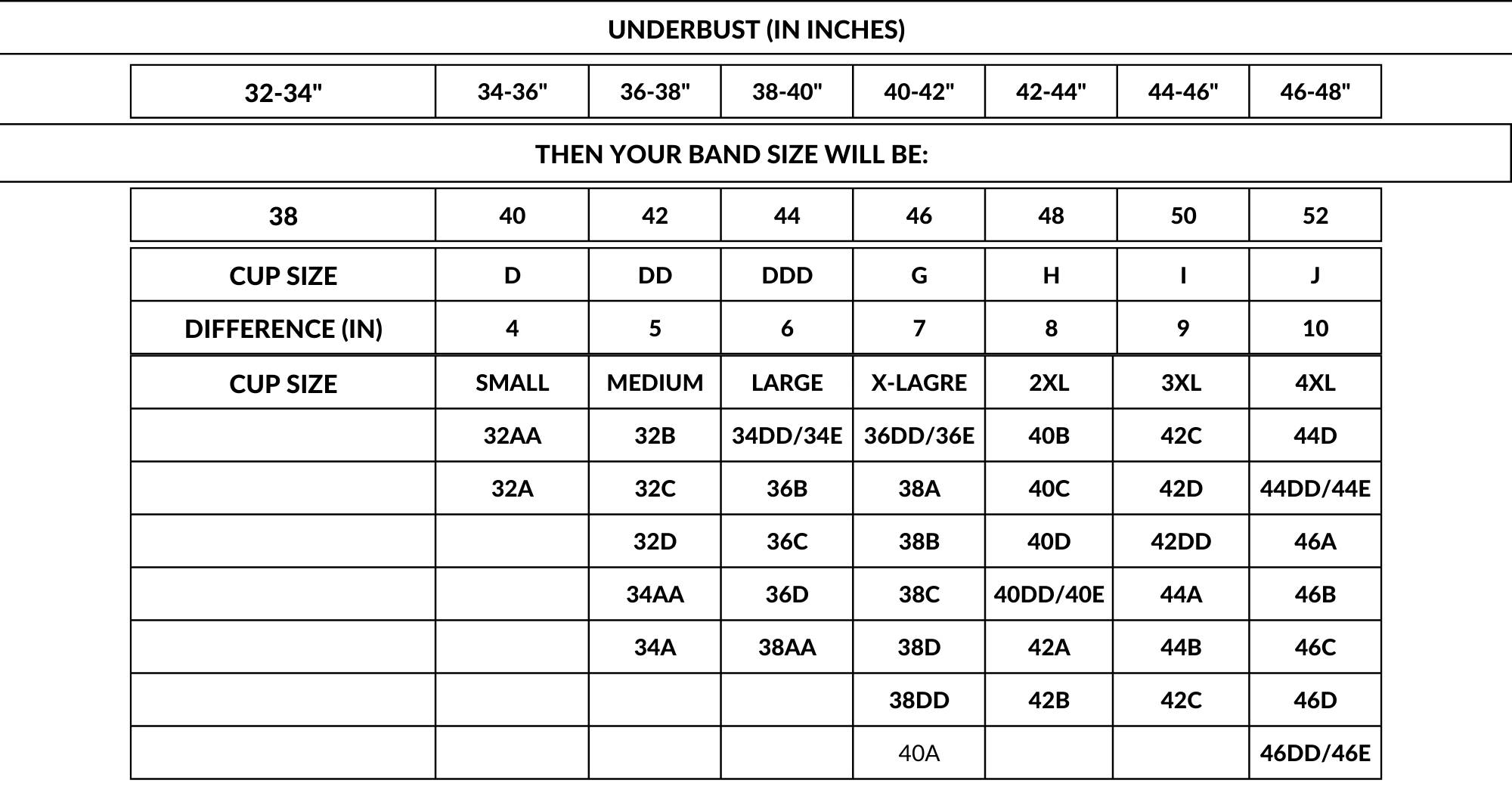 Your bust size - your band size = your cup size. Refer to the chart above to see what cup letter size you are. Then, your full bra size is your band size with your cup size!
Knowing your correct bra size will help you shop more efficiently. For bralettes in particular, sizing can be a bit strange because some brands don't size them like bras. However, if the bralette sizes are in the form of S, M, and L, then it's best to refer to the bralette size chart. Just match your band size with the size they recommend.
There's no standard for what size constitutes plus size bralette sizes. But many consider a 44 inch band or above a plus size bralette. So if that applies to you, welcome to the club!
CONCLUSION: THE BEST PLUS SIZE BRALETTE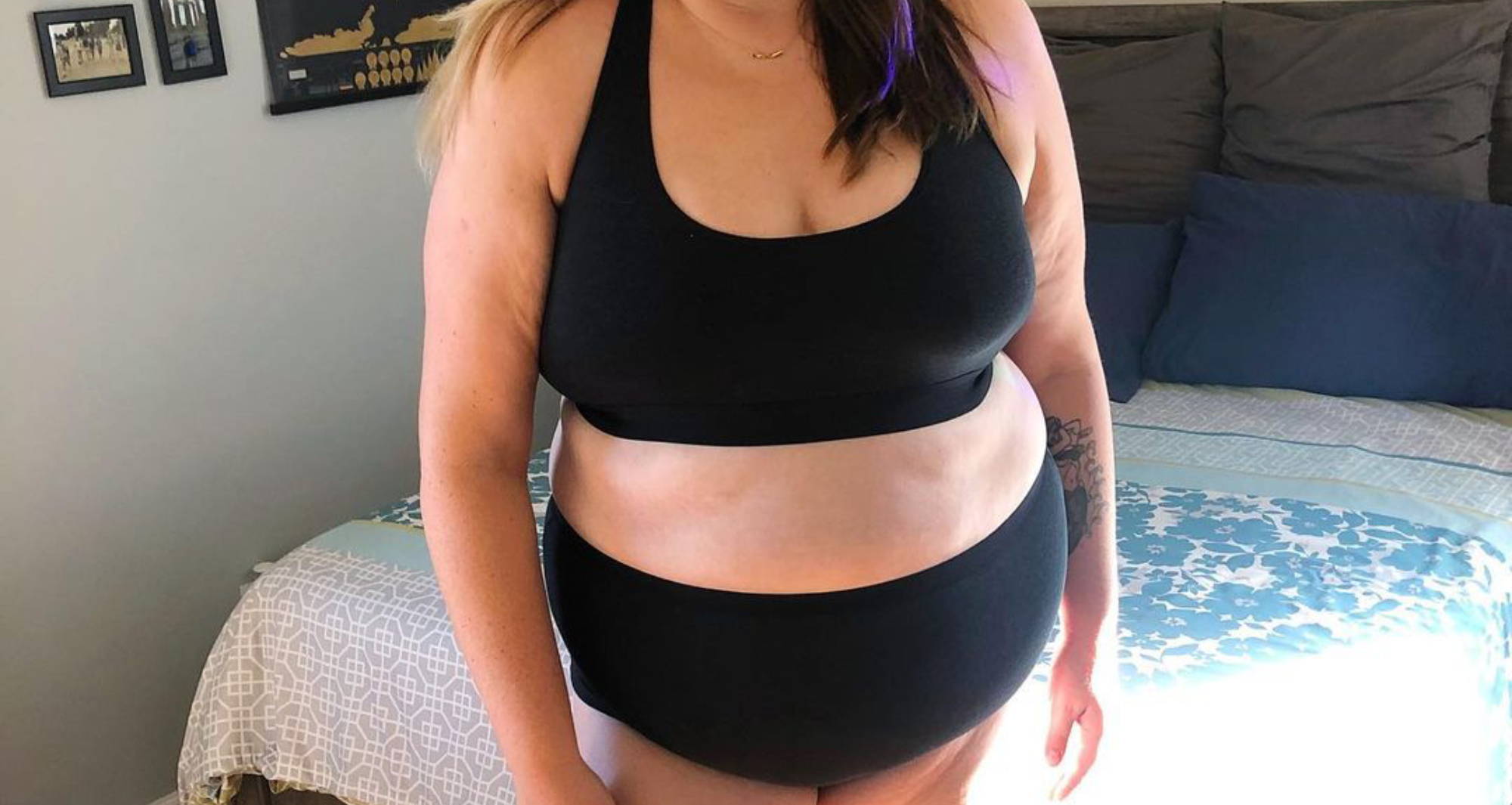 For plus size people, finding comfortable, cute clothing, especially underwear and bras, can be difficult. But the good news is that so many brands are starting to make adorable bralettes for plus sizes!
What's your favorite style of bralette for plus sizes? Let me know in the comments below!
---