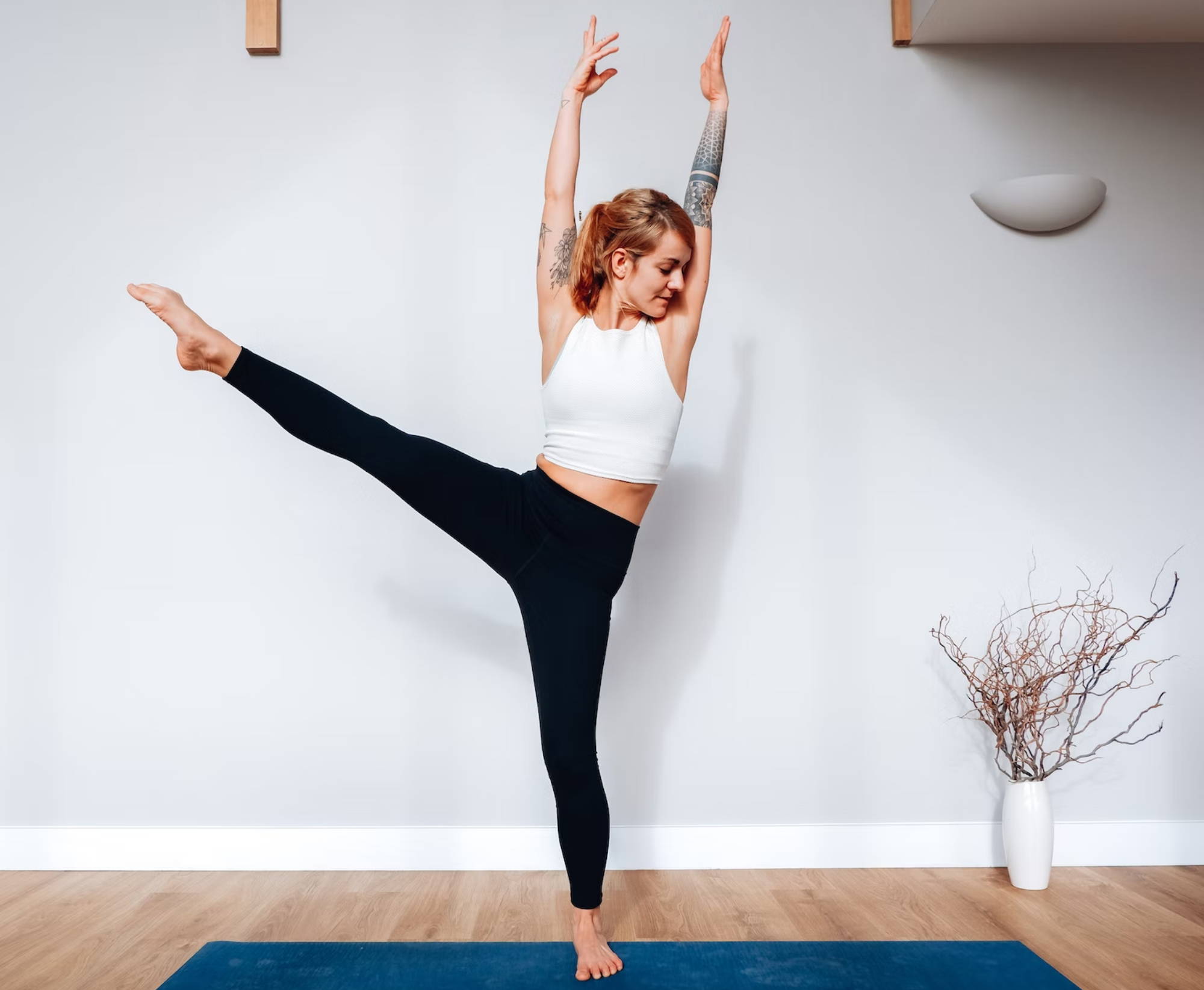 After two long years inside, I'm not quite ready to give up my wardrobe of leggings and a t-shirt. But now that I'm stepping outside, I'm trying to figure out the best underwear to wear with leggings (since going commando might not cut it anymore).
If I wear my favorite high waisted panties, I may get the dreaded VPL (visible panty lines). You might be screaming through your computer screen, "why do women wear thongs if not with leggings!!," but I don't know if I'm quite ready to commit to that thong lifestyle. Still, I need breathable underwear under my tight leggings, that's for sure!
What's a girl to do? Well, luckily, I've taken the time to find the best underwear for leggings depending on your activity, lifestyle, style, and comfort! So, if you're like me and wondering what underwear to wear with leggings, keep reading! Below you'll find qualities you want in underwear under leggings. Then, I've listed the best women's underwear styles to wear under leggings!

BEST UNDERWEAR FOR LEGGINGS: WHAT TO LOOK FOR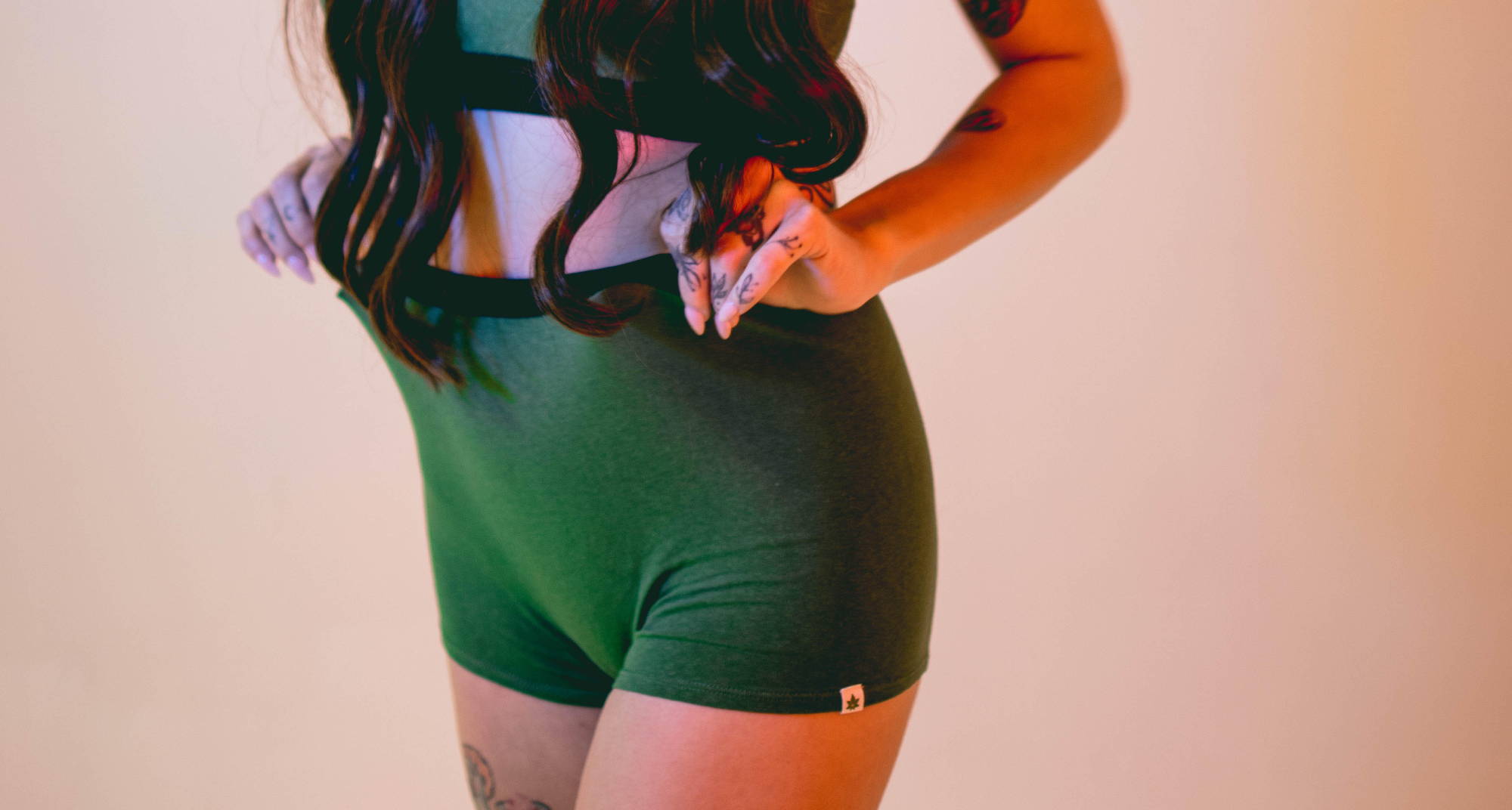 There's a lot to consider when looking for the perfect pair of undies to slip on under leggings. Whether you want to nix visible panty lines or just prevent leaving a crotch sweat mark on every hard chair you sit on (TMI?), here are some qualities to seek for the best underwear to wear with leggings:
If you're trying to avoid having four butt cheeks thanks to visible panty lines cutting across your butt, it's really important to find the perfect fit of undies. A lot can factor into perfectly fitting underwear including butt shapes, waistband thickness, and thigh size.
Your undies shouldn't be tight to the point of digging into your skin, but also shouldn't be slipping down all day. Always make sure to check the underwear size chart before buying any undies for the best fit!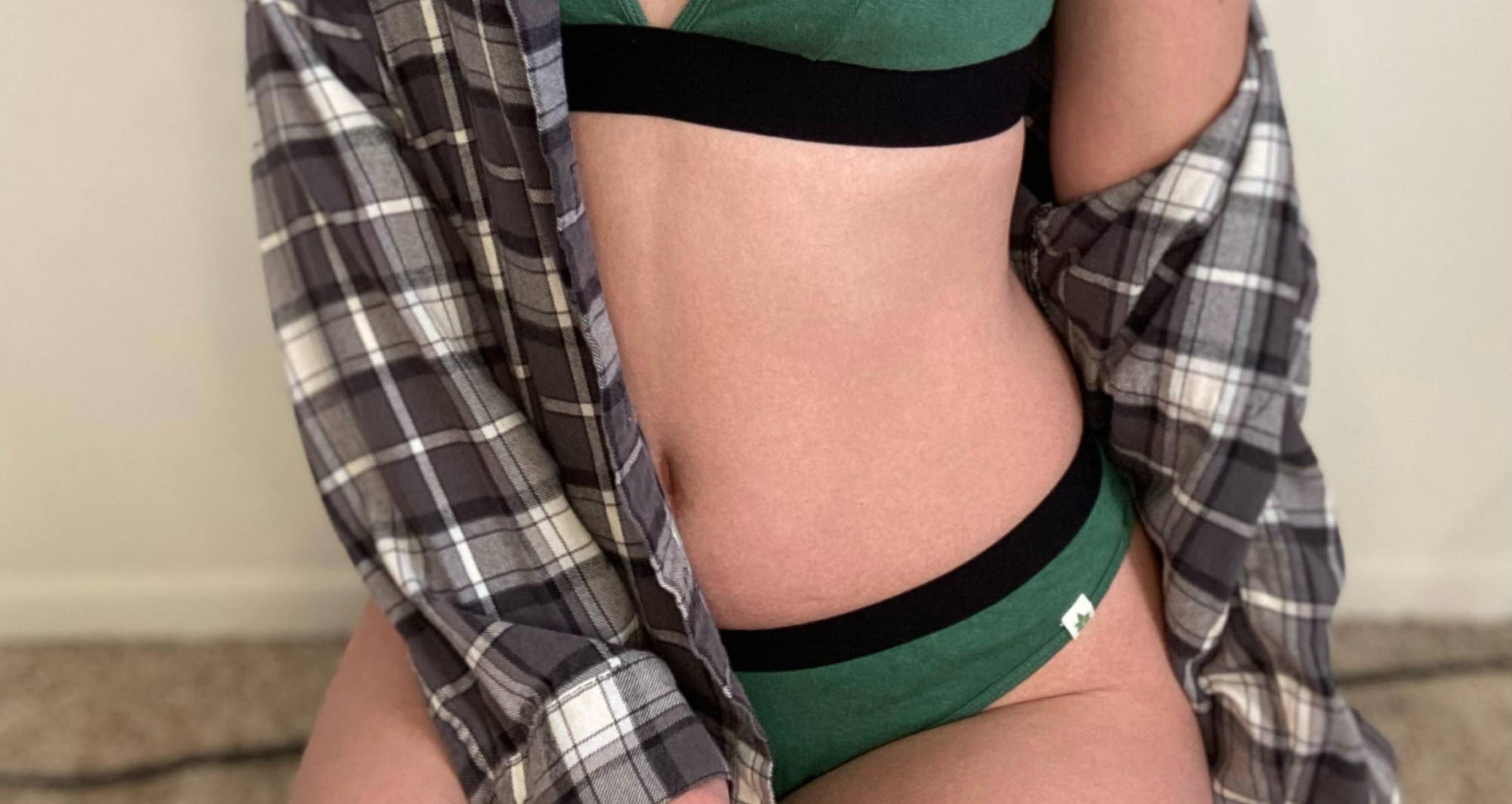 It's important to have breathable, antibacterial underwear underneath leggings to protect your privates from the sweaty, bacteria breeding ground that your crotch can become in tight leggings.
Also, most leggings are made with spandex, nylon, and polyester, which allow for wide movement. However, these fabrics are known to be treated with toxic chemicals, so they're not exactly great to have rubbing against your most sensitive region.
Natural fibers like hemp, organic cotton, and bamboo are the perfect nether region protection because they're moisture wicking and breathable! No more sweaty vagina for you!
Thankfully, some brands have started making hemp pants including leggings, so you can stretch easily knowing you're wearing a sustainable, non-toxic fabric all around.

3. CONSTRUCTION OF THE UNDERWEAR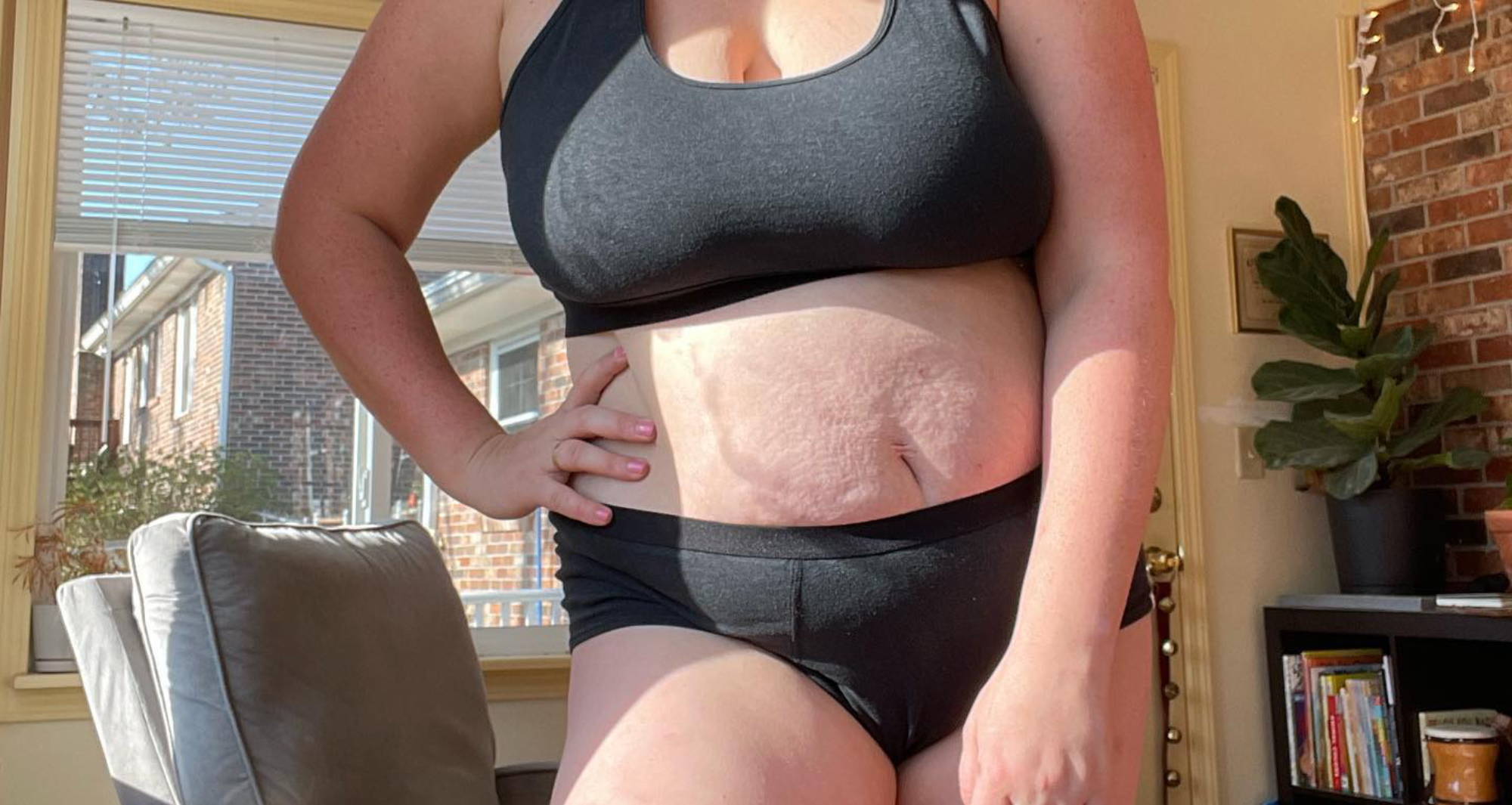 Underwear made of high quality materials are an investment. Those "$5 for 3 pairs" bins at the checkout line might seem like a deal, but you'll be paying in other ways.
The first thing you want to look at when determining a well-constructed pair of undies is the thickness of the waistband. Thin waistbands have a tendency to roll down as you bend and move. This results in uncomfortable slippage, which is nearly impossible to correct gracefully while wearing leggings.
You're also going to want to take a look at the seams. Visible seams are obviously more likely to show up through leggings. However, this isn't an endorsement for those no seam pairs made of the sketchiest materials. It's just something to consider!
Finally, look at the thigh openings. If they're not stretchy, this can be super uncomfortable as you try to move around in them. Plus, they're a common cause of the four butt cheek look!

THE BEST UNDERWEAR TO WEAR WITH LEGGINGS
Now that we know the qualities of the best underwear to wear with leggings, it's time to get into the best underwear styles for leggings.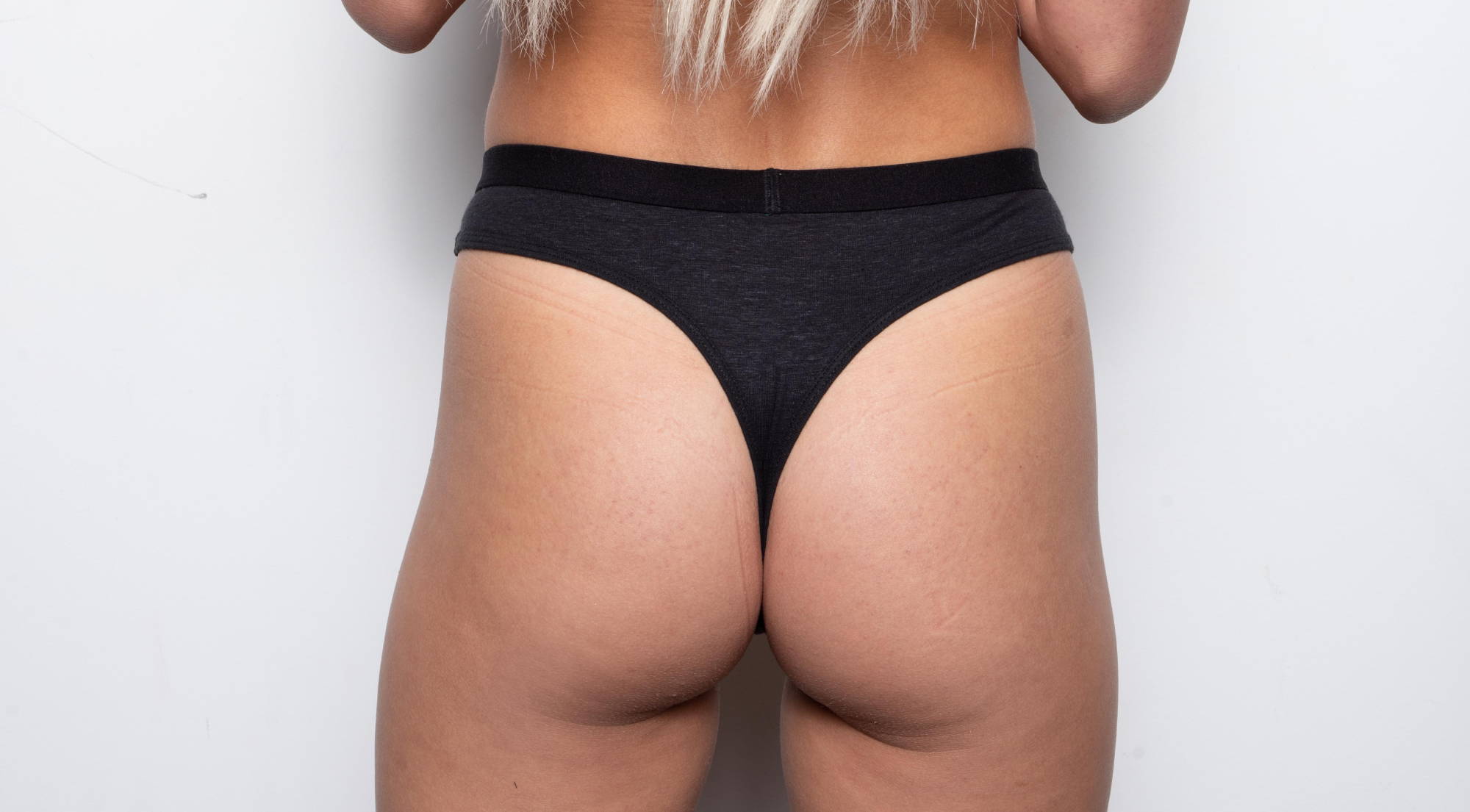 To misquote Meryl Streep in A Devil Wears Prada: a thong with leggings? Groundbreaking. But there's a good reason that many people choose to wear thongs under leggings. No visible panty lines!
However, because thongs become so intimately familiar with you, it's especially important to wear ones made of sustainable fabrics like hemp or organic cotton. Thongs can become bridges for bacteria to travel from your butt to your vagina, especially when wearing leggings made of the normal synthetic fabrics.
One of many hemp clothing benefits is that the fabric is antibacterial and antimicrobial. That's why it makes such a great thong, especially under leggings.
Also, thongs might not be the best option if you're on your period. There's not a whole lot of leak protection in a thong, after all. Just something to keep in mind!
2. HIGH WAISTED UNDERWEAR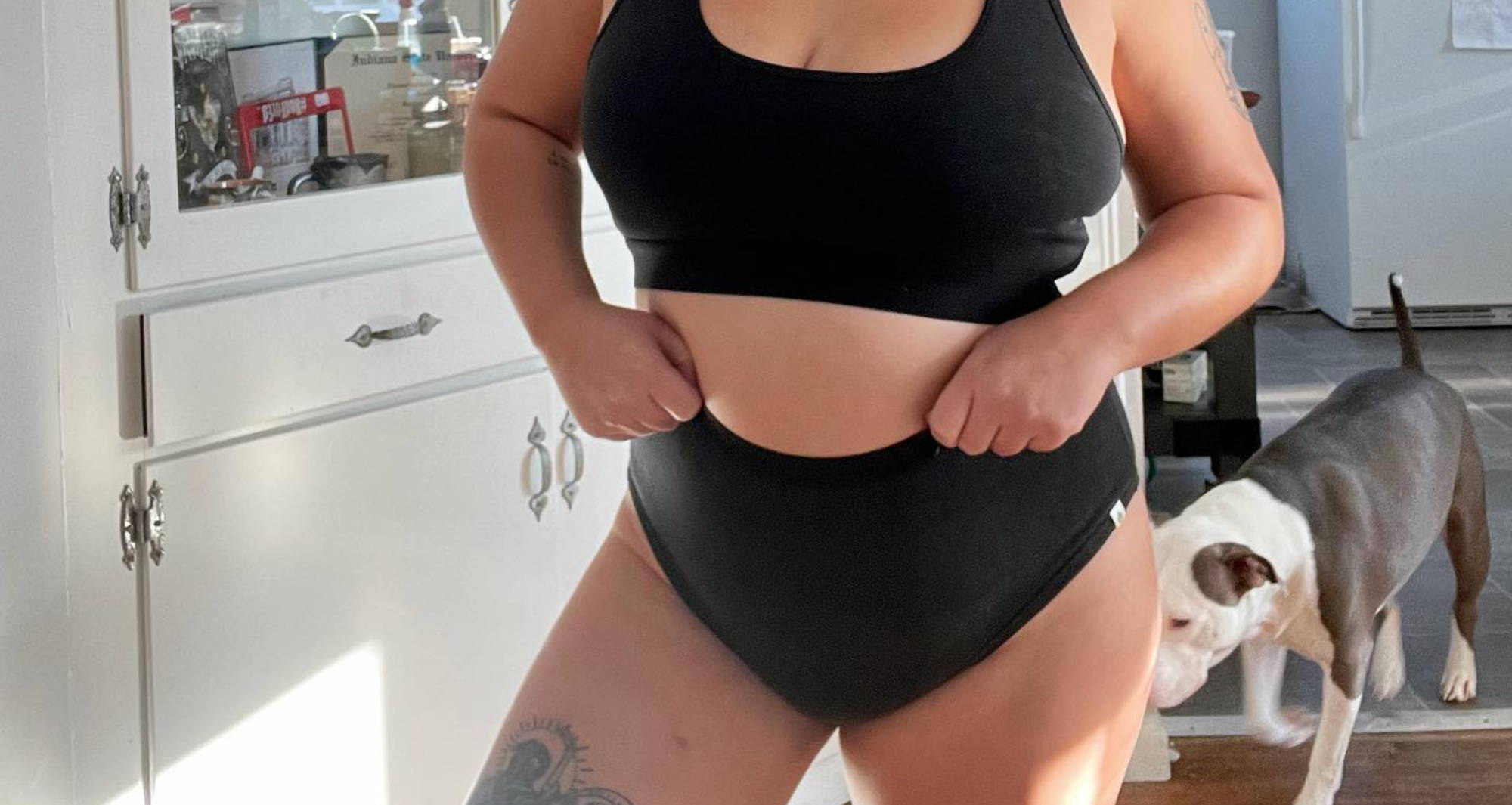 Most of my leggings are high waisted, so I love wearing high waisted underwear with them. This is the comfiest option, especially when just hanging out at home.
If you're worried about visible panty lines with high waisted underwear, two things:
any high waisted leggings wearer will tell you that a waistband can make for pretty visible panty lines as well,

and okay so?? You see that I'm wearing underwear. Call the fashion police I guess?
Of course, if you don't love a panty line on your butt, then these might not be the best for you. Just wear them with your leggings while you're lounging in your bed.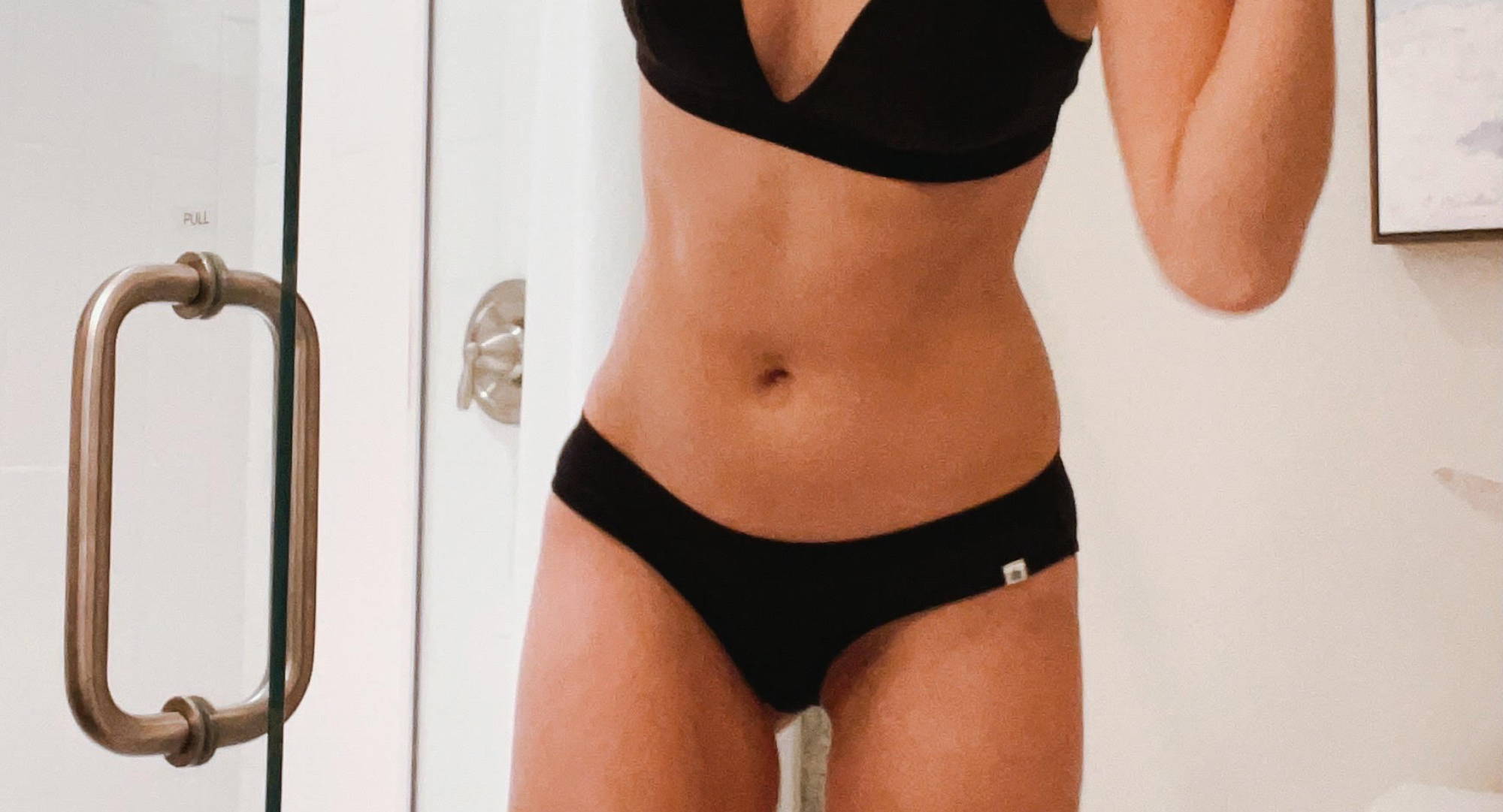 It provides the perfect amount of coverage

It allows for a wide range of movement

It prevents chub rub

along the bikini line and butt
The only drawback is again it can cause visible panty lines, especially if they're too tight (or your leggings are too tight). However, when exercising, most of us aren't too concerned with some lines across our butt. To each their own, though!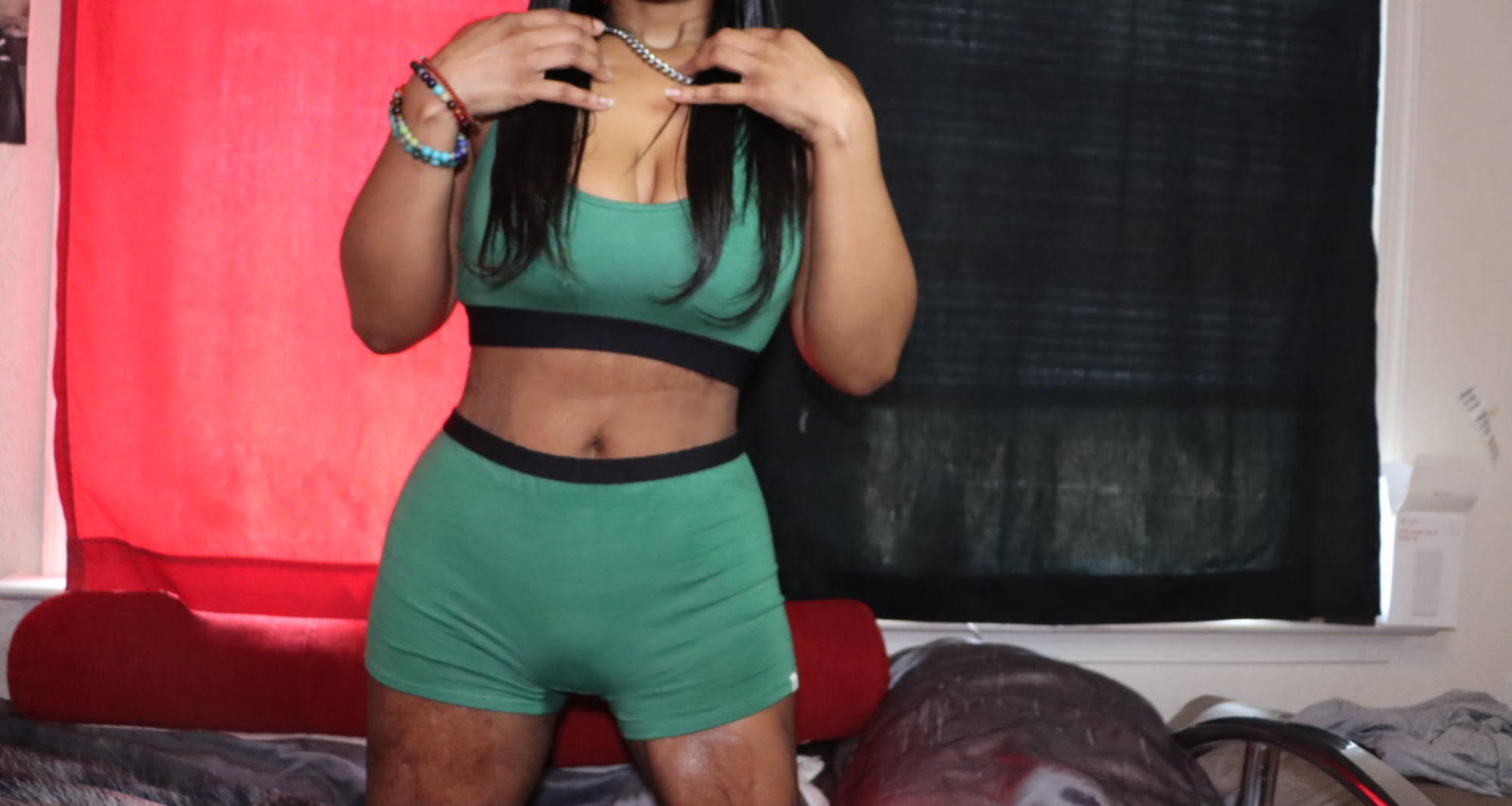 Coming in at number four is the unlikeliest contender: boy shorts underwear. Now that truly is groundbreaking, but let me make my case:
They're the most full coverage type of

women's underwear

, so they're great for providing some extra privacy when wearing thin leggings (IYKYK).

Boy shorts extend along the thigh, panty lines aren't as much of an issue.

In the winter, they provide some additional insulation because who wants a cold butt?
Of course with all of the extra fabric of boy shorts, it could cause a moisture issue if they're made of the wrong material. Finding a pair made of a breathable, natural fiber like bamboo or hemp negates this point completely.
WHAT'S THE BEST UNDERWEAR TO WEAR WITH LEGGINGS, DEPENDING ON THE ACTIVITY?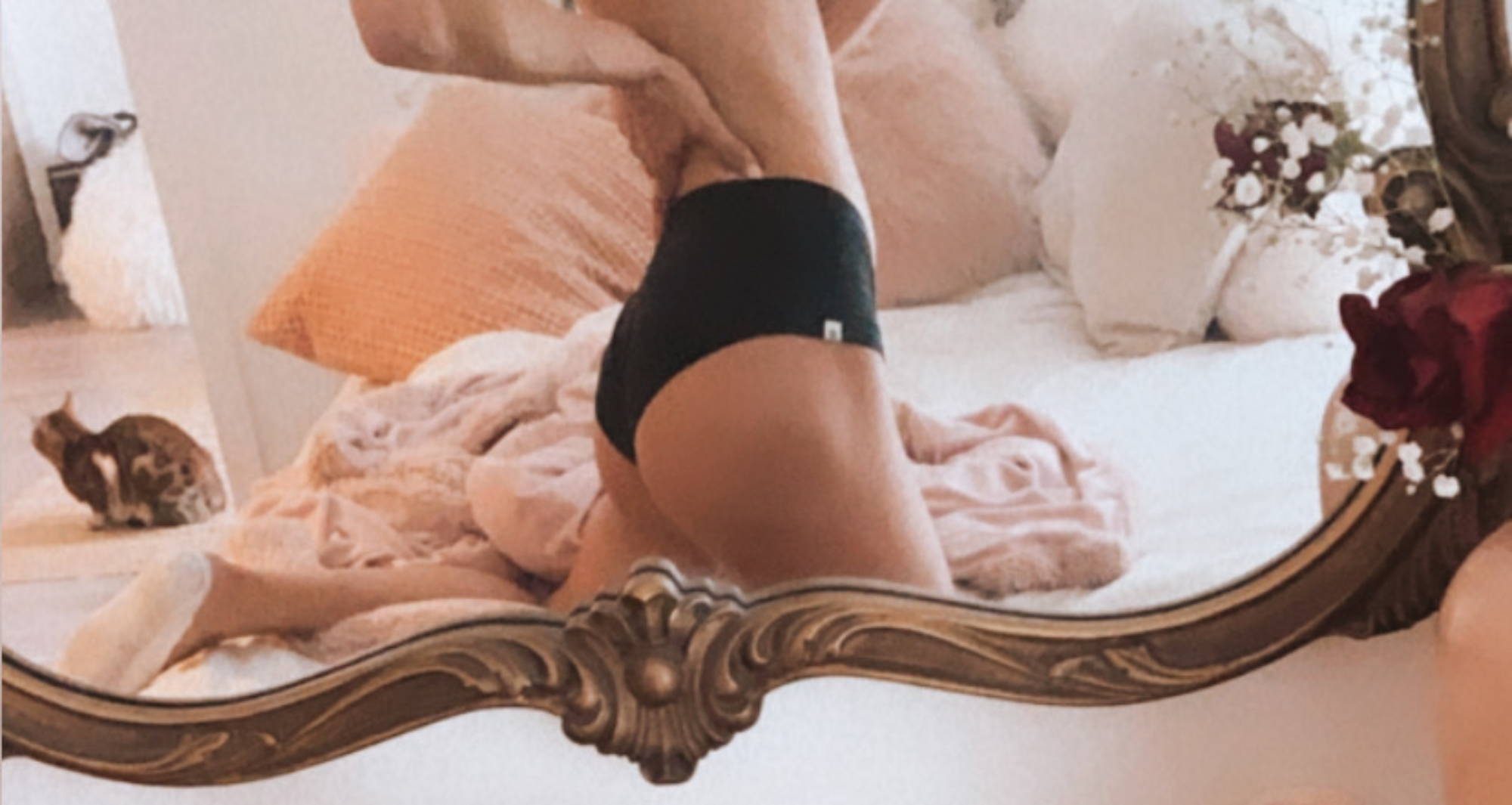 There's no single style of undies to wear under leggings that works best for all activities. Depending on what you're planning on doing, the ideal style changes quite a bit.
For lounging at home:

try high-waisted undies. Extra comfort and extra coverage!!

For strutting around:

choose a thong. You might sacrifice a bit on comfort, but no VPL could be worth it!
For working out:

bikini underwear is ideal. It supports you without getting in the way.

For running errands:

put on your boy shorts. You'll have full, comfortable coverage when bending over and no VPL!
SO, WHAT'S THE BEST UNDERWEAR TO WEAR WITH LEGGINGS?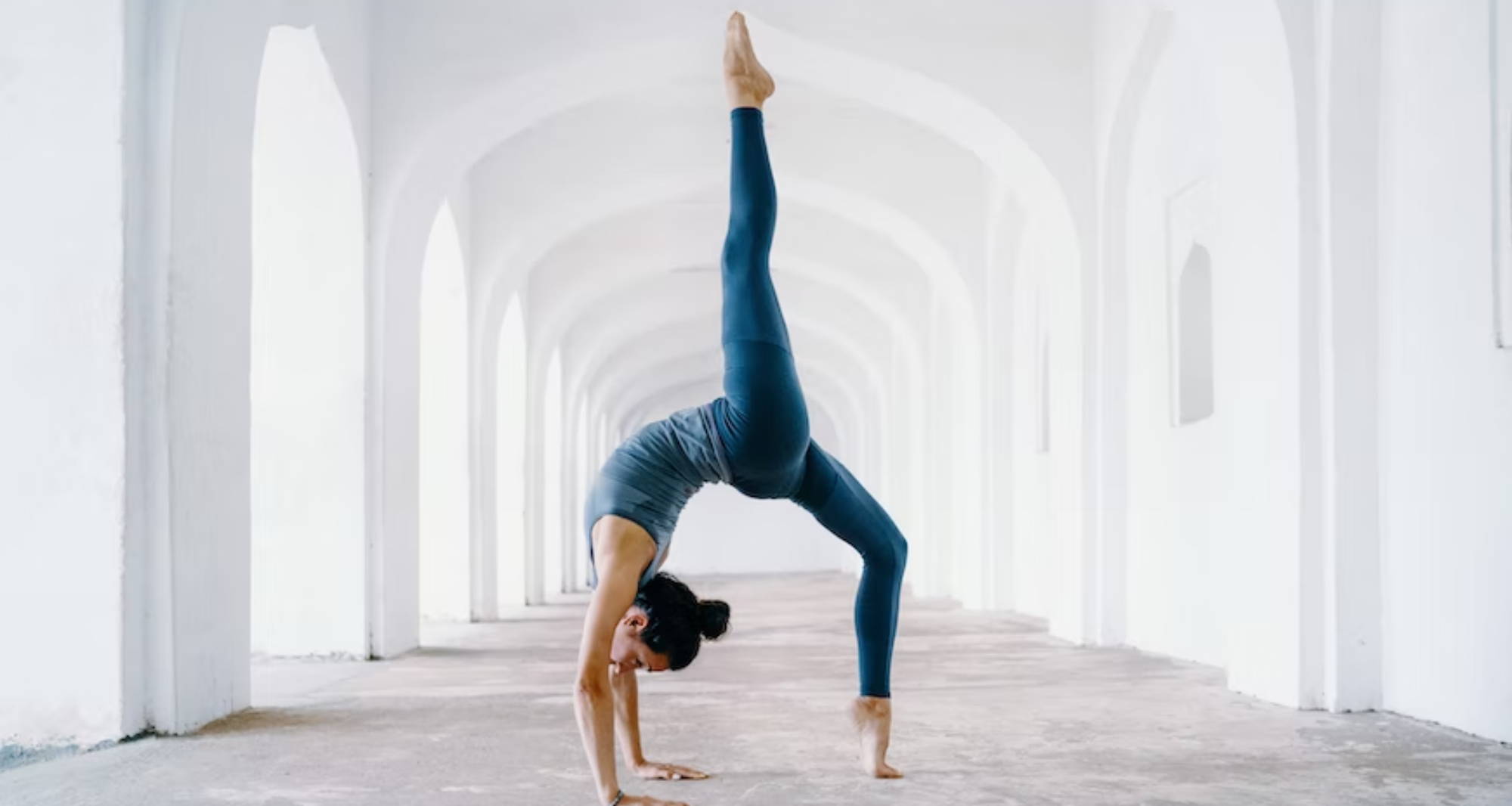 Ultimately, the best underwear for leggings depends on your preferences and lifestyle. That's why I've given some things to look for (i.e. fit, material, and construction) as well as style options (thong, high waisted, bikini, and boy shorts).
As long as you're comfortable and providing ample airflow to your downstairs, the choice is yours! What underwear do YOU wear with leggings?? Let us know in the comments!
---