Women's Underwear Styles Guide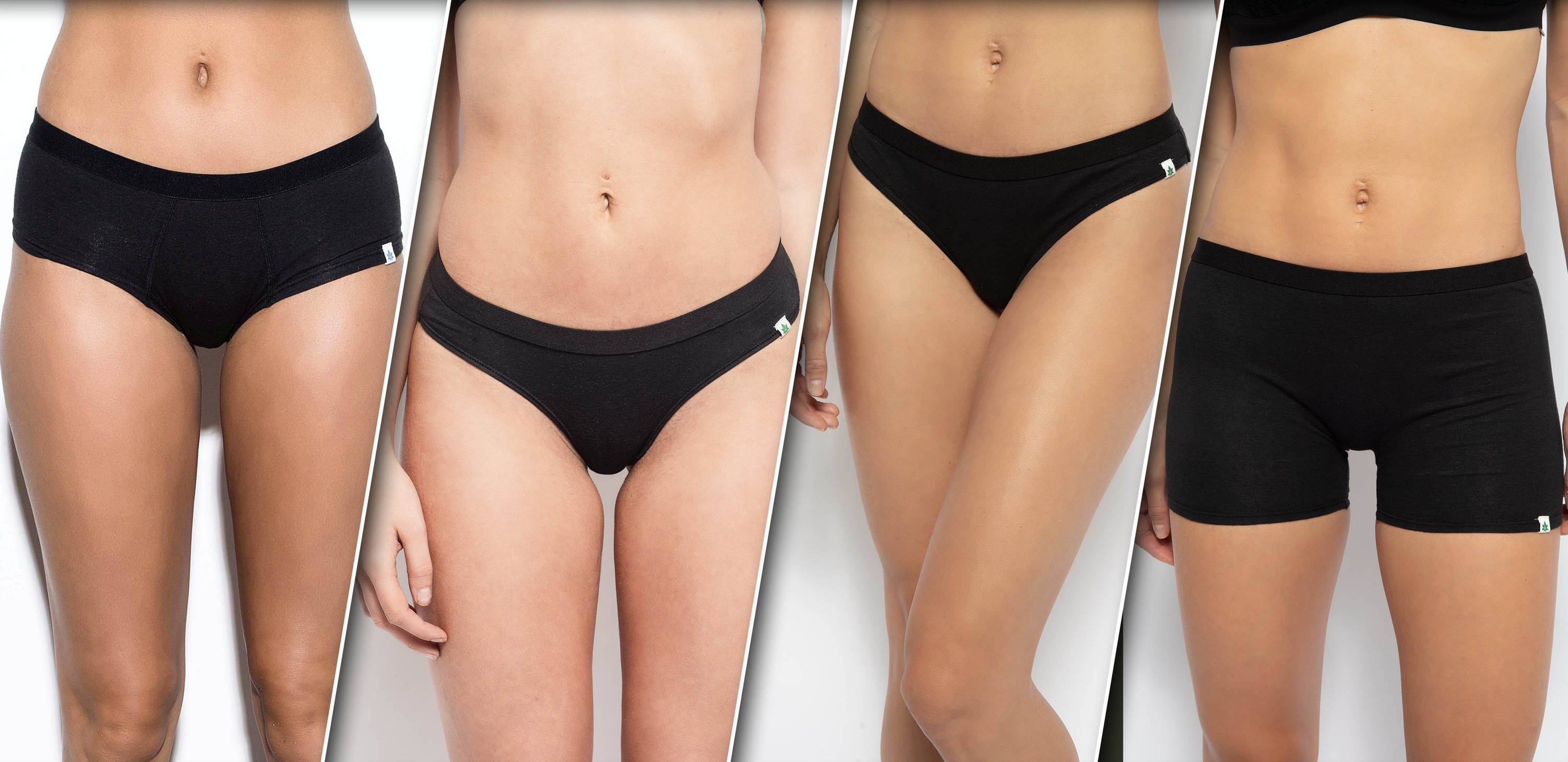 Today, there are many women's underwear styles to choose from and just walking into a department store can get you overwhelmed. With so many styles of panties available it can be pretty tough to know the differences when it comes to women's panty styles and decide which style to choose.
Not all women's panties are the same and we want to choose the right style for the right occasion. On a night out with some friends? Just going to work and need the right panties? Going for a run? Going to hit the gym? Choosing the right style of women's underwear is pretty important given the occasion.
We don't want to overwhelm you with this article so we will keep things brief :) We will go into the 4 most common women's underwear styles worn today:
A womens hipster underwear is just as the name suggests. The waistband of these underwears wrap your hips like they love them aka hip huggers. These are the most commonly used womens underwear as it can be worn for multiple occasions and don't need too much thought when choosing to put them on in the morning.
Occasion:
Womens hipsters underwear are your every-day underwear style which you would wear to almost any occasion. From a full work day to a sweaty workout, hipsters underwear is the way to go.
Perfect for wearing with low rise jeans and pants.
Thongs are also a very popular style of womens underwear as it covers your privates pretty decently while giving you very minimal coverage in the back. Wearing thongs are super cheeky which also makes them pretty damn comfortable. If you are looking for underwear with minimal coverage, thongs are the way to go.
Occasion:
Womens thongs underwear are perfect to wear when you are wearing some tight yoga pants, leggings or pants. When you don't want to show any panty lines, thongs would be your go to.
Bikinis are similar to the hipsters as it sits on your hips and can be worn for multiple occasions. How the bikinis style of underwear differentiates from the hipsters is that it has less overall coverage. Bikinis can also be very comfortable to wear.
Occasion:
Womens bikini style underwear are also very versatile as it can be a perfect every-day underwear. With bikinis you don't have to put much thought into them, just put them on and off you go about your day. You can wear bikinis to work, to the gym and everything in between.
Last, but not least, boy shorts are as the name suggests. Inspired by mens underwear, as most mens underwear have pretty thorough coverage. So if you are looking for full coverage underwear then boy shorts are the way to go.
Occasion:
Womens boy shorts are ideal to wear when for a lazy day lounging around your house. Boy short panties are also ideal to wear with dresses or skirts because if any breath of air blows up your skirt or dress you would have nothing to worry about, you are covered.
Conclusion
The 4 women's underwear styles mentioned above are the most common styles of underwear for women today. Between the hipsters, thongs, bikinis and boy shorts, you will have the perfect underwear style for any occasion.
Most importantly, it is good to choose a style that you feel comfortable in and makes you feel at your best. Why not choose all 4 styles of panties! Be you! Be happy! You are beautiful!
What is your favorite style of womens underwear?