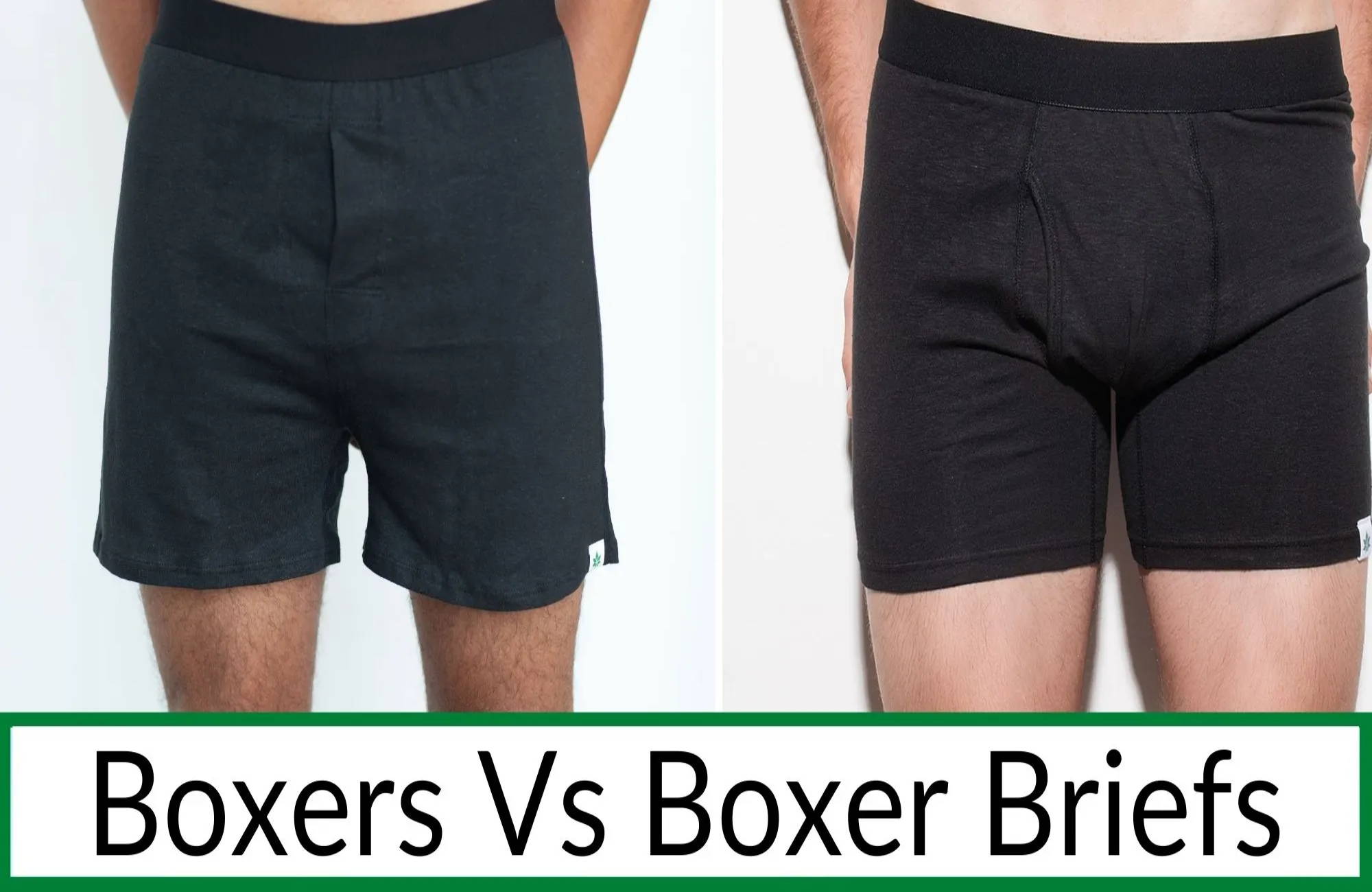 It used to be that any male celebrity on the red carpet was being asked if they prefer boxers or briefs. And while I'm very happy that's no longer appropriate to ask, I do think the question would be a little different these days. With the explosion of boxer briefs, now the question is, which do you prefer—boxers vs boxer briefs?
But what's even the difference between them? On the spectrum of mens underwear, you've got the looser fitting mens boxers all the way to the classic tighty whities, aka mens briefs. Mens boxer briefs exist somewhere in the middle: tight like briefs but full coverage like boxers.
We'll cover all of that in more detail below. Plus, we'll talk about who prefers each style and why. So if you're still trying to figure out which style works best for you, keep reading!
BOXERS VS. BOXER BRIEFS: BOXER HAVE A LOOSER FIT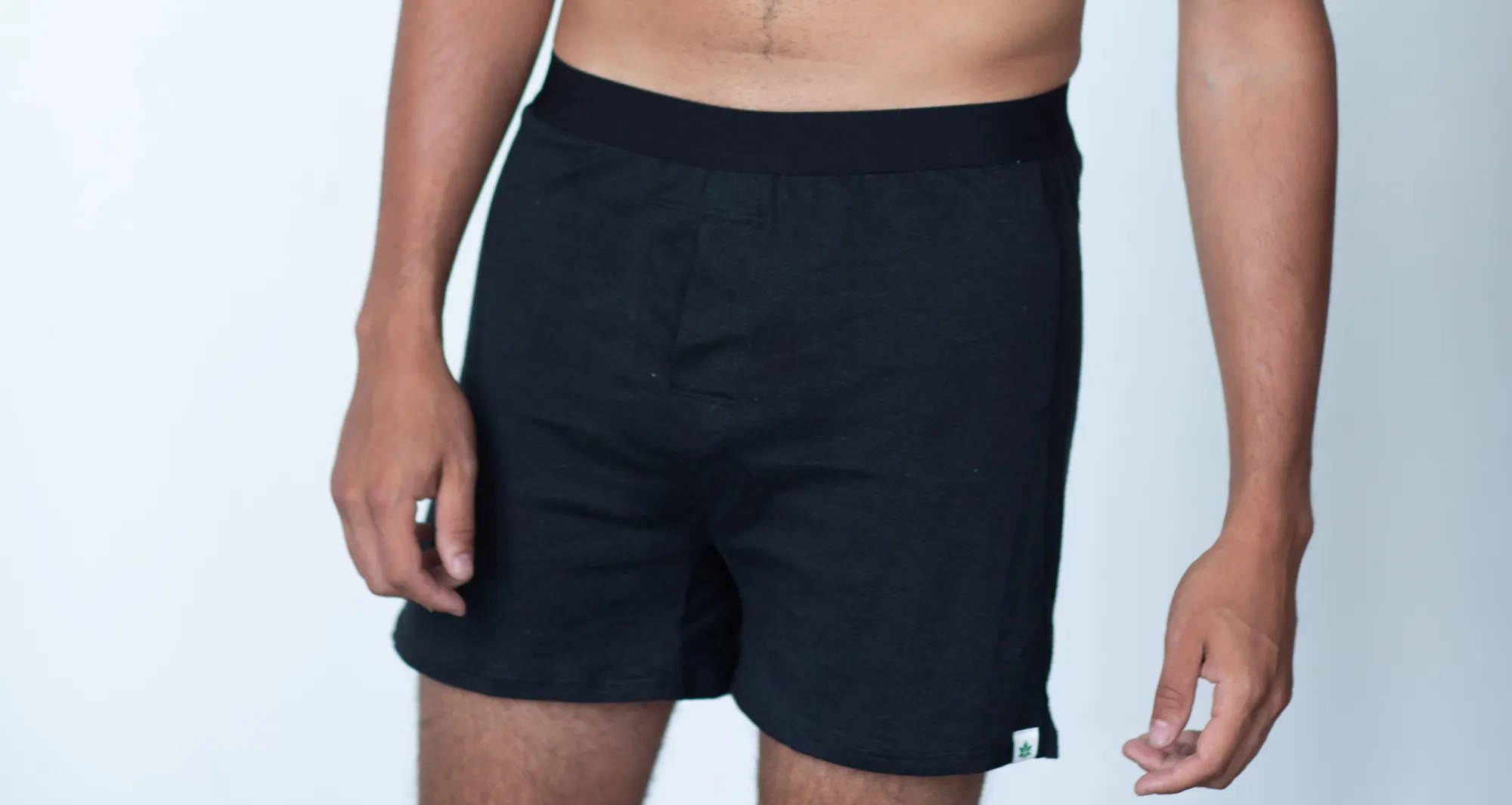 The main difference between boxers vs boxer briefs is how tightly they fit. Boxers are meant to fit loosely like a pair of shorts. This makes them very easy to lounge around in. Plus, if they're loose enough, it can even feel like you're freeballing, which is great for all of my commando kings out there! If comfort is your middle name, boxers might just be the choice for you.
Read below for some extra benefits of wearing boxers vs boxer briefs!
BOXERS GIVE YOU MORE ROOM
If you like a loose fit on all of your clothing, don't stop at your undies! Boxers give you a lot more space in the legs and groin area, which is great for comfort and breathability. Wearing boxers made of hemp fabric makes them especially breathable!
BOXERS ARE GREAT FOR MEN WITH THICK THIGHS
Many men find boxers to be more breathable, and therefore more comfortable, than boxer briefs: with a short-like fit you can enjoy more easy-breeziness when wearing boxers.
So if breathability is a major factor for you, you might think you have to choose boxers over boxer briefs. But as long as you choose the right pair of boxer briefs, both styles can be breathable and comfortable. Just be wary of going commando men in your search for breathability, as it's really not sanitary!
If you want breathable underwear but don't want to sacrifice the support that boxer briefs provide, you should opt for men's underwear made with hemp. Hemp is naturally breathable and even makes for antibacterial underwear, so you don't have to worry about your skivvies getting funky whether you go for boxers or boxer briefs.
BOXER BRIEFS VS BOXERS: COVERAGE
If thick thighs save lives, then boxers save thick thighs! Stop restricting those quads and hammies. Not only does the extra room in the thighs provide more comfort, but the length of boxers also helps my thick thigh beauties. Instead of having your thigh chafe (not fun!) boxers will help protect your sensitive bits. Slip into some loose boxers for the ultimate comfy pair of underwear!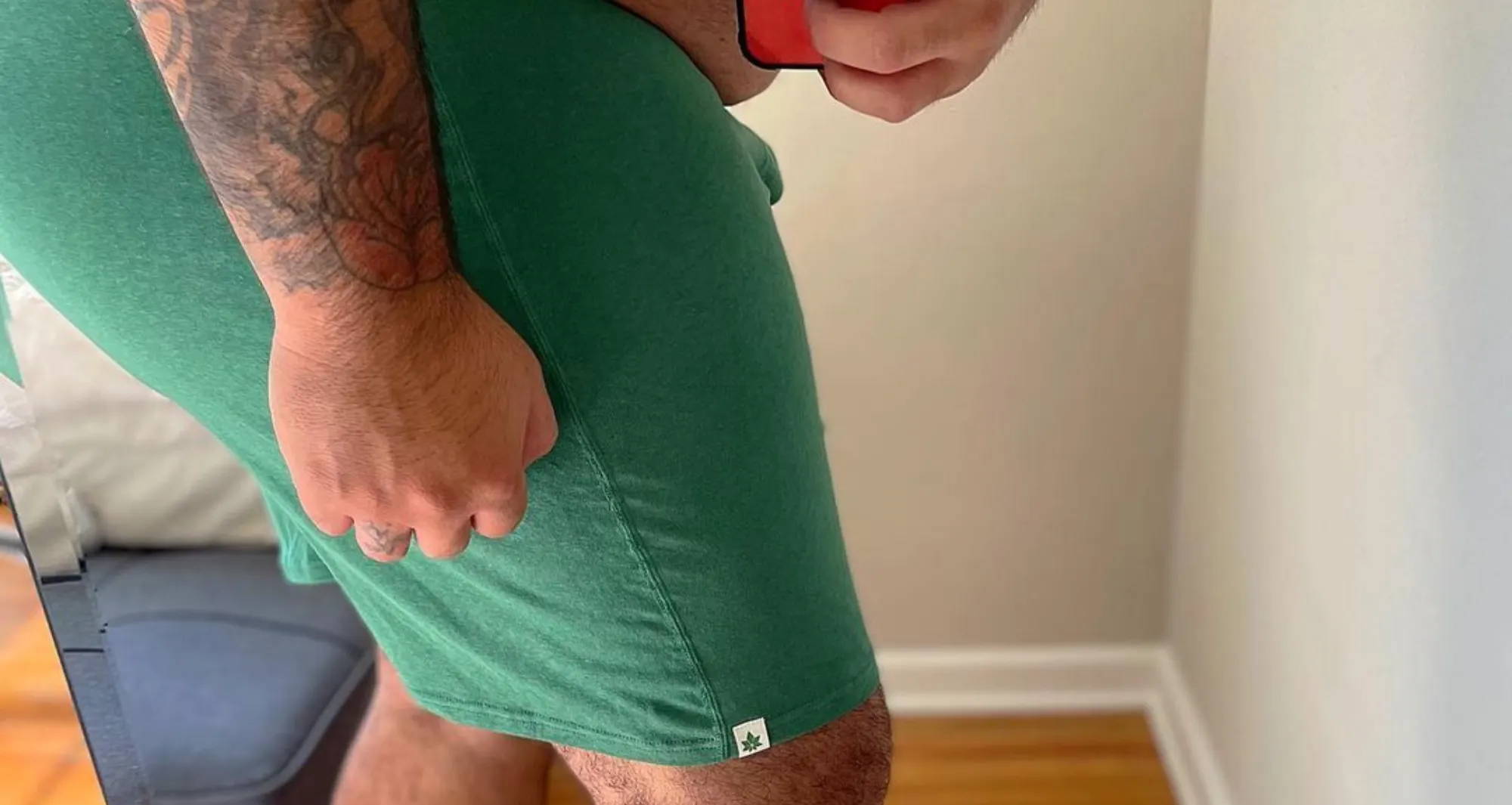 BOXERS FIT WELL UNDER LOOSER BOTTOMS
You may think that both of these underwear styles offer the same amount of coverage since they're the same length, but boxer briefs actually offer superior coverage due to their tighter fit. Just think about it: if you're moving around a lot and lifting your legs at various angles, your boxers are going to shift around a lot with you.
Boxer briefs, on the other hand, are going to stay put. Because the fit is tight all the way from waistband to the bottom hem, they won't shift much no matter how much you move. This makes them higher coverage and gives you one less thing to worry about on a busy day.
BOXERS ARE COMFY TO SLEEP IN
If you're a hot sleeper, boxers are amazing to sleep in! I think everyone should try catching some Z's in a nice pair of boxers (yes, girls wear boxers, too!). They have great airflow. Plus, when you grab some made from sustainable fabrics like organic cotton or hemp, they'll be softer than anything you've ever slept in before!
If I've convinced any of you ladies to try out a pair of boxers, check out our mens boxers! They're breathable, soft, durable, and a perfect antibacterial underwear option.
BOXERS VS BOXER BRIEFS: BOXER BRIEFS ARE MORE FORM-FITTING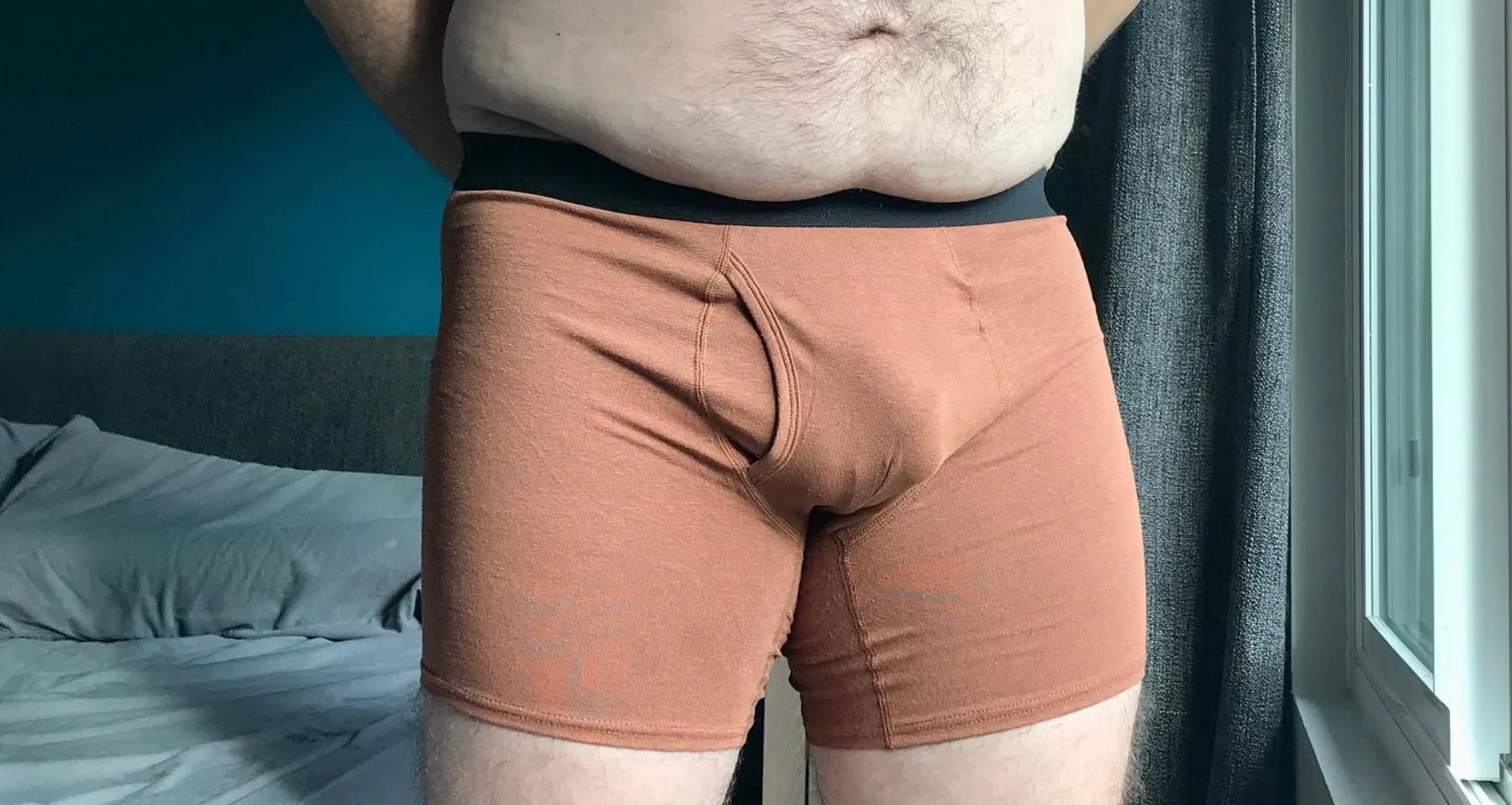 Whereas boxers are meant to fit loosely, boxer briefs are supposed to have a tighter fit. They're form fitting and show off every inch of that gorgeous body you have! For people who like to exercise or are always on the go, boxer briefs might just be your Goldilocks of underwear styles!
Read on for some of the benefits of wearing tight boxer briefs vs boxers style underwear.
BOXER BRIEFS MOVE WITH YOU
If you're on the go, the last thing you want to do is unbunch the boxers from between your legs! Boxer briefs stay contoured to your body for an easy, breezy, flexible fit you're able to move around in. Plus, they're just as long as boxers, so they protect from chub rub too (hallelujah!).
BOXER BRIEFS SUPPORT YOU DURING EXERCISE
Flexible enough to move with you

Supportive, so your junk stays in one place

Anti chafing underwear

thanks to their length and tight fit
If you've never gone for a run in boxer briefs, try it. You won't regret it!

Bonus points for workout boxer briefs made from sustainable fabrics like organic cotton or hemp! That way, they're super breathable. Nobody likes sweaty balls!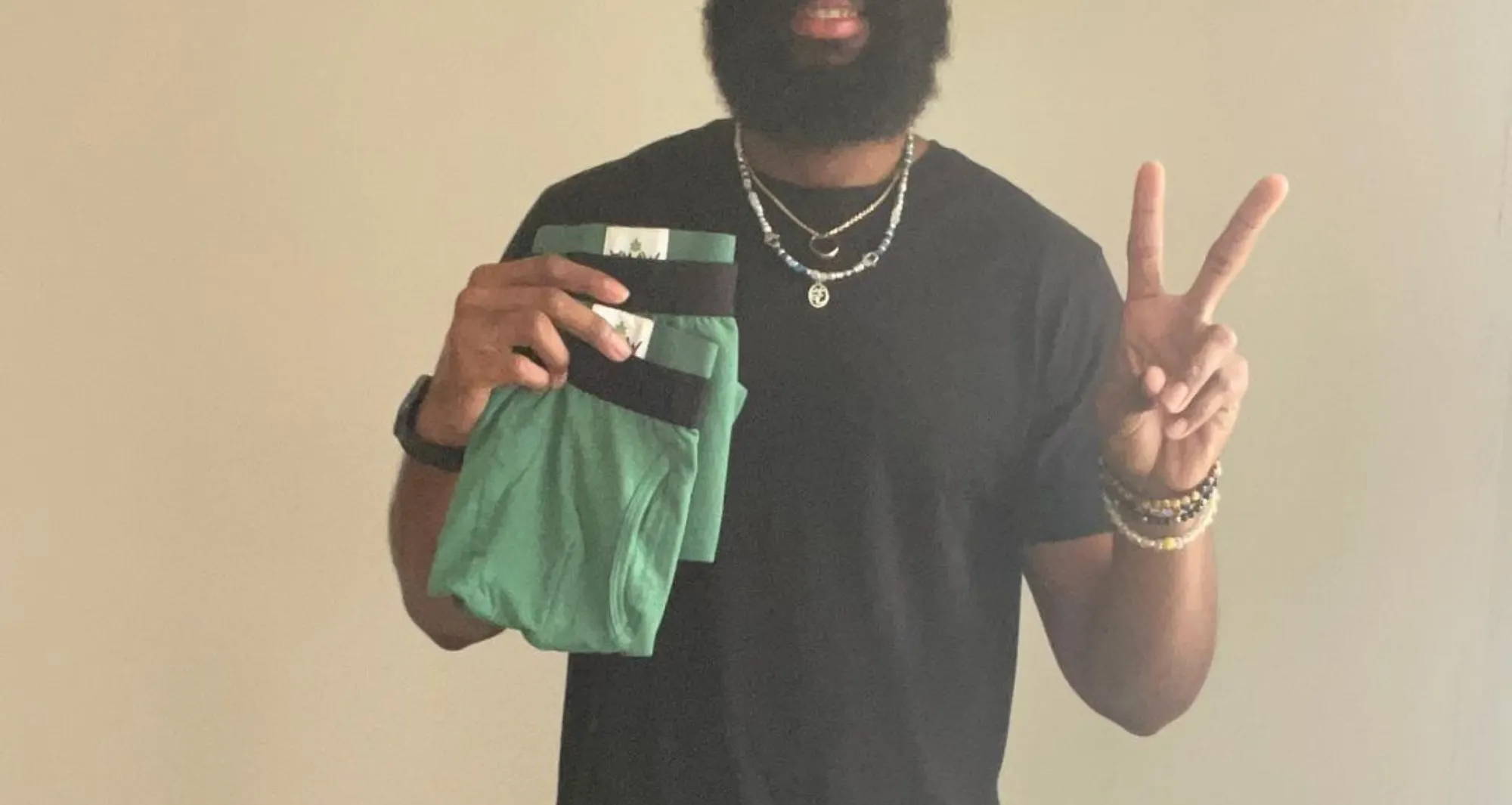 BOXER BRIEFS FIT COMFORTABLY UNDER TIGHTER BOTTOMS
There's no question of what works better for men who like to rock a tight pair of jeans between boxer briefs vs. boxers. Their form-fitting style is more comfortable and less visible even in your tightest jeans. Boxers will bunch up when underneath tight pants, so grab some boxer briefs before you show off your legs!

BOXER BRIEFS SHOW OFF YOUR SHAPE MORE
Everybody has a body worth showing off! Boxer briefs let you highlight every curve of your back (and front) side, which is great for confidence boosting mirror dances or wooing your partner. Or just rock 'em plain around the house!
Does this sound like an ideal pair of underwear for you? Yay! Try our soft, form-fitting, and sexy pair!

CONCLUSION: BOXERS OR BOXER BRIEFS?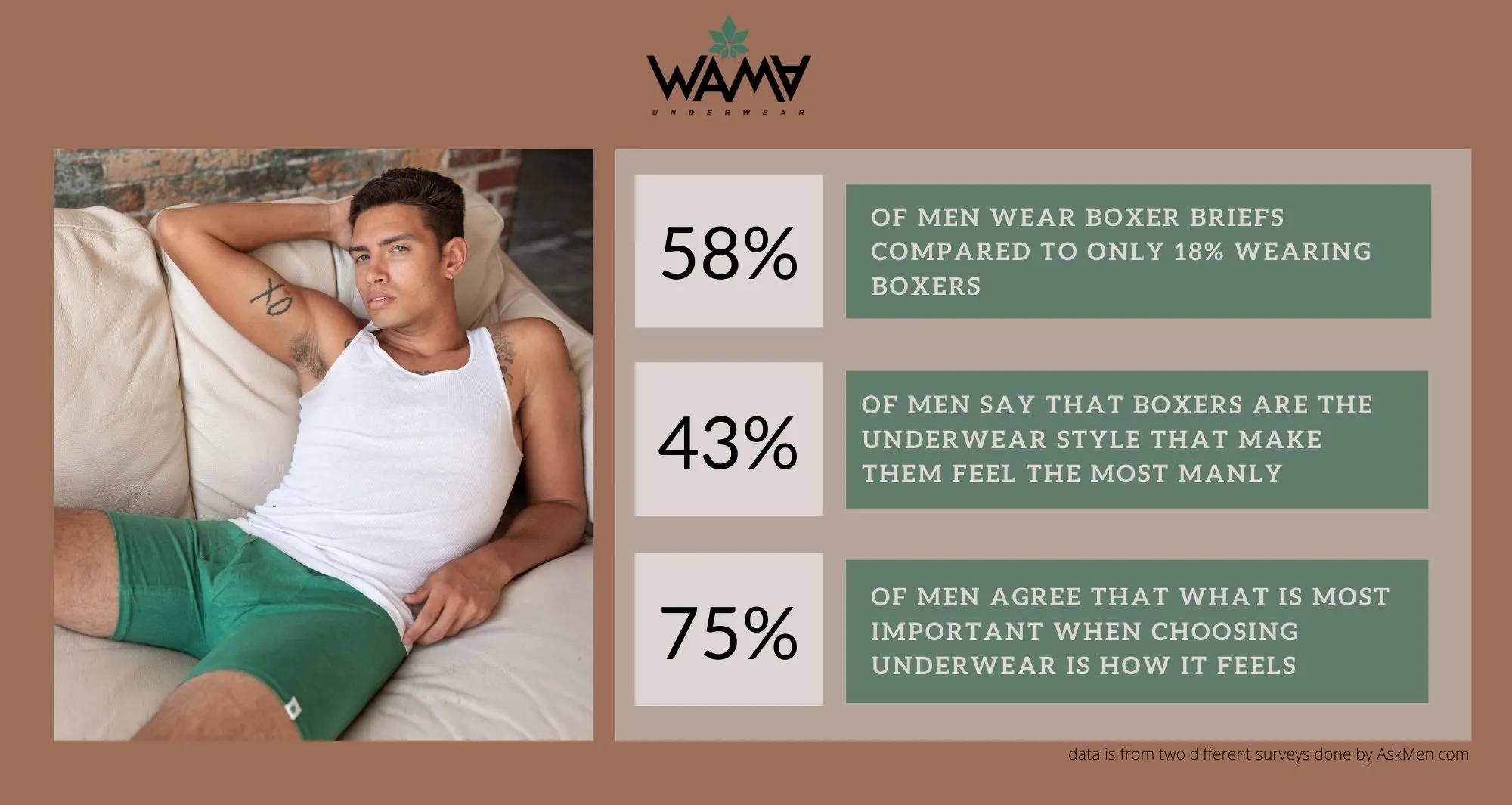 So boxers or boxer briefs: which pair should you wear? Obviously whichever is more comfortable! In fact, one study showed that 75% of men say that how underwear feels is the most important aspect of choosing the right undies for you.
Pro-tip: whether you choose boxer briefs or boxers in the boxer briefs vs boxers showdown, try each style in a hemp fabric. You'll maximize airflow, durability, and softness! Trust me, your downstairs will thank you for it.
You have thicker thighs

You like a roomy fit in your clothes

You're looking for a good pair of sleep underwear
You need a supportive pair of undies for life on the go or exercise

You tend to wear tighter clothing

You like to show off that beautiful bod of yours
If you're still on the search for the perfect pair of underwear, don't be shy! You can also try some mens briefs (I hear they're back in a big way). Or go halfway there with a pair of trunks underwear for a shorter boxer briefs style!
So which is your favorite? Boxer briefs or boxers? Let me know why in the comments below!
---