You know that feeling when you put on an outfit that makes you feel good, check yourself in the mirror, and—bam!—bra outline shows through shirt and ruins it all? And regardless of where you stand on the bralette vs bra or underwire bra vs no underwire debate, anyone in any style can suffer from a visible bra. One of the best solutions is wearing a hemp bra, but I've pulled together six other easy tips to keep your outfit running smoothly (literally).
BRA LINE SHOWS THROUGH SHIRT? WHY IT HAPPENS.
Although there are some moments when showing a little bit of bra is intentional or fashionable, a visible bra can make or break an outfit. There are a few ways that your bra can show through your shirt:

Visible Straps

: Your straps poke out on your shoulders or back.

Visible Lines

: The lining or details on your bra show under your top or dress.

Visible Wear and Tear: Your bra is old and curls along the edges.


BRA OUTLINE SHOWS THROUGH SHIRT? THE STRAPS.
Sometimes your straps show either on your shoulders or back. This can happen if your bra doesn't fit right. And don't be surprised if that's the case, as, according to one study, 80% of women unknowingly wear the wrong bra size. 70% of women wear bras too small, and 10% wear sizes too big.  
So, bra straps falling down? Yep, if your bra doesn't fit well and your straps aren't properly adjusted, they'll slip down your shoulder.
But another reason for your straps showing is a bit more simple: your clothing style doesn't fit your bra style. If you're wearing a racerback, halter, tube, or shoulder-less top, your straps are undoubtedly going to show. Luckily, there are super-easy solutions to that, so keep reading!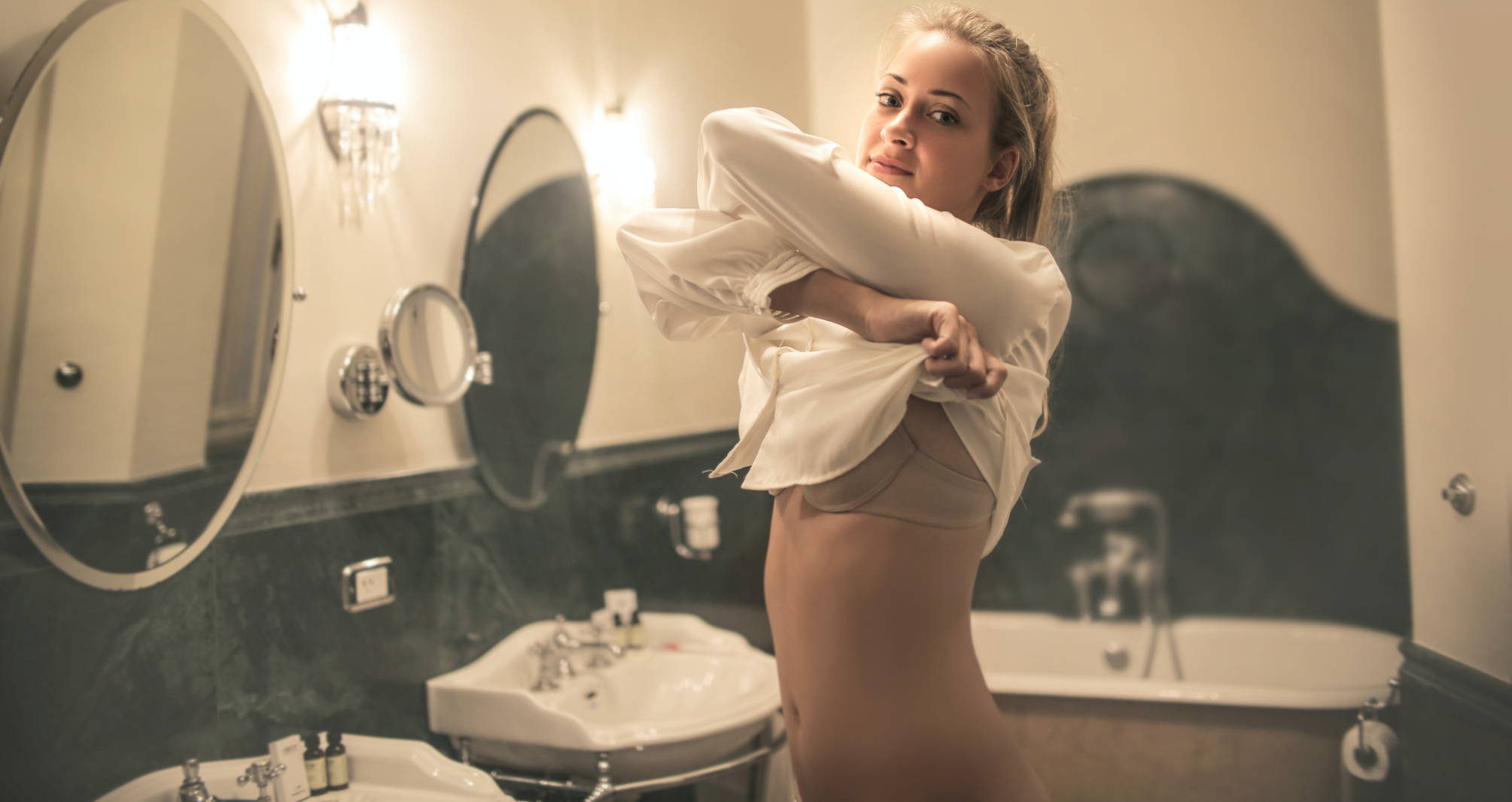 BRA OUTLINE SHOWS THROUGH SHIRT? THE LINES & DETAILS.
Maybe it's not your straps showing, but, rather, the lining or details of your bra. Sure, you can opt for an unlined bra, but sometimes the edges, band (with clasps and all), or lacy frills still show. When this happens, you can easily go from being confident to feeling self-conscious, which has a lot to do with body image.
When you don't feel good in your own body, it can be difficult to feel good in clothing, too. Experts estimate that 20% to 40% of women are dissatisfied with their bodies, and 96% believe that what they wear impacts how they feel. Throw in a visible bra ruining your cute tight dress, and your confidence can wane even more. So, wearing a proper-fitting bra that doesn't show can be important to your emotional wellbeing, too.

BRA OUTLINE SHOWS THROUGH SHIRT? THE CURL.
Perhaps you hide your straps and lines, but what about that annoying curl that happens over time, especially along the cups? For me, this is the most frustrating bra showing through shirt occurrence. Like, seriously, why? Well, you can blame wear, tear, and improper care for that!
If this happens due to wear and tear, maybe you're wondering how long do bras last. Unfortunately, they don't last forever, and regular use can break down the elasticity, causing those edges to roll and show through your top. It's also important to learn how to hand wash bras and how to organize underwear to keep your favorites lasting as long as possible.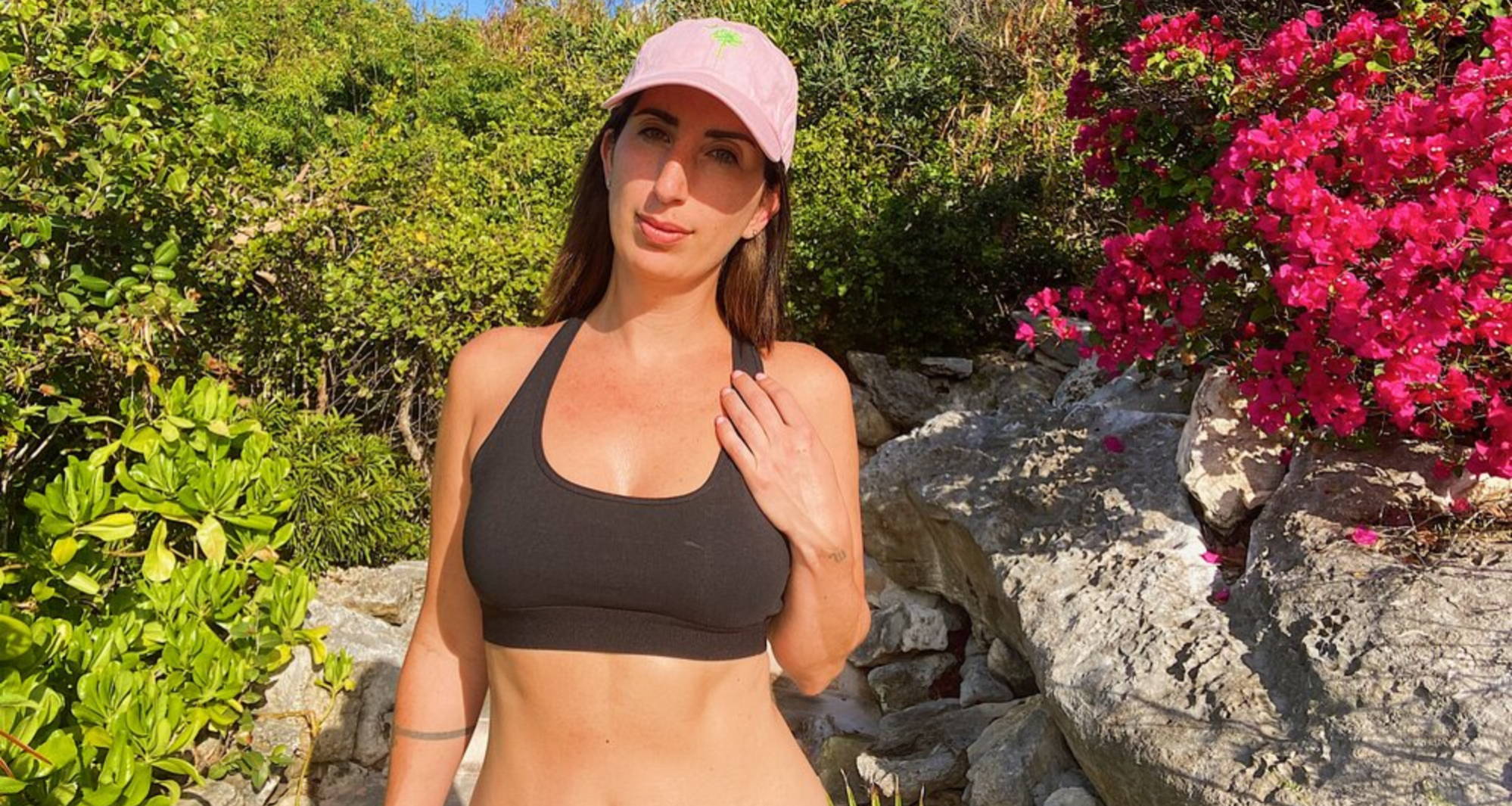 BRA OUTLINE SHOWS THROUGH SHIRT? 7 EASY SOLUTIONS.

So, you can see bra through shirt, you say? I wholeheartedly empathize and have rounded up my best solutions. They're all easy and doable, so here's to a future of smooth, confident outfits with no visible bras!
The material you choose for your bra makes a big difference, especially if you want to avoid the bra showing through shirt dilemma. Hemp fabric is an excellent solution because it keeps things au natural without the extras or synthetic material that tend to be the culprits (underwires, padding, extra lining, frills, etc.).
Besides its natural simplicity and design, there are other reasons to wear hemp products. For bras, hemp makes sustainable, breathable, and antibacterial underwear. That means you can avoid boob sweat and stay breezy.

2. EMBRACE THE FASHIONABLE BRALETTE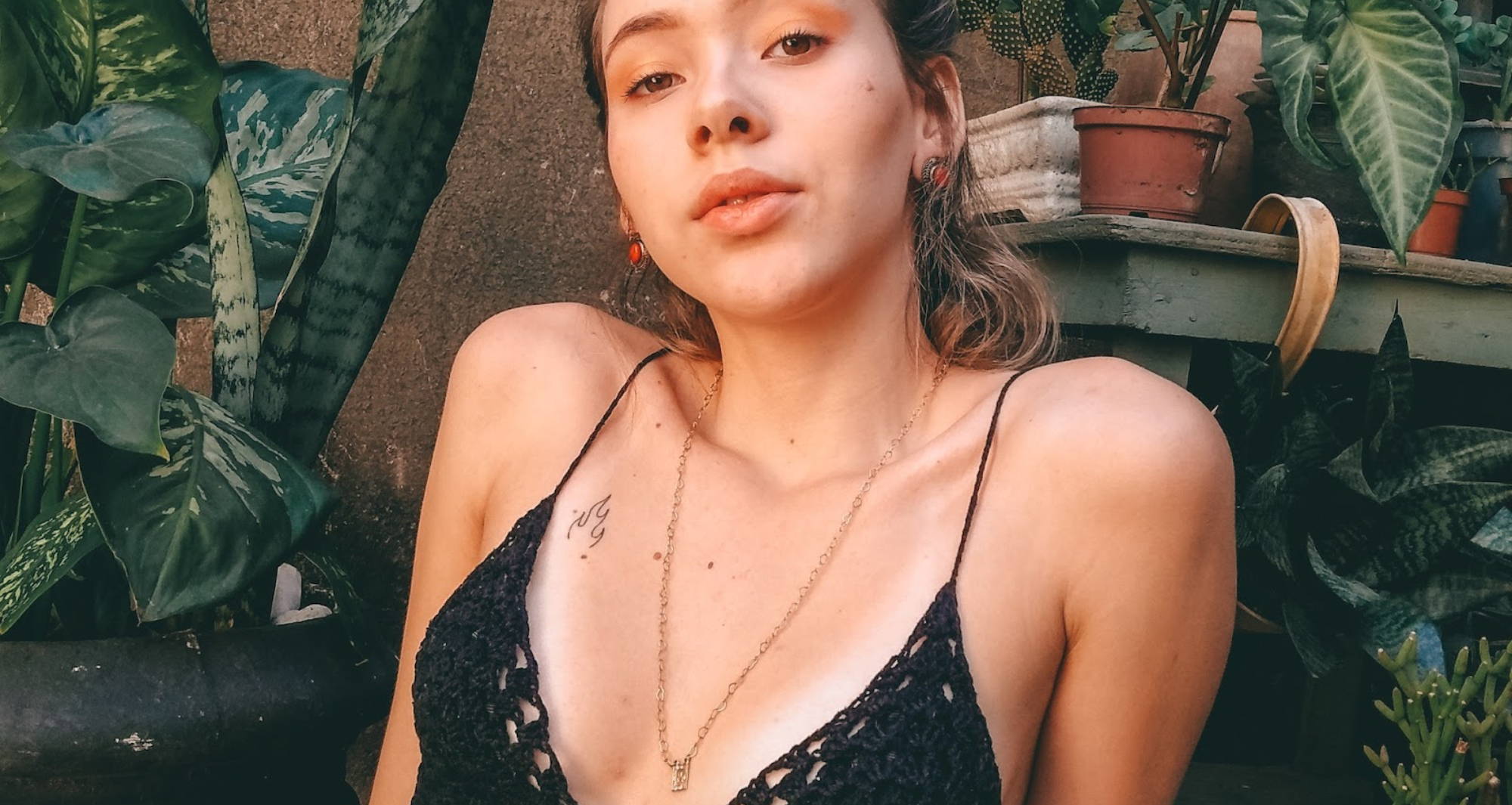 In some cases, a little bra sneak-peek is fashionable! But, especially with bralettes, letting your bra show under your shirt is the point. Dozens of bralette outfits embrace this new style—and, honestly, it feels a little empowering!

You can combine this fashion statement with comfy fabric by wearing one of WAMA's hemp bralettes. I personally wear the triangle bralette most days, but the racerback bralette is my staple when being active or seeking ultra comfort on lazier days. It acts like a pullover sports bra, so it offers my preferred combo of support, natural material, and no visible bra.
If you see bra through shirt, sometimes it has to do with the straps. There are so many tricks for this one, so it's an easy fix. Here are few suggestions:
Wear the

triangle bralette

. (I forgot to mention: it has convertible straps to adjust to the style of your top or dress!)

Match a

racerback bralette

to racerback-style tops and dresses.

Choose a strapless bra or apply pasties/nipple covers.

Use a clip that pulls your straps together and adjusts the alignment up and down.

Opt for

going braless

, but only occasionally, as bras do support your back and help

prevent damage to breast tissue

.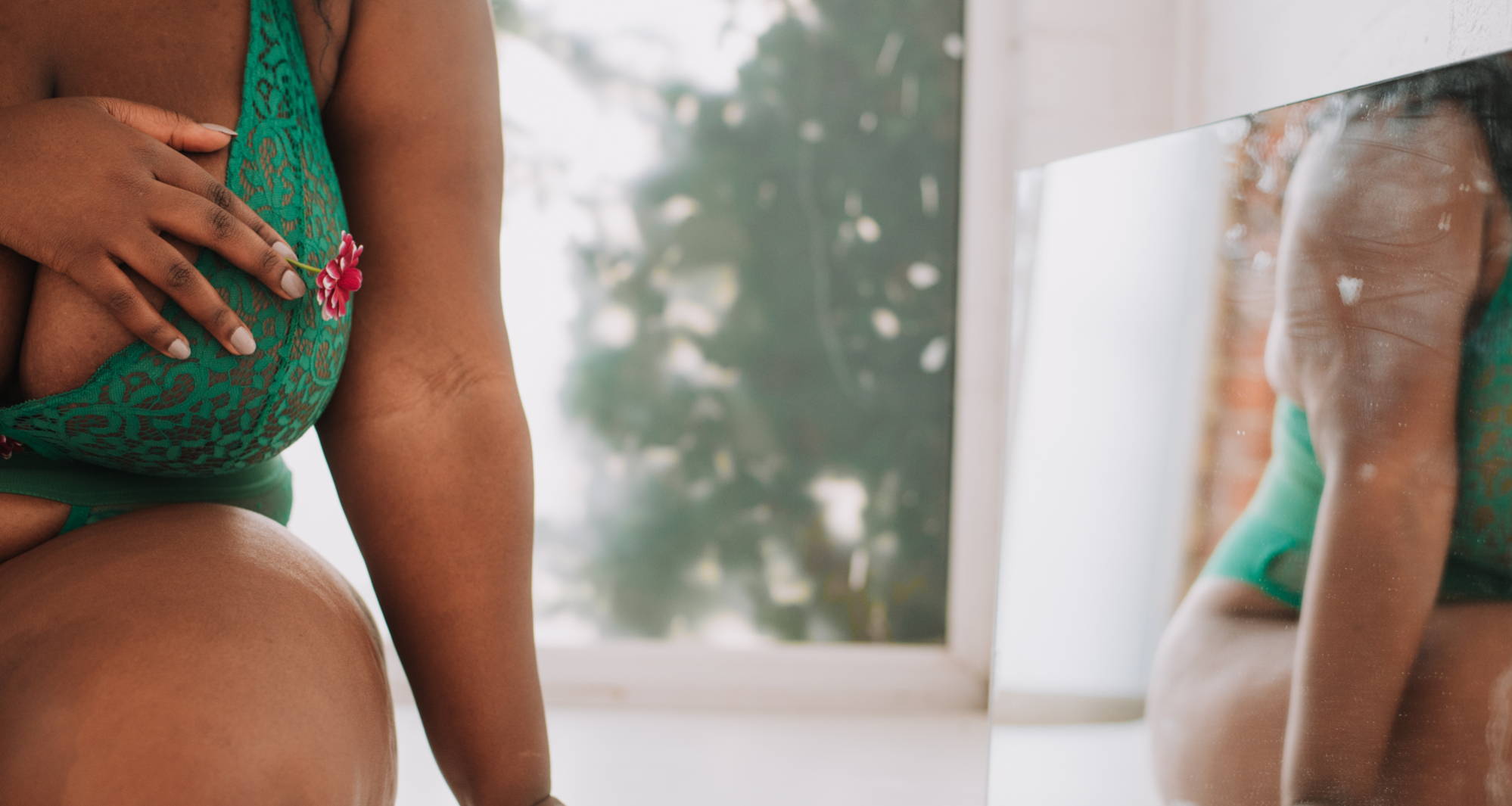 I love the look of crochet because it feels delicate and romantic to me. But when I would wear bras with a crochet lining, I suffered from the bra showing through shirt syndrome. So, it's best to ditch any of those extra frills. Instead, opt for bras that don't have bows, lace, crochet, ruffles, etc. Unless, of course, you want your bra or bralette to show, then those details are fun!
If you don't know where to start with this, check out some sustainable fashion blogs. Sustainably focused brands tend to offer simple designs and use color with low-impact dyes to add a bit of personality rather than the bells and whistles. There's even a ton of affordable ethical clothing out there!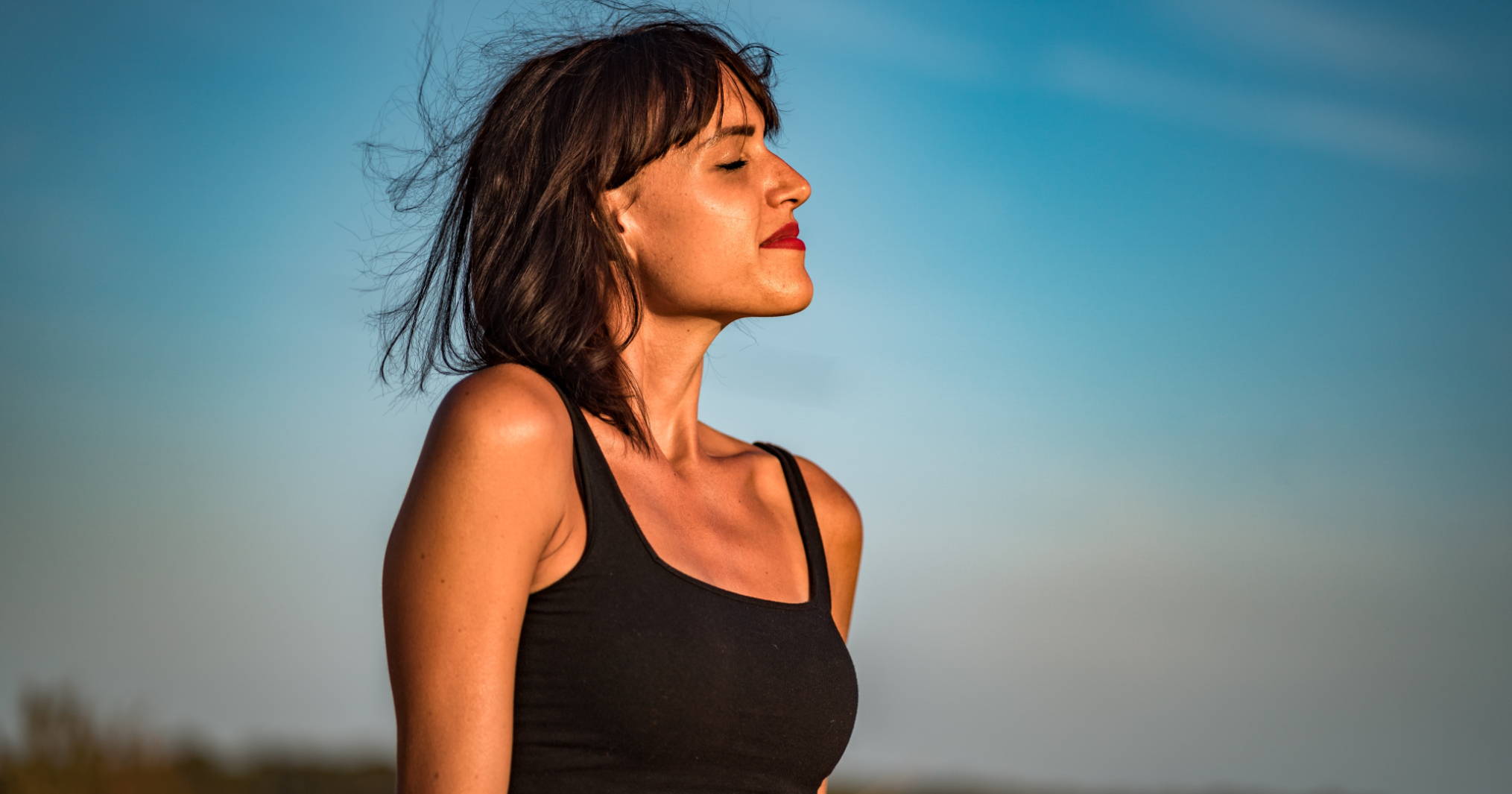 For the smoothest fit, shapewear is an option. The only problem here is that many brands producing shapewear use synthetic material, which can contain toxins. So it might not be as breathable, but you can use shapewear in a pinch. Especially when going out in a tight dress, shapewear will smooth any lining and often lacks clasps in the back.
Even the worst seamstress (hi, yea, that's me!) can sew in a little lining into a dress or top. This way, you aren't wearing a bra and worrying about straps, wires, or lining showing, but you're still getting that support and nipple coverage. Remember, though, that this is walking the fine line of going braless, so you probably don't want to make a habit out of it.
Hot Tip: For tight-fitting tops that have a bit of fabric in front, you can just use the inserts from your sports bra or swimsuit. I've done this with tops that have a snug fit but with a little texture in front, so you can't see the inserts and don't have to worry about them falling out mid-conversation!
Old bras will show signs of aging under your tops, so it may be time to refresh your closest. When your bra starts to curl along the edges of the cup or band, causing a visible bra, this is typically due to your bra breaking down its elasticity through normal wear and tear.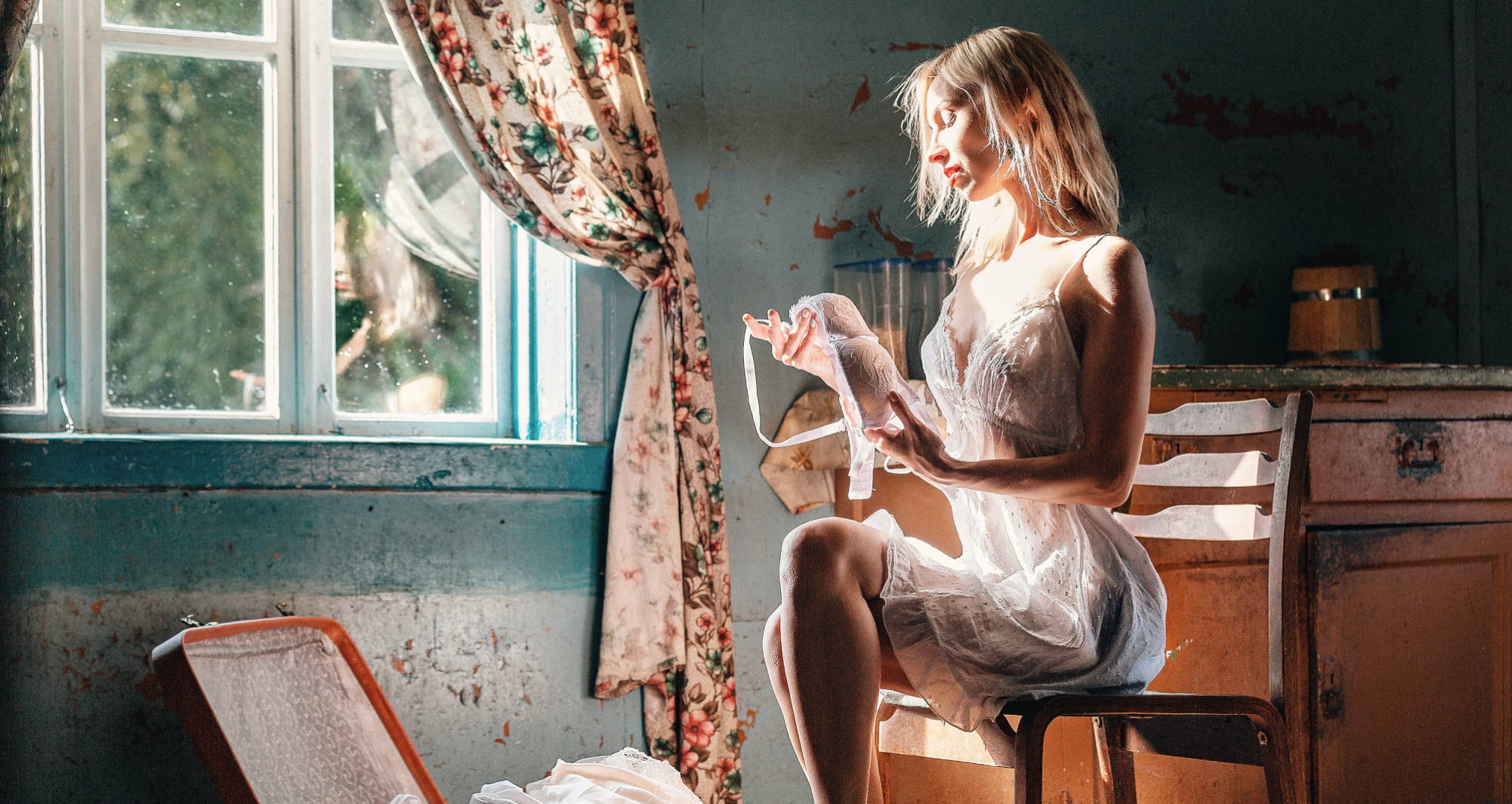 Have you ever asked yourself, how many bras should I own? That depends, of course, on your lifestyle and personal preference. But in general, you want a big enough supply that you can easily rotate your bras. This, along with a few other tips, will help keep your bras lasting longer and, therefore, avoiding the dreaded curl.
Rotate Your Bras. Try to have at least seven bras, one for each day of the week. Opt for more if you are active!

Allow Your Bras to "Rest." This simply means to give your bras at least two days of resting in-between wears. By doing so, you'll allow the elasticity to bounce back and set again, which helps it to last longer.

Store Your Bras Correctly. Are you guilty of throwing your bras into a drawer or on a shelf? Yea, I did that, too, until I learned that there's a proper way to store bras to expand their lives. The idea is to preserve the shape of the cup and its elasticity—it's best to either stack your bras on top of one another (matching the cups) or store them in a row (also matching the cups).

Wash Your Bras by Hand

. As I mentioned before, hand washing your bras is the way to go, especially if you want to keep them longer and avoid the curl. Simply soak your bra in cool water with a bit of natural soap. Then rinse and hang dry. Done!

BRA OUTLINE SHOWS THROUGH SHIRT NO MORE!
No need to keep your arms crossed over your chest or wear baggy clothes to hide a visible bra. If you're dealing with the annoying see bra through shirt dilemma, you can use these easy tips to help solve the problem. Opt for a hemp bralette, grab some shapewear, or get a little domestic with your sewing skills! And, don't forget to take good care of your delicates.
Do you have bra line shows through shirt problems, too? Let me know your go-to solution in the comments!


---